I'm so excited to finally be back home today, I've been gone for over a week and missing my bed and stuffed animals kids!  Last night i came home to a pile of packages full of things I've ordered, giveaway winning and my Cold Hands, Warm Hearts package from Much Love, Illy (which I CAN'T WAIT to blog about)!  It was seriously like opening presents on Christmas day, I even did it in my PJs!  😉
Speaking of Christmas, since it is super fast approaching, my Flavors To Follow features in the upcoming weeks are going to be about all things related to this wonderful holiday!  Since we've been out of town, we haven't been able to decorate our house and we still need to work on buying those Christmas presents.  Hopefully we'll be decorating our house soon so I can show you pictures of what we decide to do!  One thing that I've always wanted to do is make my own stockings, there's endless possibilities of fabrics, materials, colors that can be made into one of a kind stockings!  But I'll probably end up buying one this year as I always never seem to have enough time to do anything these days!  Here's a little collection I've put together of handmade stockings I've been lusting over and some easy to follow DIY tutorials for the crafty ones!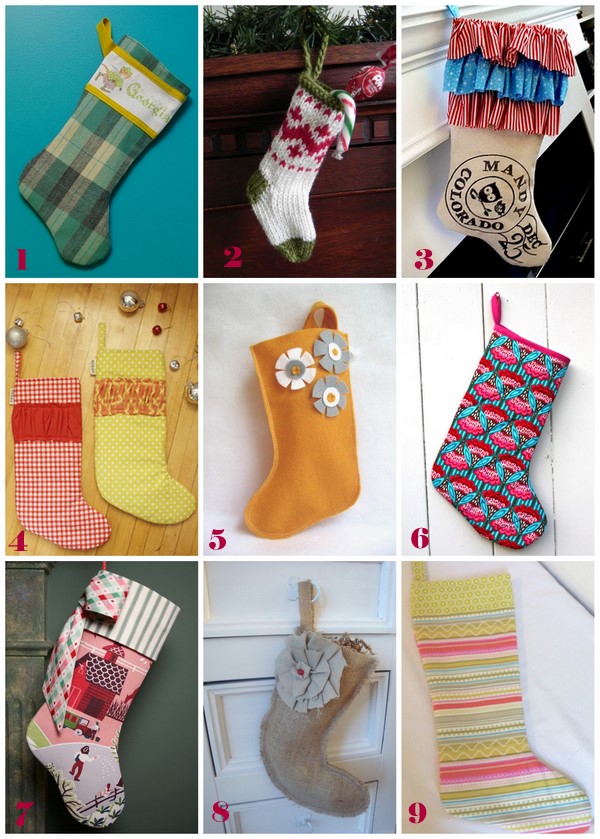 1 DIY personalized stocking tutorial by my girl thursday
2 handknit personalized christmas stocking by cutie patootees
3 monogrammed christmas stocking tutorial by mandipidy
4 ruffled christmas stockings by gussy
5 eco felt christmas stocking by rik rak
6 free christmas stocking pattern on prudent baby
7 whimsical barkcloth christmas stocking by christmas is love
8 burlap stocking by the goodness centric
9 green dots and stripes stocking by apearantly sew
Aren't these all just so unique, modern and fun?  But even better is all the little things that will be stuffed inside of them!  😉  Hope you all have a great weekend!  I am looking forward to relaxing, packaging up a few more orders, attending a (belated) Thanksgiving dinner with friends and cleaning cleaning cleaning since we're having a friend stay over at our house next week (basically we just clean before we have people come over, sorry Mom).
Has anyone finished their Christmas shopping yet?  Is your house all decorated?