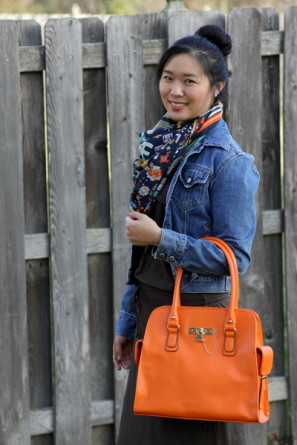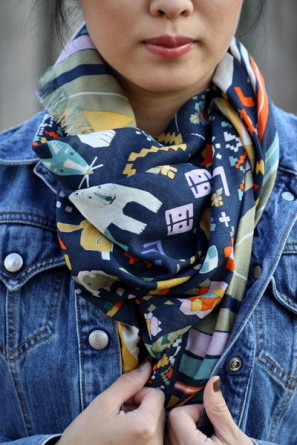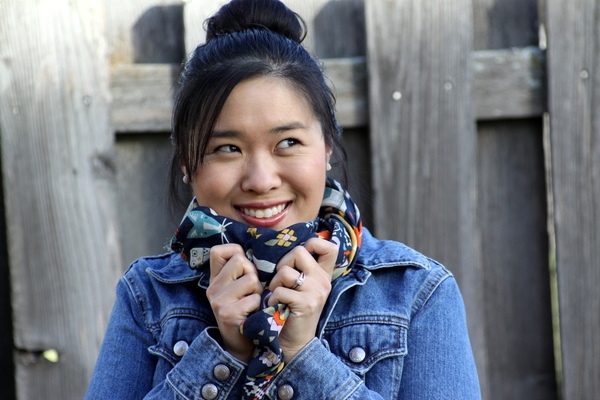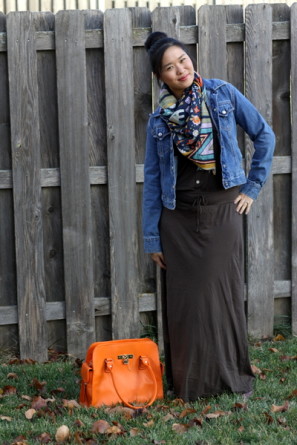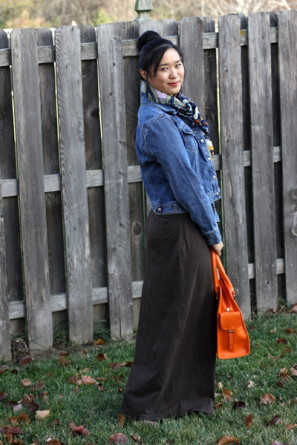 Dress c/o COIN 1804 | Jacket: Thrifted | Scarf: Anthropologie | Shoes: B.A.I.T. Footwear | Purse: Mimi Boutique
Just to follow-up, this scarf is one of those "wear unworn items before buying new ones" that I mentioned in this post. I can proudly say that I haven't bought anything new in December yet (even though I've thought about it – I know, I have a shopping problem). I love this scarf because of the colors and the fun prints on it. If you look closely, it's a bunch of different zoo animals mixed in with other shapes and patterns, neat huh? Because it's got so many colors in it, you can literally wear it with anything. I paired my bright new orange Mimi Boutique purse I won from a Cafe Fashionista giveaway with it to play off the orange in the scarf. While the rest of the outfit I decided to keep more neutral so the scarf and purse could take the spotlight. This is one of those casual Saturday afternoon, grocery shopping or taking Austin to the park strolling type of outfits. Thank goodness for the 60-70 degree weather in December so I can still wear dresses and go to the park.

On another note, I've had a rough week so far in all sorts of ways, which has made me rethink a lot of things, such as the direction I want to take this blog, my focuses in my job, and spending more time with family. And since Austin is almost turning 1 years old, I'll be focusing some of my efforts on planning his birthday partie(s), so fun! I'll still be here (and have a few more fun giveaways planned so you guys can win gifts for yourself or someone on your holiday shopping list), but if I'm MIA once in awhile through the holidays, you'll know why (for those that care).

I'll be linking up to The Pleated Poppy and Rolled Up Pretty!
P.S. Don't forget to sign up for the Copy Cat Closet challenge hosted by Ma Nouvelle Mode or The Grant Life. My challenge will go out to everyone's inbox TOMORROW so make sure to subscribe today!! The link-up for it will be NEXT Wednesday!!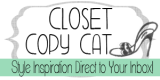 Email address: