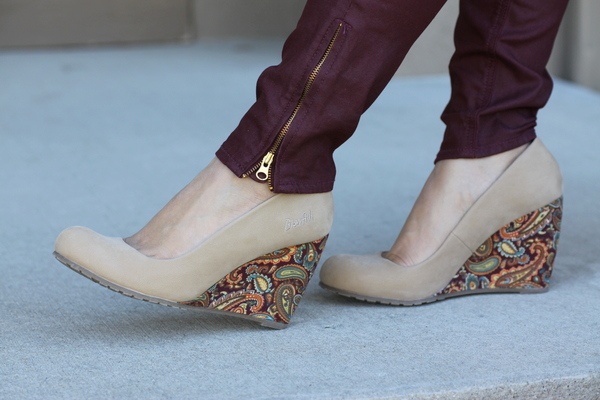 Knit Sweater c/o Pipley Vintage | Chambray: Target | Pants: H&M | Wedges c/o Blowfish Shoes | Necklace: JEWELIQ | Bracelet: Olive + Piper
It's been awhile since I've worn a chambray shirt as a cardigan/outerwear, but I kind of dig it.  It's the perfect layer to throw over a light knit sweater on this casual weekday/shopping with friends kind of look.  And the wedges?  Well they pretty much speak for themselves.  They are oh so comfy, have a perfect colored nude on the front, and a colorful and cute pattern on the wedge part that makes it so easy to pair with anything since it pretty much has every color of the rainbow in it.  🙂  Wedges are my new boots right now (except when it's below 30 degrees) and will be into Spring.  I'm linking up to Style Elixir's Style Sessions with this post~!
P.S. For those in the Kansas City area, there will be a Zaarly Bazaar this Sunday, February 24 at 3PM!  Click here to get a free VIP ticket to the event.  Choose my name "Sandy" in the drop down and you'll get $20 to spend that evening!  🙂  For those in Seattle, your event is this Thursday, February 21 and for those of you in San Francisco, your event is on Monday, February 25.
P.P.S. Have you entered the ShoeMint giveaway yet?  Three winners will each win a pair of shoes!!
Do you have a favorite pair of wedges?