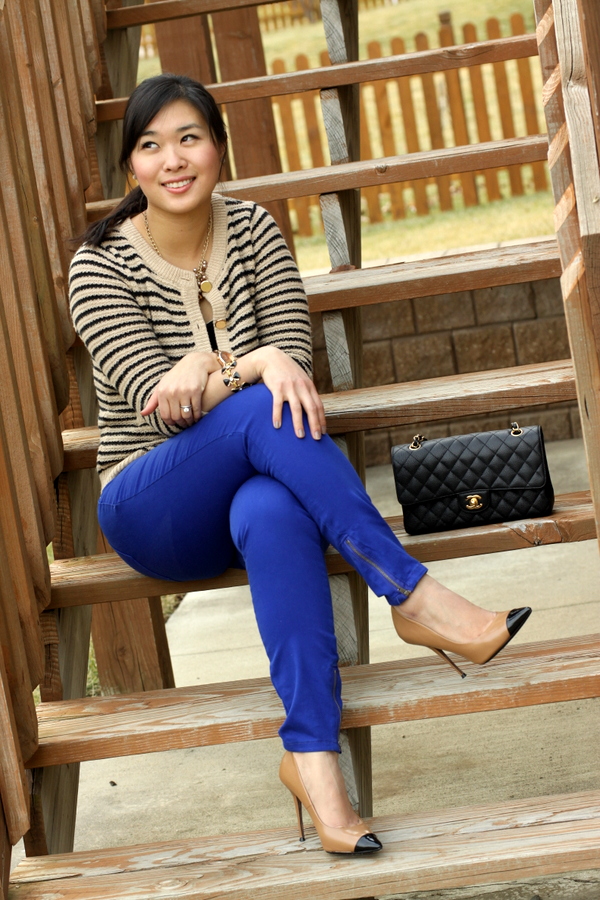 Cardigan: Forever 21 | Pants: Forever 21 | Necklace: Target | Bracelet: J.Crew Factory | Shoes: Nordstrom's | Bag: Chanel
I decided to change this post up a little bit and copy off of my blog bestie, Much Love, Illy.  She always has the best ideas for writing posts in unique ways, fun list ideas, and she has some pretty awesome outfits too.  I pretty much adore this girl to pieces.
sometimes:
sometimes i will make an impulse purchase.
sometimes i regret that purchase, but most times i don't.
sometimes i wish i could just pick up my family and move to Australia (even though I've never been).
sometimes i go on a diet.
sometimes i leave Target with exactly what was on my list of items to buy… but most times I buy much much more.
sometimes i like Twizzlers.
always:
i always type really fast.
i always have plans to sleep earlier than i actually do.
i always want Austin to feel like the most loved person in the world.
i always give my husband a kiss each morning before we head to work.
i always choose strawberry water over regular water.
i always have room for dessert – especially if it's macarons, ice cream, frozen yogurt, bubble tea…
never:
i never have liked brussel sprouts or pickles, until i became pregnant.  and now, i still love both.
i never leave the house without my engagement/wedding rings and a watch.
i never have ever liked coffee.
i never like having unread emails.
i never photograph in Manual mode, but i know i should really learn how to and practice
i never leave Austin without kissing him goodbye and having him blow me a kiss as well.
I'll be linking up to Because Shanna Said So, The Pleated Poppy, The Grant Life, The Mrs. & The Momma and Style Elixir with this post!
You only have a few more days to enter my Stella + Dot trunk show giveaway!  Have you entered the Ever+Mi.Crush giveaway yet?
What's on your sometimes, always and never list?