Disclosure: I am part of the Verizon Voices Style Program and have been provided with a Nokia Lumia 928 and 6 months of service. All photos in this post were taken by the device.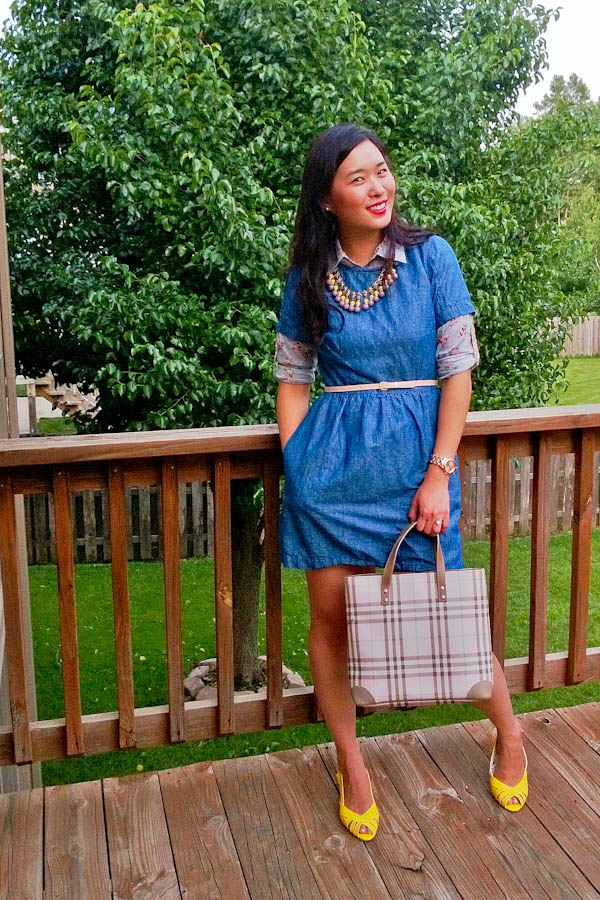 Shirt c/o Conversation Pieces | Dress: Madewell (cute style here) | Bag: Burberry | Shoes: B.A.I.T. Footwear
As you all know my by now, I am part of the Verizon Style Voices program and for the past few months, can't leave my house without my Samsung Galaxy Camera.  Well a few weeks ago, Verizon was generous enough to send all of us in the program a Nokia Lumia 928 phone.  I've never owned a Windows phone before, so it was a little getting used to.  They also sent us a wireless charging doc to go along with it, which is pretty darn cool as well.  After using this phone for a few weeks, I am really impressed with the camera quality… naturally, that's the first thing I pay attention to on any device I get these days, HA!  With a camera that features Carl Zeiss wide–angle optics and optical image stabilization, the Nokia Lumia 928 lets in a lot of light, making photos and 1080p HD videos clear, crisp and bright.  I have to say that the interface of the Windows phone is quite slick as well.  I just love how user-friendly it is and easy it is to use.  The only thing I wish it had more of is applications, such as those on Apple and Android devices, but I still have yet to spend more time with this phone and learn about all it's features!
This outfit is perfect for one of those cooler Summer days, any button down shirt under a chambray dress is an easy and classic way of layering pieces.  I love the little floral details on the blouse and pulled in the colors from it in my handbag, shoes, and necklace as well.
Linking up to Verizon Voices Fashionista Style Hop!