So this Thursday is my Friday, because on Friday, I will be taking vacation from work so I can attend the first annual Go Blog Social conference right here in good ole Kansas City! 🙂  Yup, that's right, I haven't gone to any blogging conferences this year and when I first heard about this one, run by the awesome Sarah and Kat, AND it being right in town, I knew this was the one I wanted to attend for this year.  Gotta budget out to attend like 1-2 a year, that's my goal anyways.  😉  I'm excited to listen to the speakers, connect with more bloggers in person, and see what little changes I can make to my blog (for the better)!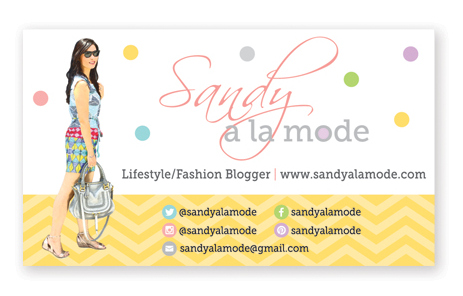 If you are planning on attending the conference, please come say hi to me and pick up one of my newly made business cards.  🙂  My amazing friend and designer Sooki or Sooki Designs created these new business cards for me and I couldn't be happier with how they turned out and I'm excited to pass them out!
And lastly, for those that are going to Go Blog Social, don't forget to follow me on Instagram (@sandyalamode) because I am teaming up with Gracie B. to bring you a gift card GIVEAWAY!  I'll post the details on my IG account on Friday morning~!  🙂  Excuse me, as I go plan out my outfits, paint my nails and prep for the conference now.  😉
If you are attending the conference, please leave your blog link/IG handle/Twitter handle in the comments so I can be sure to follow you too!