So I know I just blogged about a cozy outfit for cold weather yesterday, but I would be lying if I didn't tell you that we've had a few 50 degree days here and there and it's been amazing! And I think half of my readers live in warm places (jealous) so the cold weather all bundled outfits wouldn't even apply to you (again so jealous)!
So as a nod to my friends who think 50 degrees is cold (in which I think it's pretty warm), here's a perfect Fall/Winter outfit with a lot of layered pieces.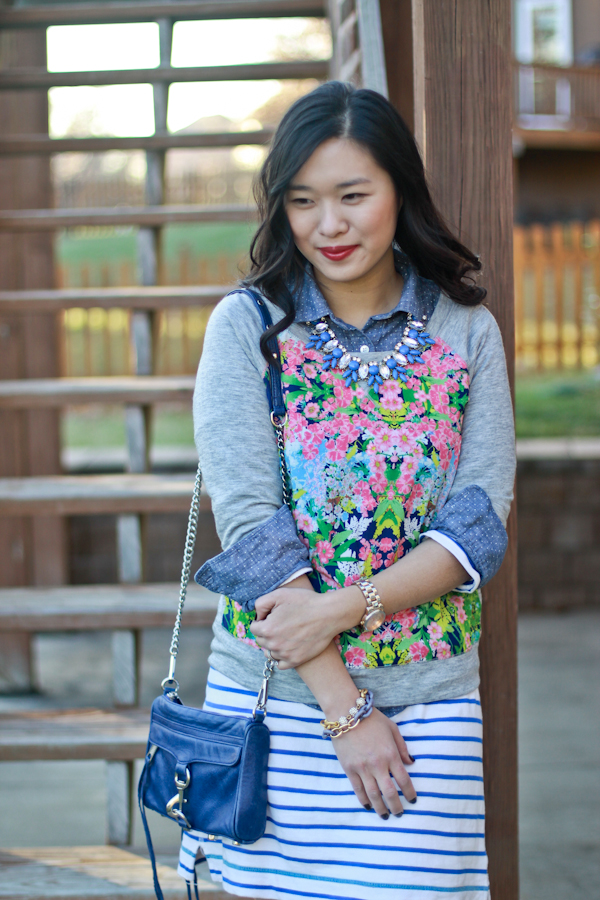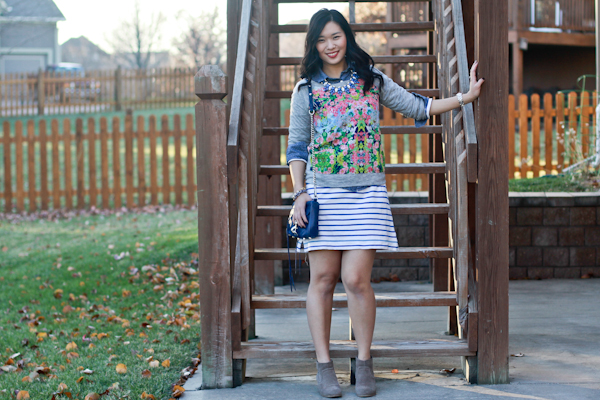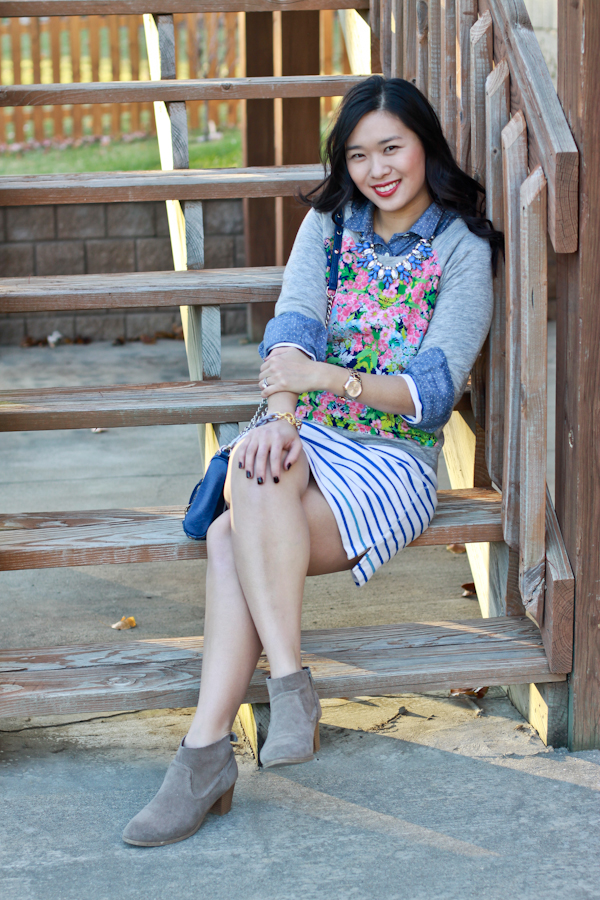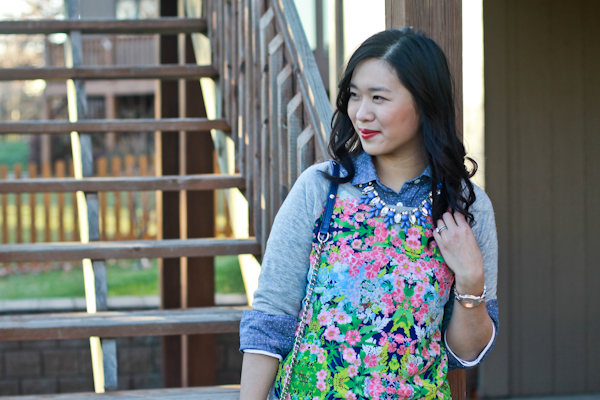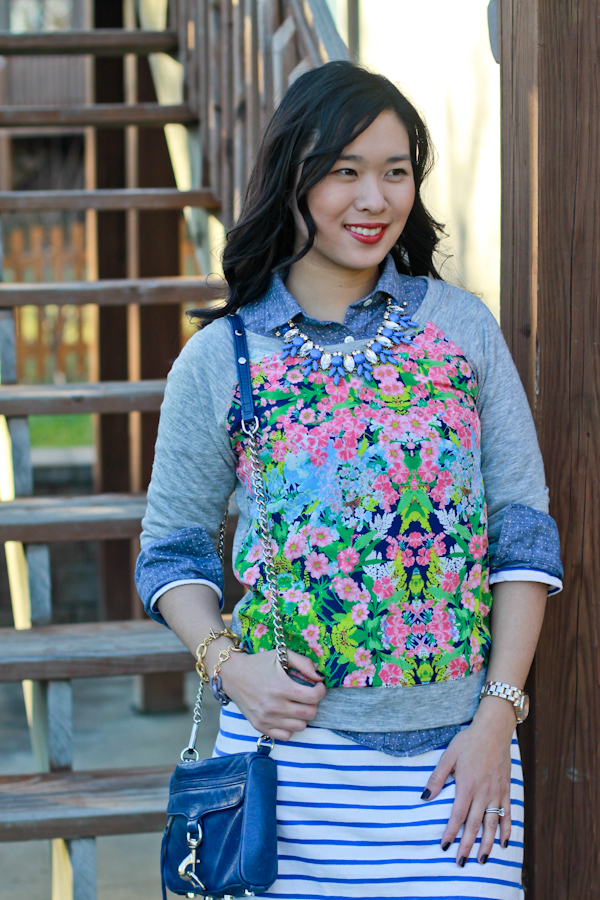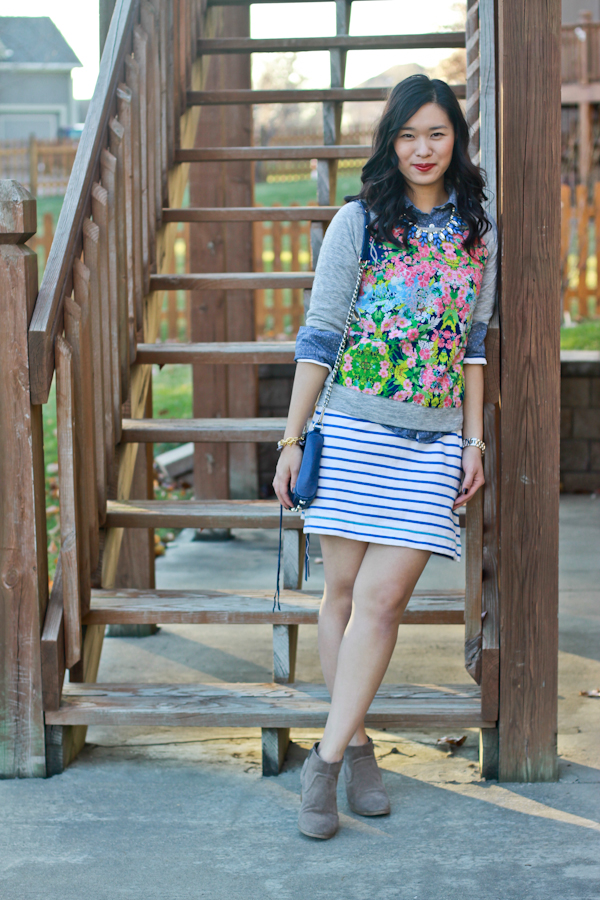 When I first saw this floral sweater, I just knew I needed to have it since it totally screamed my name!  I love how there are so many colors in it which makes it super easy to pair with other clothing items!  It's super lightweight and would just be perfect year round.  And in case you are curious about the layering I did here, this was actually my first time doing something like this.  I basically wore a long sleeve striped dress as the base, chambray polka dot button down in the middle, floral sweater on top, and a pretty gem necklace as the extra cherry on top.  🙂  I think I'll make it a new challenge for myself to never leave the house without 3 layered pieces, it's actually pretty fun and I can't wait to do it more.  Even better that each layer has a different pattern (and they happen to be my 3 favorite patterns when pattern mixing)!  I used to think 2 layers was a challenge, but 3 is the new 2 for me.  I could probably have thrown on a faux fur vest over this outfit too to make it 4… maybe next time! 🙂
Linking up to Tres-Chic Fashion Thursday!
Winner of the Caroline G. $50 shop credit giveaway is Jessi F.!  Congrats girl!  Send me an email at sandyalamode(at)gmail(dot)com to claim your prize! 🙂
Outfit Details
Dress: Anthropologie
Chambray: J.Crew (similar here and here)
Sweater c/o Conversation Pieces (free shipping on any purchase with code 'SANDY')
Booties: Target
Necklace c/o Caroline G.
Purse: Rebecca Minkoff