ppd: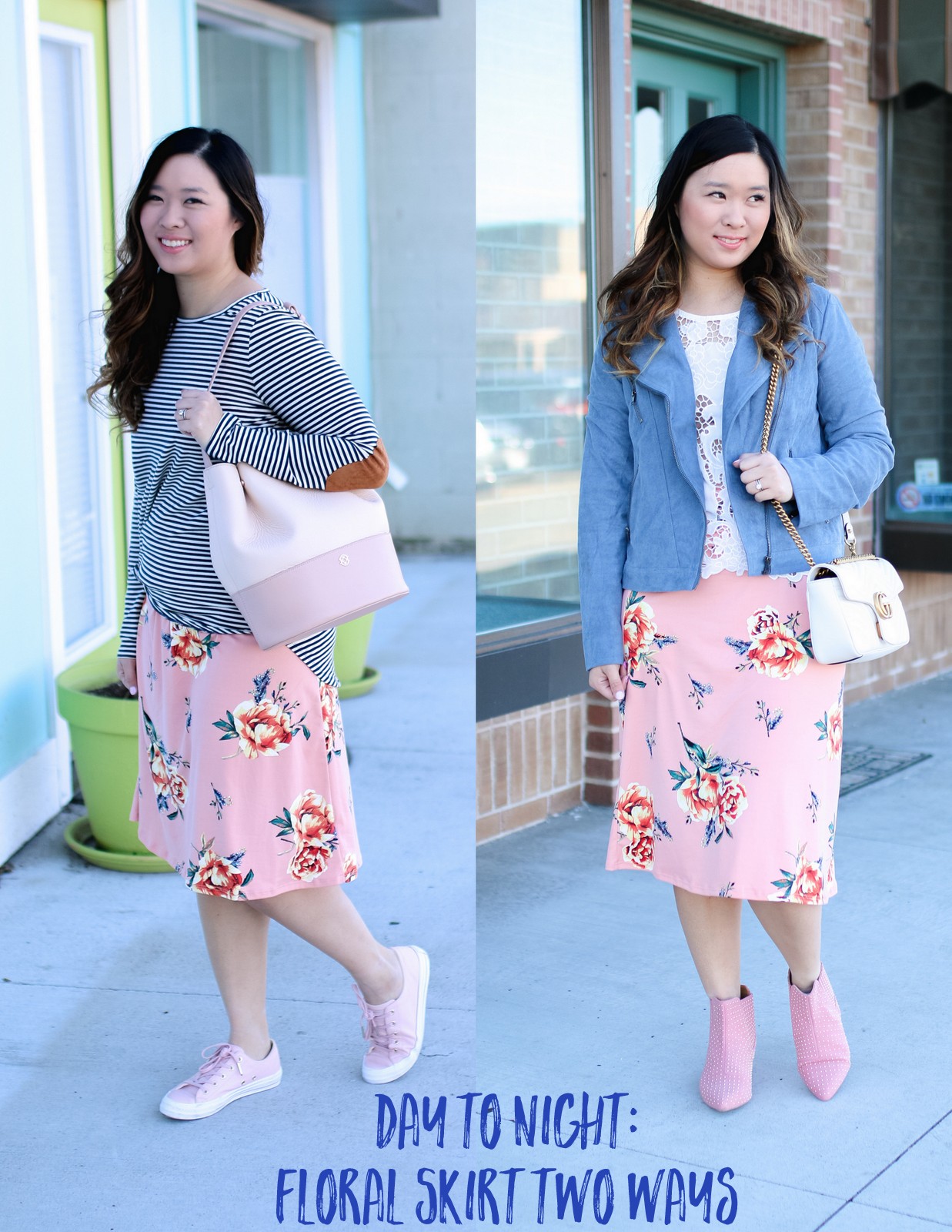 Can I just tell you all how excited I am that the weather has been in the 50s lately in Utah!? It feels like a heat wave and I am SO ready for Spring. Who else is with me? One of my favorite parts of Spring time is getting to wear florals, well, who am I kidding, I wear florals all year round, but I could wear them every day of Spring and Summer. Sometimes though, finding the perfect pretty floral prints can be tough, but when I saw the pattern on this skirt, I was immediately SOLD! It doesn't hurt that the skirt is pink too, my fave. Right now, Cents of Style is running a special Fashion Friday deal on them (all weekend) where you can snag your size in a variety of different colors and prints! It's such a great deal and a perfect time to stock up on your Spring wardrobe!!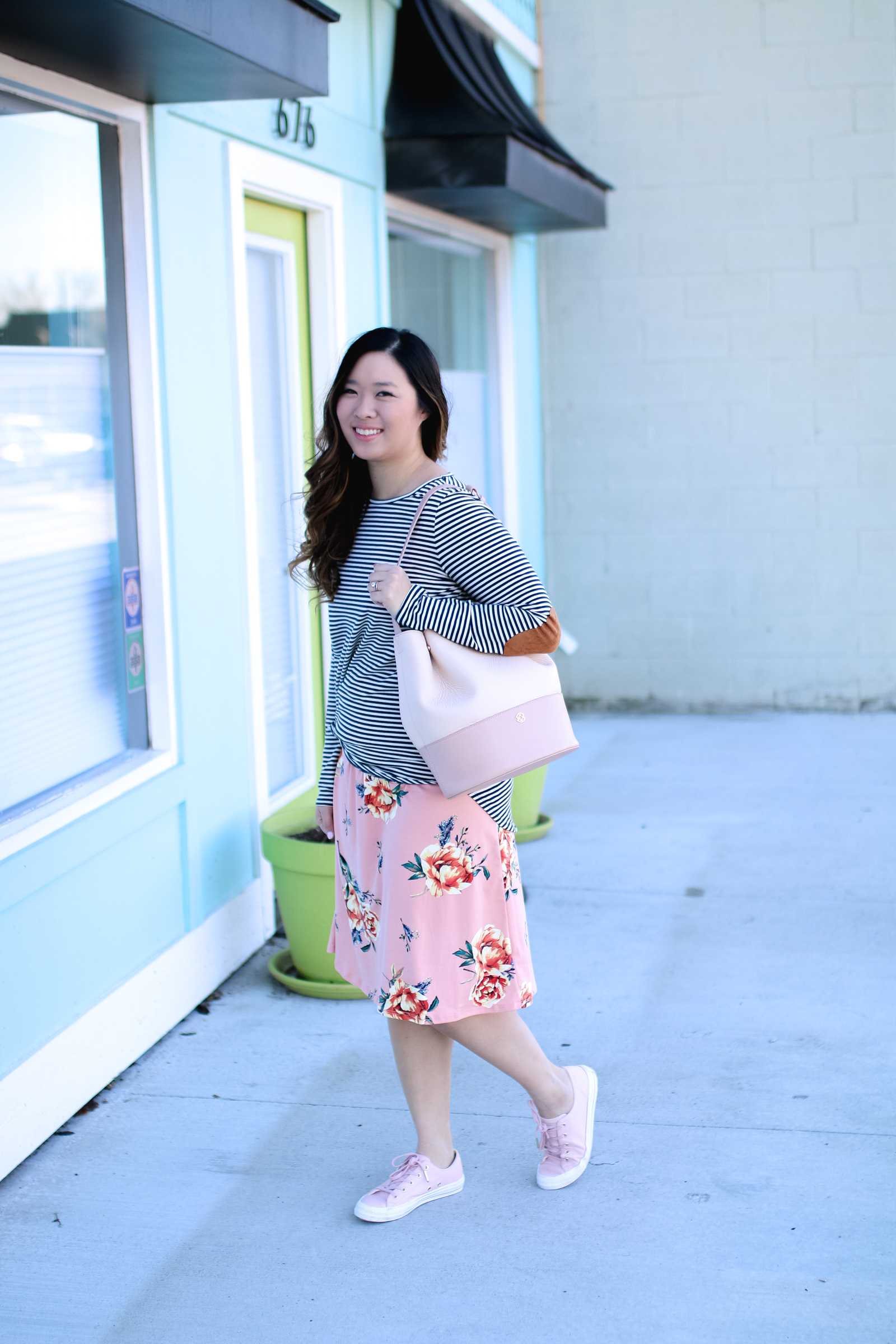 My first look is a casual pattern mixing look with my favorite Converse from the nudes collection. I am wearing this striped top which is part of my Brickyard Buffalo Editor's Pick! I love how the navy stripes go with the blue in the skirt, my favorite way to pattern mix. And to top the look off, I wore my gorgeous Dagne Dover blush bucket bag that I am OBSESSED with. Like that word is pretty much an understatement guys. It has a lot of great space with tons of compartments for all your little knick knacks, I know you have a ton!!
Top c/o Brickyard Buffalo
Skirt c/o Cents of Style
Watch: Kate Spade
Bag: Dagne Dover
Shoes: Converse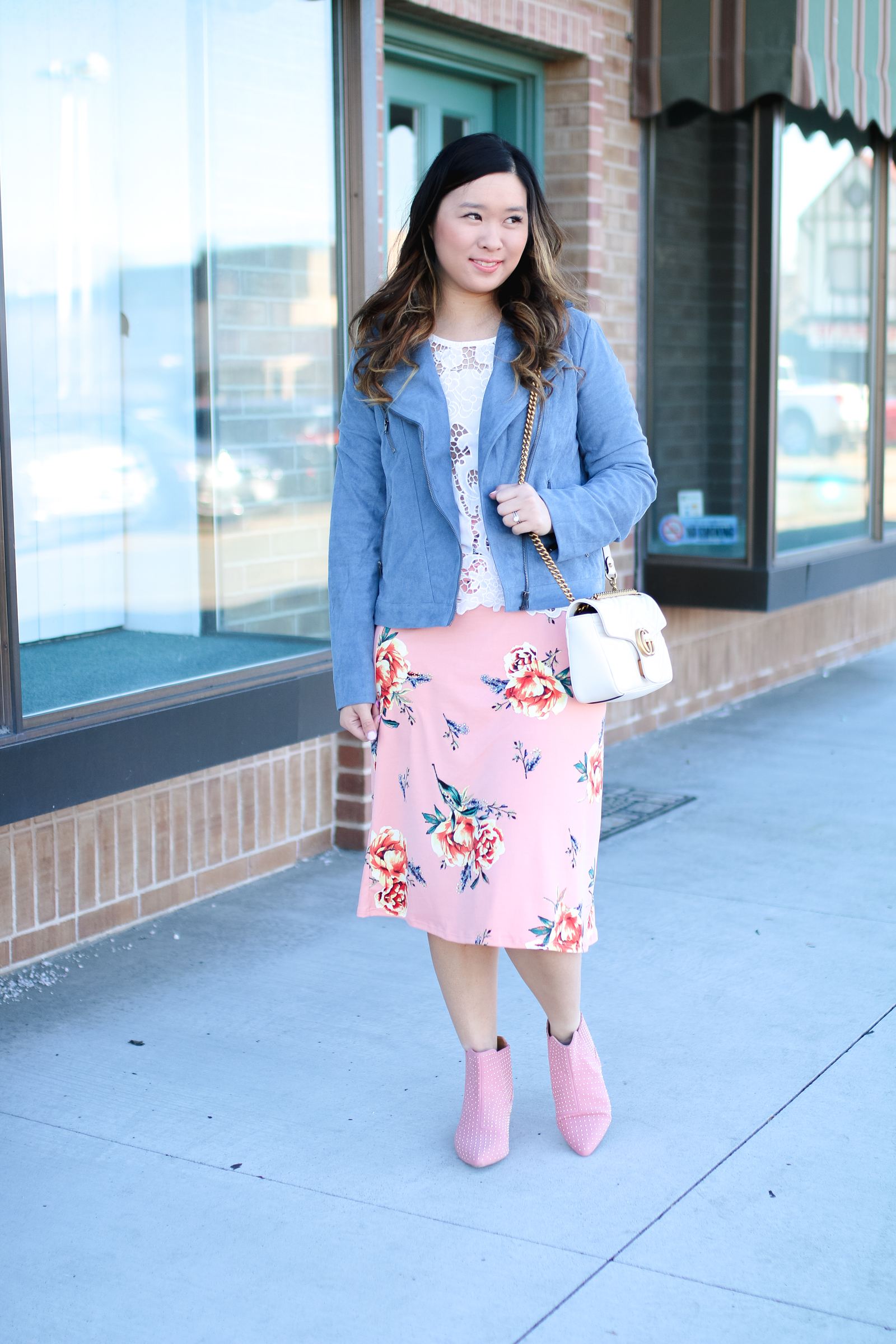 And then to dress this look up a little for "night", I swapped out to a lace top, threw on a suede jacket, some fun studded booties.. and of course it called for a designer Gucci purse to top it all off. I love this look because it's not TOO fancy, but it's just enough. Perfect for going out for a girl's night out for a date night with your man.
Night Outfit:
Top: Forever 21
Jacket: Ily Couture
Skirt c/o Cents of Style
Boots: Top Shop
Bag: Gucci
Again – make sure to snag your Cents of Style Floral Skirt this weekend for a SPECIAL PRICE!
And speaking of Gucci's… I have teamed up with a great group of girls to give one away, say what?! Yes you heard me right!!!
The winner will receive a Gucci GG Marmont Matelassé Mini Bag.
Money Can Buy Lipstick | Mash Elle | Ashley Brooke Nicholas | Diary of a Debutante | Sunshine & Stilettos
Polished Closets | Every Chic Way | Sylvie in the Sky | By Brittani Lauren | Coming Up Roses
xoxo Bella | Blush & Blooms | Wild One Forever | Fashion and Frills | Glitter Inc
Life Lutzurious | Glitter & Spice | Maggie a la Mode | The Closet Crush | Vandi Fair
Brooke du jour | Alicia Tenise | Just Add Glam | The Dandy Liar | The Glitter Gospel
A Lo Profile | Top Knots and Pearls | Have A Wesley Day | Fleurdille | The Lush List
Ruthie Ridley Blog | The Material Girl | Twenties Girl Style | Hashtag Fab Life | Street Style Squad
To B Candid | So Heather | Boho Chic Cafe | Always Coco Noelle | Sandy a la Mode
The giveaway is open internationally! The more "tasks" you complete below, the more entries you will receive, increasing your chances of winning!
Shop the post: