Hi friends! I have a SUPER exciting sponsor to share with you. I've partnered with Qin of Qin At The Disco to help get the word out about Fashionspace. Fashionspace is place where you can create "Looks" or collages of fashionable items from emerging designers. Some of the merchants that they work with are Modcloth.com, ShopBop.com, Max & Chloe, Old Navy and more! The great thing about this site is that sharing looks, products and magazines on your blog or website, you get to earn between USD 0.01 – 0.05 per click when your readers click through to their merchants' ecommerce site from your blog, holla! Fashionspace is giving away $100 Modcloth.com gift certificate to one lucky reader! Here are some details on how to enter this awesome giveaway!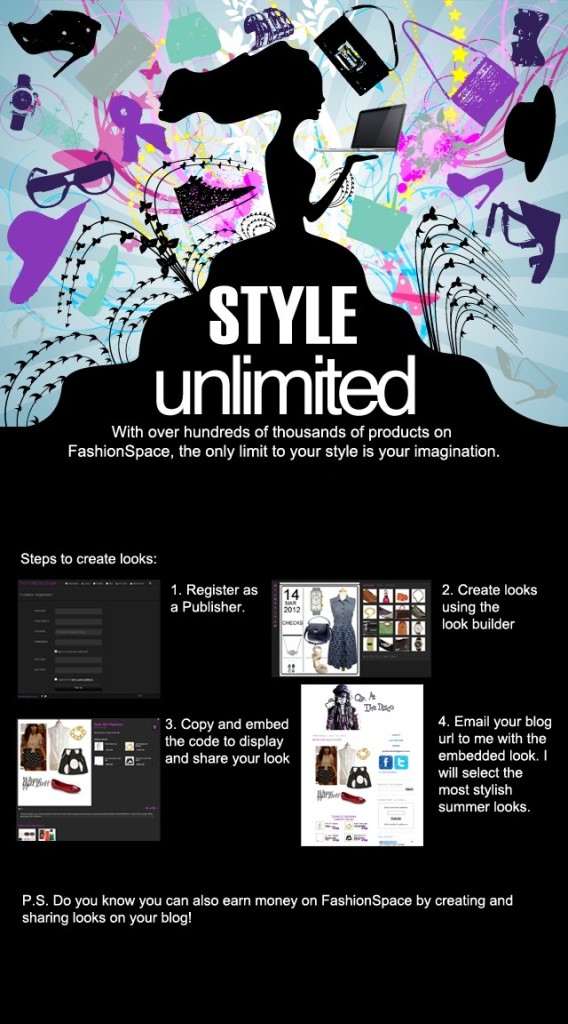 To enter the giveaway for $100 to Modcloth.com, all you have to do is (BOTH ARE MANDATORY):

1. Follow my blog via RSS, Bloglovin, Twitter, Pinterest or Hellocotton (you can choose any one!) and leave a comment telling me how you follow.
2. Create an account on Fashionspace and follow the directions in the flyer to create your own Look based on the theme "PASTELS", embed the look to your blog, and email your blog post URL to me at sandyalamode(at)gmail(dot)com with the subject: Fashionspace Giveaway!
I will pick my favorite Look and the blogger that created that Look will be the winner! 🙂 Giveaway is open until June 22, 2012 and open INTERNATIONALLY!
To get you inspired and to show you what your embedded "Look" would look like in your blog post, here is a "Pretty in Pastels" Look that I created! Have fun!
P.S. The winner of the EL Vintage $25 credit giveaway is TK of Fall and Love! Congrats! Email me at sandyalamode(at)gmail(dot)com and I'll get you hooked up with Emily!