Hi friends! Hope you had a fabulous weekend! I am so happy to bring you this post that I've been working on for awhile now. It's one of those "let's see how many outfits you can make with limited pieces" or "capsule wardrobe" type of posts. When I was first introduced to Winnie & Kat. I noticed that their store really was made up of essential items from tops to bottoms to dresses to accessories. Their pieces are typically one solid color or a simple pattern like stripes. I definitely think that their items flatter a variety of body sizes and shapes and could be worn through many ages of women. So I wanted to show you all how I picked out 8 of their pieces and created 12 outfits from those pieces. Really, there's probably a million other outfit combinations I could do, but you get the point. For the outfits, I stuck with only their pieces and then added my own shoes, belts, handbags and hats to vary up the looks. For my 8 pieces, I chose 1 tank, 2 outerwear pieces, 1 accessory, 1 pants, 2 skirts and 1 dress.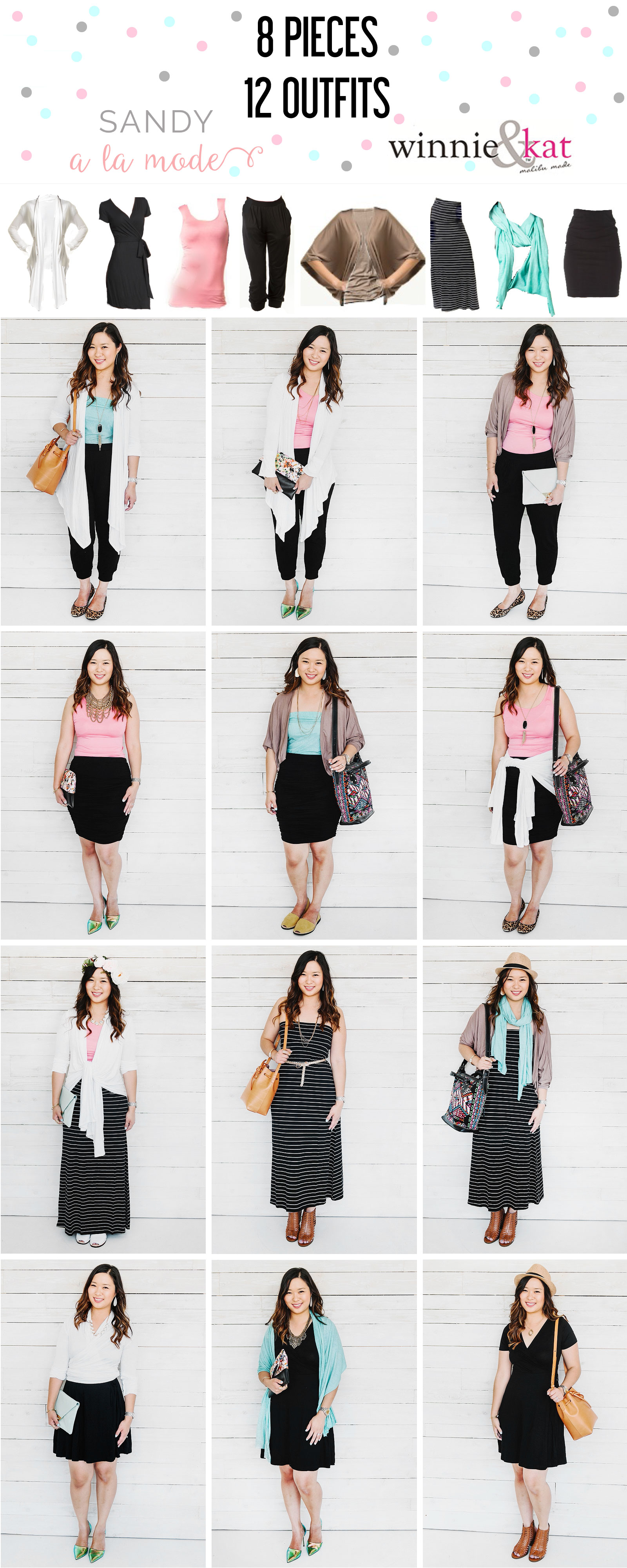 Let's break down all the outfits here…
Outfit #1
For this look, I went with black harem pants (these might be my fave item!), a throw that was tied as strapless shirt and a white shawl over it. I styled it with some neutral accessories like leopard, black necklace and a tan bag. To me, this would be an every day look.
Outfit #2
For this look, I swapped out the scarf and put in a staple pink tank top. I threw on some heels and added a floral clutch and this look is ready for going out on the town!
Outfit #3
For this look, it is actually similar to #1, but I swapped out for a clutch and shorter shrug. I like this nude shrug a lot because it's would be great for all seasons.
Outfit #4
For this look, I paired one of their simple tanks with the ruched pencil skirt. I like that this skirt can hide some belly chub and still look flattering. This would be what I would consider a clubbing look. 😉 Those days are long past thought… :/
Outfit #5
For this look, I wore the throw as a shirt again, put on a shrug and added some more pops of color in the bag and shoes. I just love how turquoise and yellow go together. I consider this outfit good for going to the Farmer's Market.. or doing some shopping!
Outfit #6
This one is similar to the first skirt one, but it's totally dressed down. I wore the white cardigan tied over the waist for a effortless casual look and did a little tribal print + leopard pattern mixing.
Outfit #7
This next look is styled with their striped maxi skirt. I wore the simple pink tank and tied the long ends of the cardigan up in front. Of course, the floral crown makes it look oh so romantic and dreamy. 🙂
Outfit #8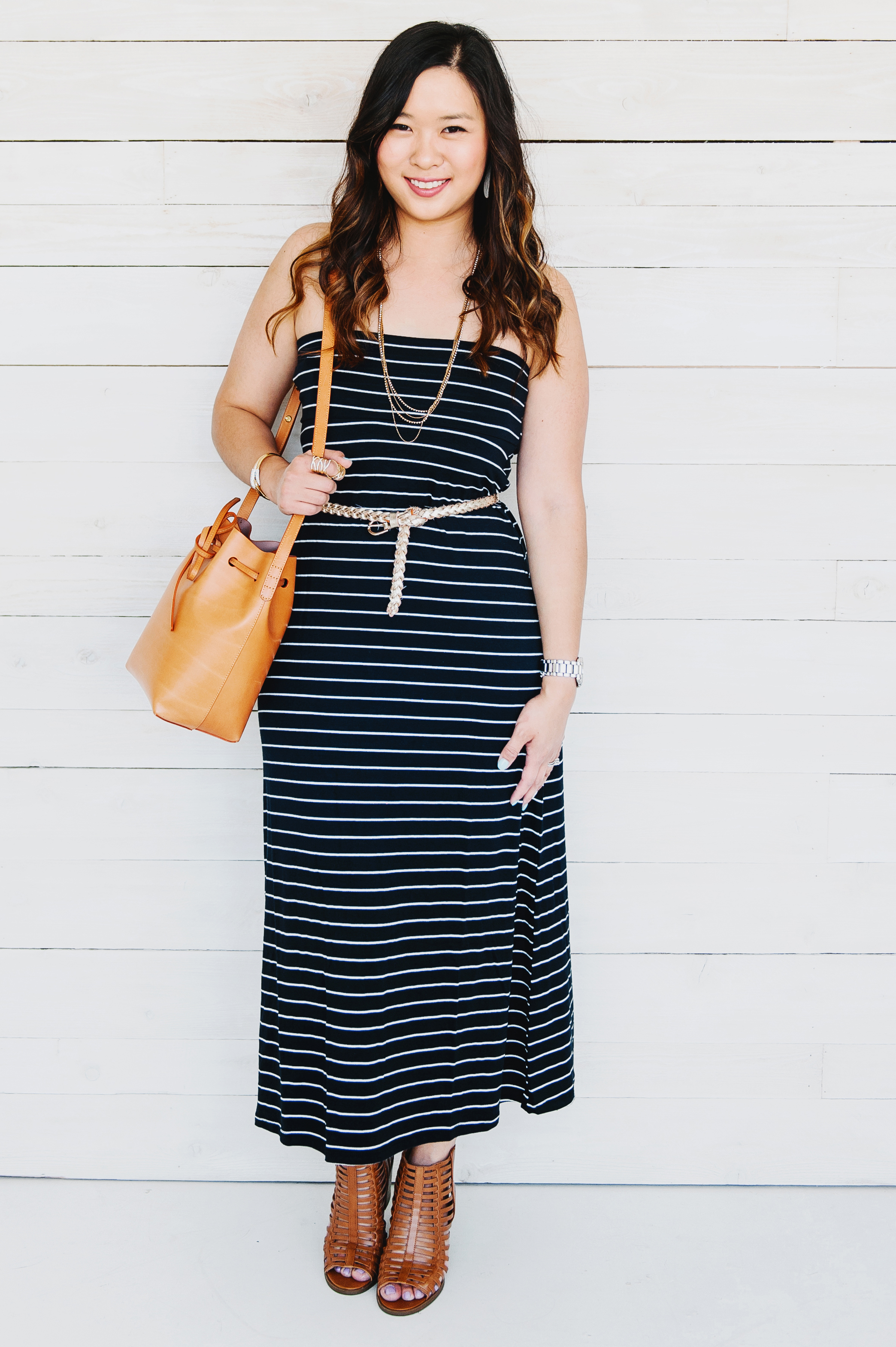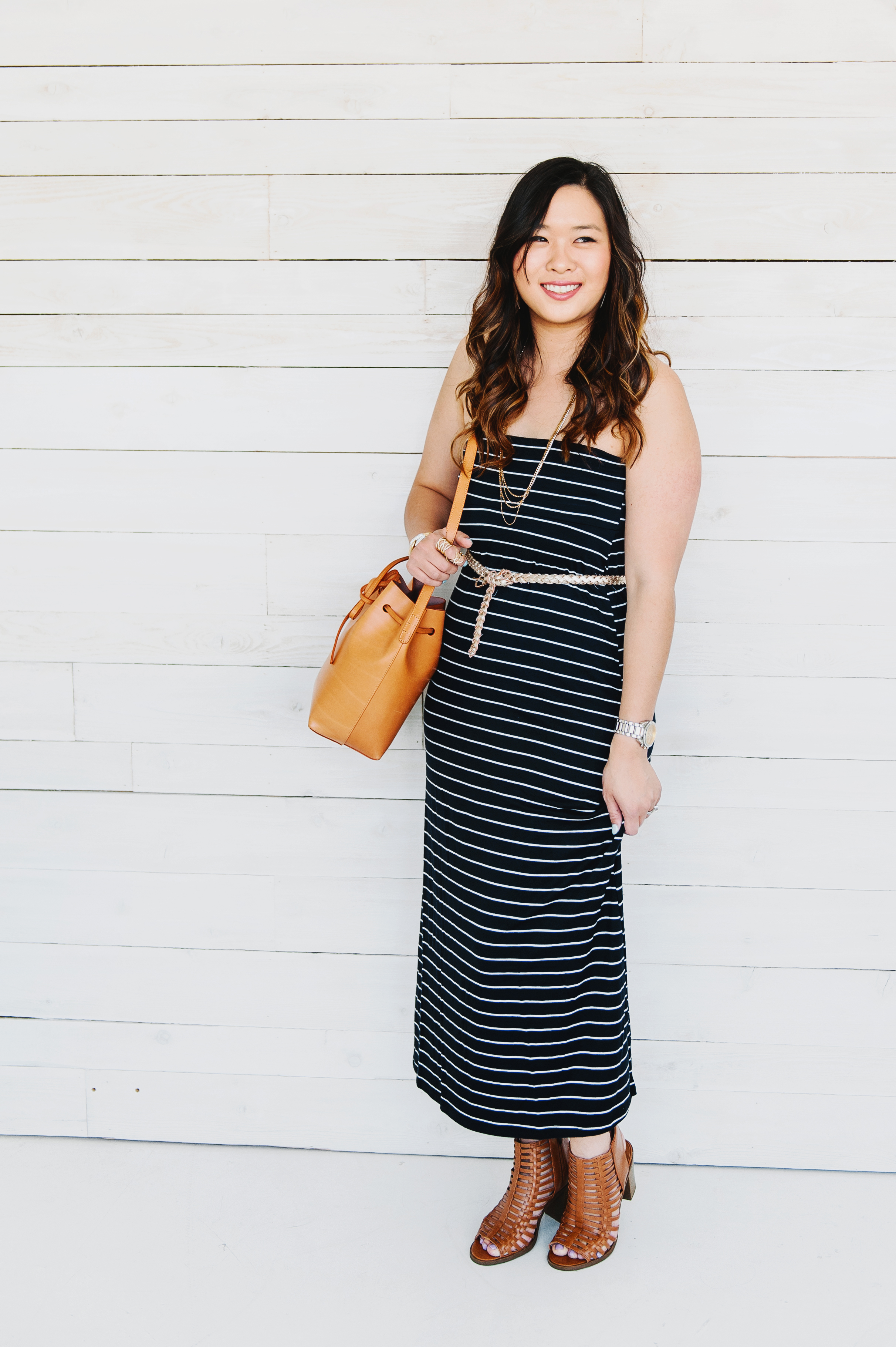 /p>
I love the idea of pulling a maxi skirt up to make a maxi dress, as this is exactly what I did here. The dress is the only piece needed and I like to belt it to give it some more shape.
Outfit #9
I kept the same maxi skirt turned into dress before but added on a whole bunch of layers. I think this outfit is PERFECT for traveling days. Layers are key especially when it's hot out but the airplane is freezing cold!
Outfit #10
If you don't yet own a little black dress, well you absolutely NEED one. I love this wrap one but I actually made it into looking like a skirt since I tied the white cardigan over. Black and white looks are always so classic and you can dress it up with color!
Outfit #11
I turned the colored throw into a shawl and I think made this dressy look even more fancy.
Outfit #12
And lastly, a little black dress really can speak for itself. I dressed it up with a whole bunch of tan neutral colors for a very chic and classic look.
Whew! Was that fun or what? Obviously there are endless outfit remix possibilities but I just showed you 12 here… that's almost half a month worth of outfits with just 8 pieces! I really do have a crazy amount of clothes and need to start cutting things down. I know a ton of people are into capsule wardrobes and I truly believe that Winnie & Kat has some great pieces to get those types of wardrobes going.
Outfit Details:
Wrap Shawl | Short Sleeve Faux Wrap Dress | Best Tank Ever | Harem Pants | Shrug | Nautical Maxi Skirt | Wrap Me Up Throw | Body-Con Pencil Skirt
Photography by Lori Romney Photography
This post was written in partnership with Winnie & Kat.
So, I want to know, which outfit is your favorite?