I am so excited to finally share a Halloween Party collaboration that I have been planning with a few other bloggers for months now! I'll be splitting the party up into a couple of posts, but for this one I wanted to share 10 tips for throwing a classy Halloween party, in case you are in the process of planning one now!
1. Decide on a theme/color scheme.



For this party, the theme was for it to be a classy girl's night out ghoul's night out party. Our colors were essentially black, white and gold, with pops of color wherever needed. But sticking to the neutral colors as a base really keeps things classy.
2. Create an invitation.

This invitation fit right with our color theme and is the perfect mix of spooky and classy. That skull with the flowers design is amazing and it was created by the ever talented Confetti Sunshine.
3. Decorate your entryway for a spooky first impression.


That picture wall might be my favorite. It's the perfect touch to really decorating your space in an impressive way. That entryway table filled with a mix of Halloween items really tops it off. You can see more details over on Housewife 2 Hostess.
4. Use a spiderweb as a tablecloth overlay.

This spiderweb overlay really adds some layers and textures to the main food table.
5. Serve candy in clear jars.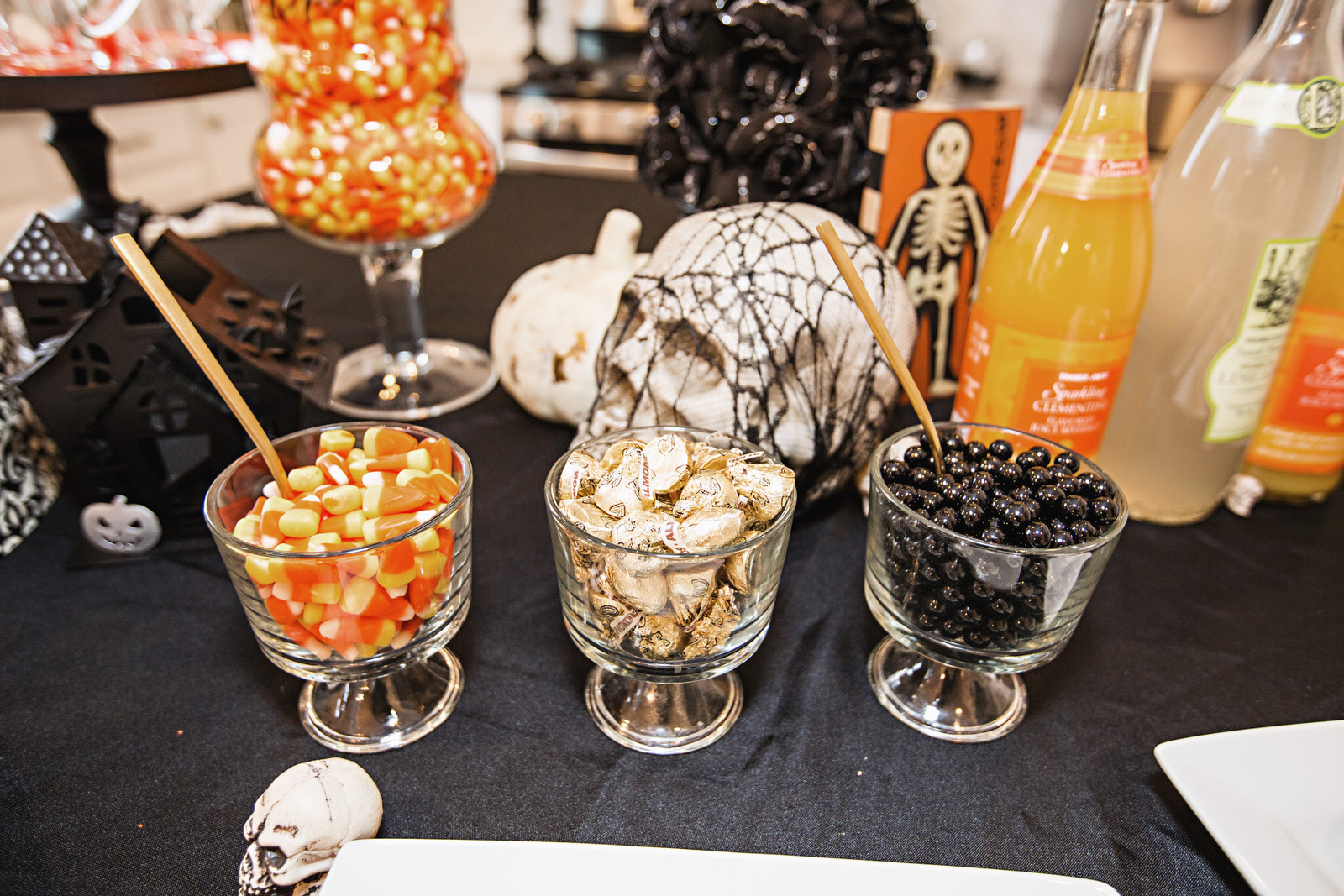 Serving anything in clear jars is a great way to show off more color. I love that tall "boo" jar from Tai Pan Trading. It really gives some height to the table and we even sneaked a few skulls amongst the candy corn.
6. Prepare yummy desserts/appetizers/treats.


It helps if you have friends that are food bloggers or just love to cook. Armelle Blog made some Pumpkin Soup with Parmesan Crisps and Festive Pumpkin Cream Puffs that were both so tasty!
7. Provide an assortment of drink options.
From a hot cocoa bar to juices to cocktails… drink ideas are endless but make sure there's a lot of options!
8. Include a runner on your dinner table.

Adding a runner to your dinner table is simple thing to forget, but if you remember to add it, it really gives a center stage for adding little Halloween decor pieces to the table. Also having cute chargers, plates, napkins and goldware that coordinate with the theme is a must.
9. Tell your friends to dress up in costumes according to your color scheme.


This one may seem like overkill, but if you truly want your party to stay classy, then you'd ask your friends to dress according to your theme or color scheme. I mean, imagine if we all wore costumes in like brown, purple, orange, yellow and green. We would all clash and it just wouldn't have stayed classy.
10. Invite your skeleton friends over too.


A Halloween party ain't a real party unless Mr. Skeleton is invited.
Don't forget to visit the other ladies that are part of this collaboration to see more of their costumes and crafts/DIYs that they prepared for the party! We will all be posting throughout the next few weeks!
Housewife 2 Hostess
Armelle Blog
Gentri Lee
Confetti Sunshine
All photography by Diana Putnam Photography. If you are in the Salt Lake City area, don't forget to check out Tai Pan Trading for an abundance of Halloween, Thanskgiving, Christmas decor for your parties. Or you can shop online too.