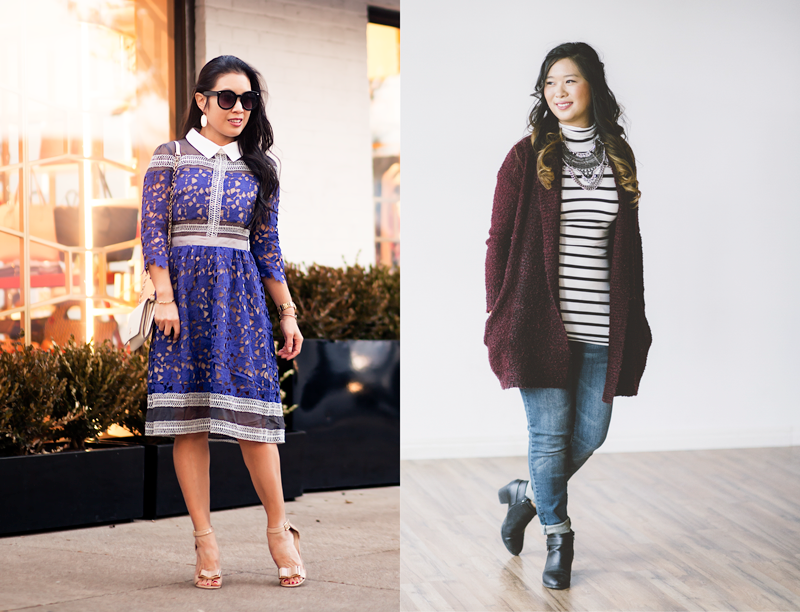 Kileen | Me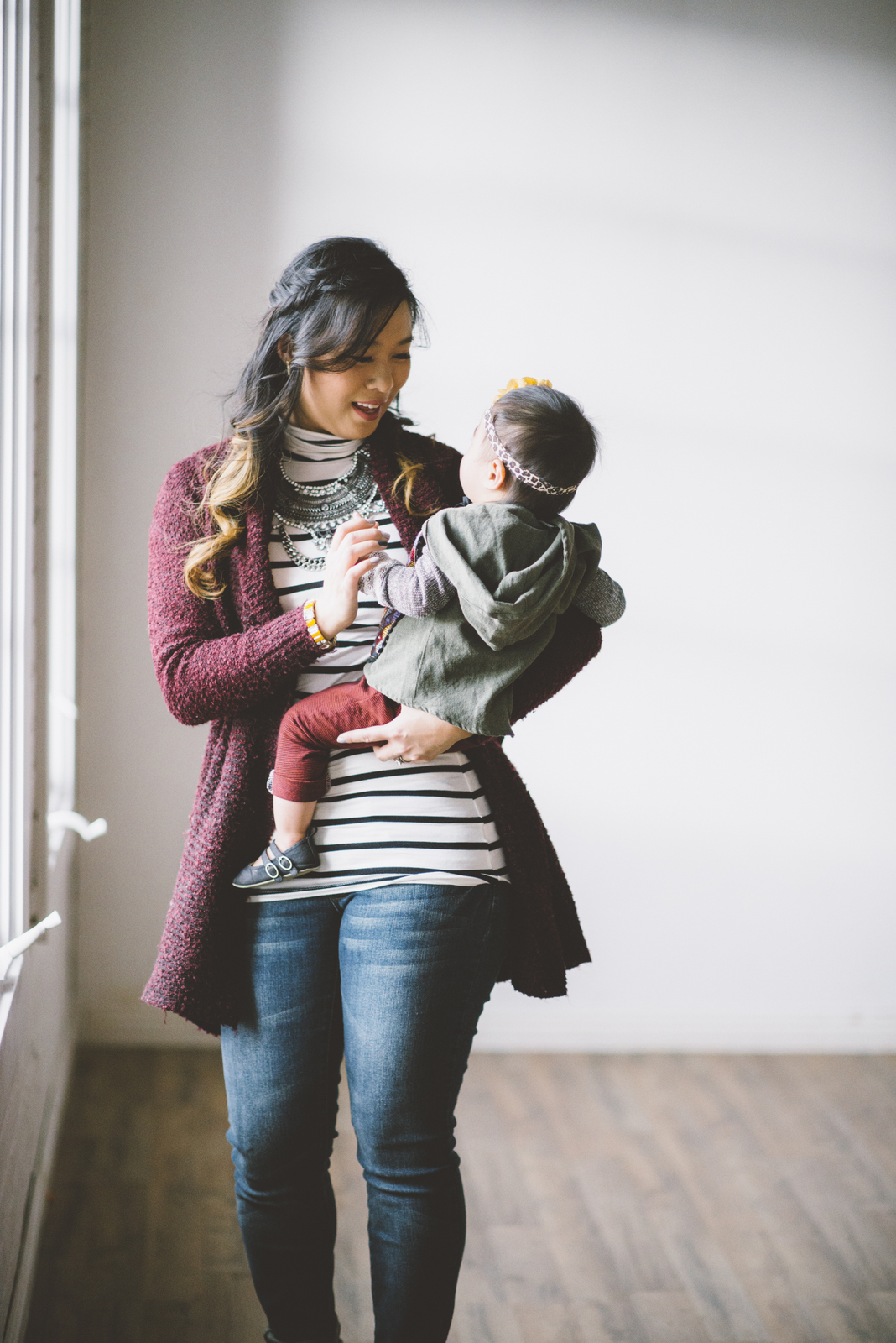 It's my first Mommy + me post of the year and I am kind of excited about it! 🙂 For this look, we went with matching stripes in a casual look. I'm wearing a striped turtleneck, that is SOO good for layering with a chunky cardigan over it with jeans and boots. And a fabulous statement necklace, because even casual outfits need a little fab, yea? 😉
For Vivian, she is wearing a super comfy romper with a intricate jacket over it. If you haven't heard of Brass Razoo before, it's one of those shops that has releases twice a year and sells out in like 20 minutes!!! So this mama was happy to be able to FINALLY score a few pieces, some people try for years and never get a thing!!! :/
I have a new resolution to these posts for this year, for every Mommy + me post, I will also share a little story about something Mom related that I am going through. It could be a success or something I'm struggling with, either way, I would love your feedback or comments on it and let me know if you want me to keep posting these little conversations here!
My outfit:
Turtleneck c/o Lilac Clothing
Cardigan: Forever 21
Jeans: Tummy Trimmer Denim
Watch: Daniel Wellington (use code SANDY15 for 15% off)
Boots: Cents of Style
Hair styled by Tanglez Hair and Makeup
Vivian's outfit:
Romper c/o Rad Revolution Kids (love this floral one!)
Jacket: Brass Razoo
Shoes: Old Navy
Photography by Ashlee Brooke Photography
For this week's Mom related talk, let's talk about SLEEP. I posted over on Instagram but our kids are not the best sleepers. Our bedtime routine with 2 kids takes 2 hours and my husband and I barely have time to ourselves at night, or else I find myself staying up until 2-3AM doing stuff, no joke. With my 4 year old son, we did do CIO and sleep trained him around 9 months and everything was great. His schedule has been good and bad, it varies like every 6 months. Currently he starts his routine at 8PM… brush teeth, bath, books, talk about his day, songs and we leave. But he gets out of his bed or wants us to stay by the door until he is asleep. It's tiring and NOT productive…
Our daughter (who is now 15 months), before I had her, I swore that I would put her down awake and let her fall asleep on her own from an early age. We tried that, didn't work, she would always fall asleep at the bottle or breast and no chance of putting her down awake. Before our current vacation that we are taking, we would put her down asleep around 8:30PM and she would wake up around 12-1AM, and me and my husband would alternate going into sleep with her on the bed in her room. Mostly we did this in fear that her crying would wake up her brother. And now we are on vacation, we are just straight up co-sleeping with her since she is not used to this "new place". BUT, I am determined to sleep train her once we get back.. with CIO or Ferber method, one of them will have to do. So… wish me luck, and let me know what you did, I want to know!!!
And the winner of last week's most clicked link is Sheree of Posh Classy Mom!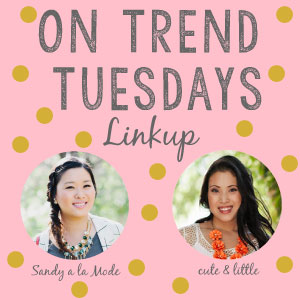 Feel free to link up your fashion post below! Please make sure to add the button or link back to myself and Cute & Little in your post and go and comment on at least 5 other blogs, please please!!! 🙂 We want this to be a community of fashionistas to keep you inspired and supporting each other is what we are all about!