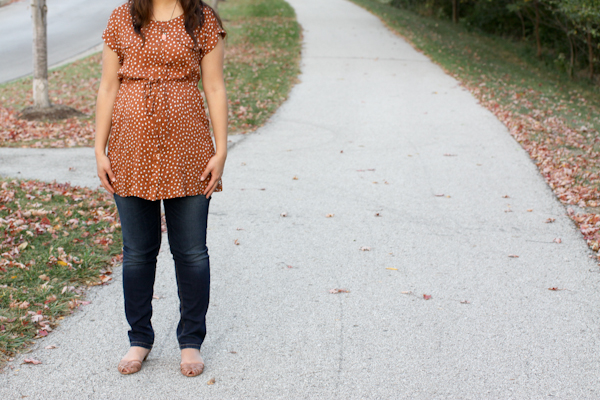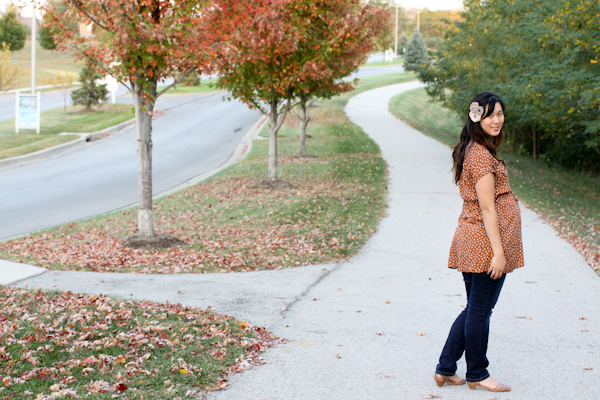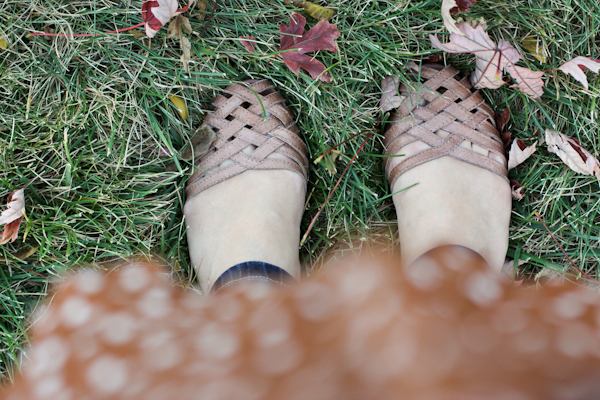 tunic: forever 21 | jeans: motherhood maternity | necklace: oh, hello friend | headband: whippycake | shoes: nordstrom rack
We're baaaack!  That's right friends, it's time for the 4th installment of the Adventures of the Wandering Whippy Cakes.  This time, I'm modeling the Twiggy, a super pretty neutral and earth tone headband that is just so perfect for fall.  I am seriously loving all brown, tan, pink colors right now, especially when mixed together.  These pictures were taken on the entrance/exit street of our neighborhood, the row of color changing leaves on the trees is always so wonderful to look at as I leave for work in the morning and come home in the afternoon.  So glad bump got to see it too.
My feet are happy to show off these new shoes I just got.  They are a little vintage and a lot of goes with everything neutral.  Only problem is that my feet started swelling pretty much the day after this photoshoot.  Please tell me my feet will go back to normal after I have my baby.  It would be a tragedy to not be able to wear any of my previous shoes anymore, although that might be good for all you size 7-7.5ers as I might have to have a blog sale to get rid of them (*tear*).  OK, let's not think about that.
Bump update: 31.5 weeks
– Increased pelvic pain on the side I sleep on
– Hips getting increasingly bigger… yikes!
– Maternity photos taken by Ria Photography and so excited to see them!
– Had a surprise work baby shower, so fun!
– Baby is still super active with its punches, kicks and somersaults
Now don't forget to head on over to these blogs to check out how the other ladies styled their Whippy Cakes from their end of the country!
Lindsay of Aisle To Aloha
Ilene of Much Love, Illy
Moriah of Moriah Makes
Kim of Oh, Sweet Joy
P.S. The winner of the

Sparkle Thots

$30 credit

giveaway

is….

Rhian

from

Something Blogged

!  Congrats!  Rhian – please send me an email at sandyalamode(at)gmail(dot)com to claim your prize!  🙂
And don't forget to enter the

Yellow Heart Art

8″x10″ print

giveaway

too!