Can you believe it friends? Today is my TWO YEAR BLOGIVERSARY… or in other words my BLOG'S SECOND BIRTHDAY! When I first started this blog two years ago, never had I imagined it would be at the point it is now. My blog is a HUGE part of my life and who I am. While I love sharing bits and pieces of my daily happenings with you all, most importantly, it's a journal for me to get my thoughts out and pictures in one place. During this past year, my pregnancy slowly started taking over my blog, with posts about "baby" things, baby showers, and my "bump" outfits. I hope I didn't bombard with it too much as I've always tried to stay true to still blogging about inspirations, fashion, recipes, photography, and sharing posts about my wonderful sponsors! Anyhow, to celebrate this momentous occasion, my little guy just wanted to say…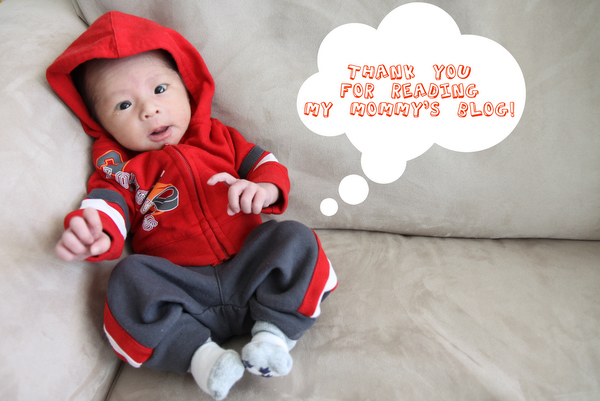 Lastly, out of an appreciation to all of my readers, I'd love to give away a 1 month February Feature Sponsor spot on my blog ($30 value)! What comes with that you ask?
– 190 x 190 button in Lovely Sponsors box with a link back to your shop/blog
– weekly rotation of ads among Feature Sponsors
– one "Sponsor Love" post with giveaway (>$30 value)
– shoutouts over twitter
To enter, leave a comment with your favorite types of posts that I blog about! Is it the outfits, recipes, photography, Cold Hands Warm Hearts swap, baby updates, inspiration, Flavors To Follow, giveaways, something else? If you don't want to enter the giveaway, that's totally fine, I'd still love to see your comments! I'll be taking entries for the giveaway until January 19, 2012 at 12PM CST.

Thank you again for reading, I truly appreciate each and every one of you. And if you are a lurker… this is your time to let me know, pretty please? 😉