This post is a bit overdue now, since Austin is already past 12 months, but hopefully those new mamas can still find this useful! Austin being 3-6 months really feels like an eternity ago. He's grown tremendously in every which way but sometimes, just sometimes I do miss those little baby days when he didn't know how to "say no by shaking his head". Here's my list of things that are MUSTS for babies in the 3-6 month age group.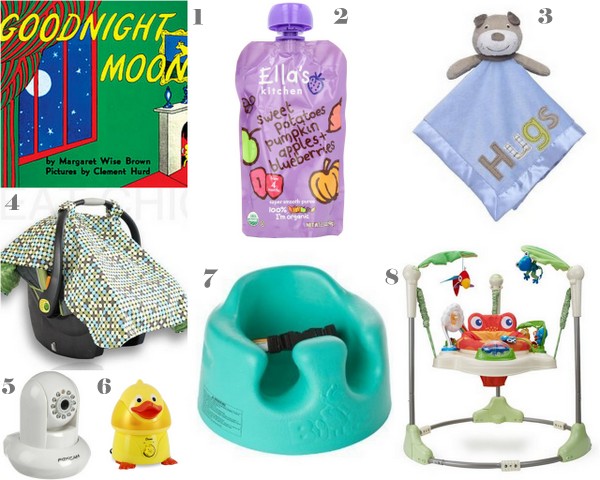 *the numbers below have the link to the items*
1 At this age, we really started establishing a bedtime routine. It was always bath, books, bottle, and bed. Every night (to this day) we read him a series of books. One of his very favorite books is the famous Goodnight Moon.
2 Up until he was about 5 months of age, we only gave Austin breastmilk and formula. One of the first "foods" we introduced to him were these fruit/veggie pouches. They've got pretty good nutrients and were tasty enough for Austin to start liking as his very first food!
3 Meet Spencer, Austin's very best friend. He sleeps with him EVERY night and sometimes when he wakes up in the middle of the night, once he finds Spencer, he can fall back asleep. My sister in law always stressed to me how her own children used these lovies as transitional objects to help when going to an unfamiliar place or to help with sleep.
4 These Car Seat Chic covers are cute, hang from car seat handles, and are GREAT for keeping your baby warm and away from germs when going out. Love all the design options too!
5 We Moved Austin to his own crib and room at 3 months. This obviously made it super important to have a monitor so we could watch and hear him without having to go into the room.
6 As Winter can be quite dry and flu season is in full force, cool mist humidifiers do a great job of providing relief for babies' dry skin or flu symptoms. Austin still uses this now.
7 Bumbos great for babies as they are learning to hold their heads up on their own and sit up on their own. They make great baby lounge chairs too.
8 The jumperoo has brought Austin many hours of entertainment, laughs and strong legs. He loves it, we love it!
Do you have any things to add to this list? Would love to hear it… you know… for our next baby… whenever that happens (not soon)!
If you are a mama-to-be check out my Baby Favorites: 0-3 Months post!
Thank you to all that have voted for me so far! Please
VOTE for me (again) today, you can vote once a day!!
And don't forget to enter my 3 year blogiversary GIVEAWAY!