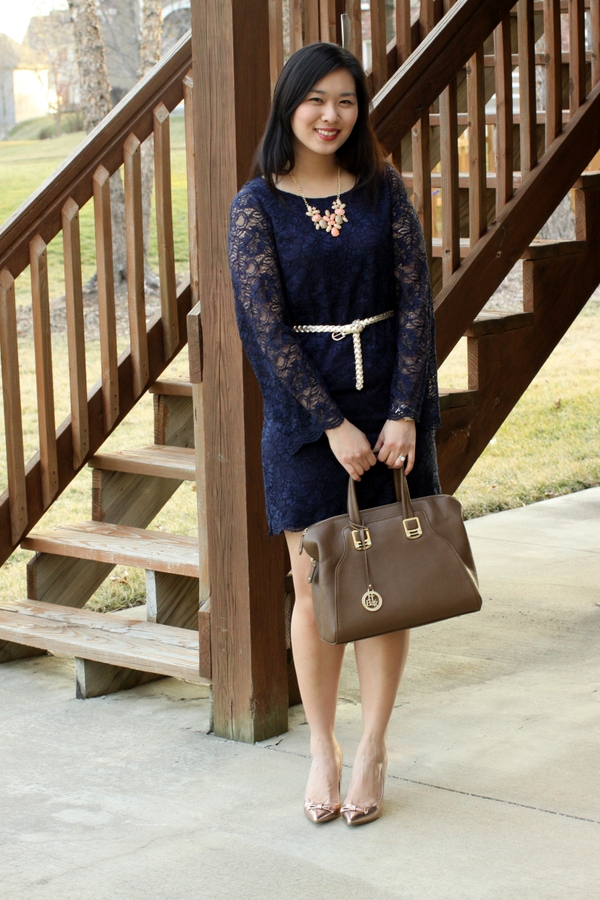 Dress: Lulu's | Necklace c/o Mimi Boutique | Bag c/o Mimi Boutique | Shoes: ShoeMint
This is my I didn't watch the Oscars but if I were going to the Oscars party this is what I might wear kind of look.  I love the look of navy paired with pinks and neutrals.  And you can't go wrong with lace!!  It's really ironic I am posting this outfit today seeing as we just got an additional 6 inches of snow on top of the 12 inches we got last week.  Thank goodness we were able to take these pictures a couple weeks ago, because we haven't been able to this whole past week, I just can't stand to be outside in the snow for too long these days!
On a separate note, over Christmas time, I was the heaviest weight I've ever been in my life (not including when I was pregnant of course).  The belly is kind of out of control (hello Spanx) and I just had to do something about it.  I've tried many diets in the past and while some do work or I stick to it for a week or so, my body still gravitates back towards the same weight that I am not a fan of.  😉  So for the past month, I decided to start going to bootcamp classes over lunch at my work on Monday, Wednesdays and Fridays.  I used to always think that working out during the work day was so inconvenient, especially to have to shower in the middle of the day, but I have grown to love it.  It's a great break from work and doesn't mean I have to wake up earlier or get home later or anything!  I've also started using the FitnessPal app on my Android to track my net calories.  My goal is to lose 1 pound a week, for up to 20 pounds total… which means I'm only allowed to consume 1320 calories a day (well if I work out, I can eat more).  I've also tried to cut out snacking after dinner – it's soo soo hard, but I'm allowed to cheat once in awhile too.  😉  So far, I've lost about 4-5 lbs. and I can't believe it.  It really feels great and the weight loss is keeping me motivated to keep on going!  I've also heard about the 17 Day Diet plan and am interested in trying that out too, maybe!
I'll be linking up to Because Shanna Said So, The Pleated Poppy and Style Elixir with this post!
P.S. If you like the necklace and/or bag I'm wearing, don't forget to enter to win $75 shop credit to Mimi Boutique here!
P.P.S. The three winners of the ShoeMint giveaway are Courtney of Splendid Actually, Jessica of Jeans And a Teacup and Kayn Kosal!  We will be in contact with you, CONGRATS!!  🙂
Any other weight loss (and keep it off) tips you have for me?