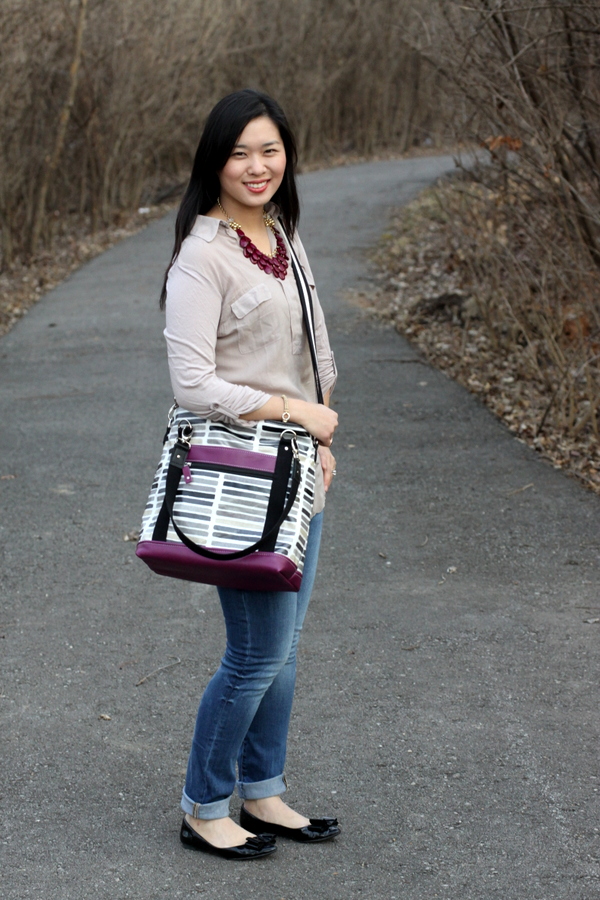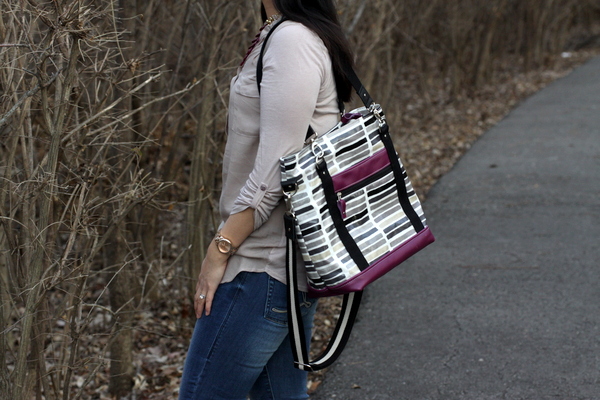 Top: Splendid | Jeans: Lee | Shoes: ShoeMint | Necklace: Francesca's | Bag c/o FlyGirl | Lipstick (Moscow) c/o Radiant Cosmetics
My sister in law had always raved about Splendid but I didn't really know until now. Actually, Austin has a few tops from there and they are super soft but it didn't really hit me until I got some of my own. I was lucky enough to win a $150 Twitter giveaway to Splendid a few weeks ago and Oh, Sweet Joy pretty much convinced me to get this top, and I want more, like one in every color, please! I'm all about adding more staple pieces to my wardrobe that can be mix and matched up easily.
And I have officially found a new favorite Mommy/diaper bag from FlyGirl! I love love love the size of this bag, the high quality fabrics, the fact that oil cloth is SUPER easy to clean (already had a spill on it), the multitude of pockets to fit wipes, diapers, bottle, snacks, toys, and the fact that I can wear it crossbody which pretty means I am hands free to be able to carry Austin in one arm and his toy in the other arm. I love the grey stripe design with a fun pop of purple and the versatility of being able to carry it on my shoulders too!
So yea, I really wouldn't mind if more soft Splendid tops and crossbody bags made their way into my closet…. *ahem* (not sure who this is addressed to, perhaps my wallet). I'm linking up to Watch What I'm Wearing, Yolo Monday, and Monday Mingle!
By the way, I have just done a revamp of my advertise page with an entirely new sponsorship package, rates, sizes, details as I've recently signed up with Passionfruit Ads! I have many ad spots available NOW (no more waiting until the beginning of the next month)! Come sign up if you feel your blog/shop would be a great fit for my blog!