Each month, these two ladies collaborate with a small business and team up with bloggers to help spread the word about their products.  This month's business is…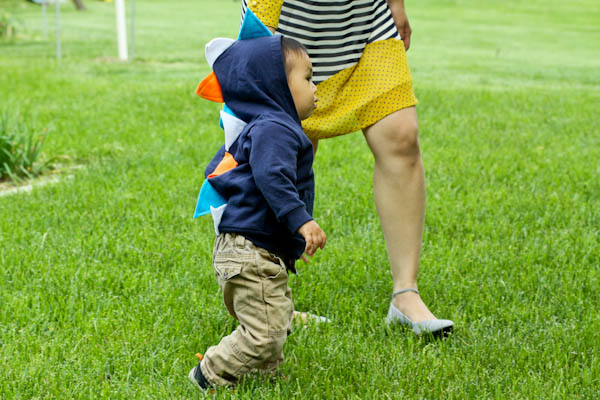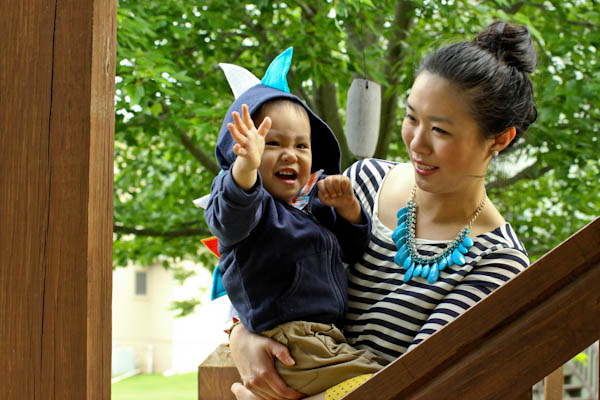 My Outfit – Dress: Ever+Mi Crush | Necklace: Francesca's | Shoes: Madewell | Bracelets: Kmart
Austin's Outfit – Button Down: Carter's | Dino Hoodie c/o Elle Dee Designs | Pants: H&M | Shoes: Pedipeds
I wish there could have been sound on this post, because we told Austin to make dinosaur "roar" sounds while wearing the hoodie, and he did just that.  Hilarious.  And I'd like to just say that this dress I'm wearing from Ever+Mi Crush is my new fave dress, foreals.  I've worn it 3 times in the last 3 weeks and have gotten compliments on it every time I've worn it.  It mixes stripes and polka dots for me all at once, what could be better than that?  Also, I will be linking up to #YOLOMONDAYS and Life Lately with this post!
Be sure to check out how other bloggers' kids styled their Elle Dee Designs dinosaur hoodies!
Lee La La//Delightful Deets//Woobie from Shop Kiki La Rue
If you are interested in getting your little one his/her very own dinosaur hoodie or anything else from Elle Dee Designs, use code "loveaffair" for 10% off your entire purchase!
P.S. I'm hosting my very first Facebook flash GIVEAWAY with Accessory Mercado!  Head on over to Facebook to enter the giveaway for a Tory Burch inspired green wrap bracelet and $50 to Accessory Mercado!  If you would like me to host a Facebook or Instagram giveaway for your shop, head on over to my advertise page to sign up for a Small – For Social Media Giveaway spot!