This post is sponsored by Coupons.com but all opinions expressed are my own.
You guys, can you believe we are already well into February, which means Valentine's Day is just around the corner? It doesn't feel like February since we've been having 60 degree weather here in Utah (I thought I moved to the land of snow, but I am not complaining about this nice weather)! This year, my husband and I decided to treat each other to a nice dinner and just get each other something small that won't break the bank. Also, it will be fun to celebrate the holiday with our little ones too by letting them indulge in some chocolates and dressing them in all things heart shaped. I just love the spirit of this holiday since it's all about LOVE!
For those of you who are still planning to do some shopping, Coupons.com has put together a Valentine's Day Magazine on The Good Stuff by Coupons.com. I love this Valentines Day gift guide for shopping for your sweetie, kids, and friends. It also has some great date ideas and DIYs as well. Here are some highlights from the guide that I put together.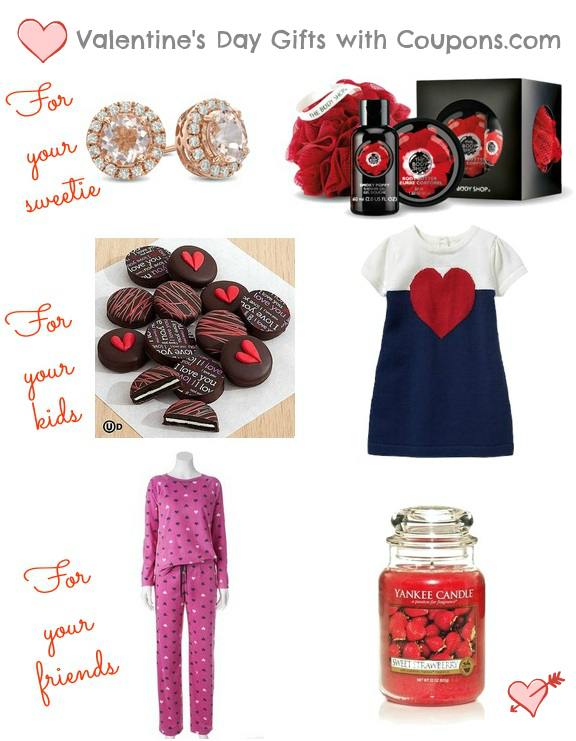 For your sweetie: Zales Earrings | The Body Shop Body Wash Gift Set
For your kids: Shari's Berries Chocolate Covered Oreos | Old Navy Dress
For your friends: Kohl's Pajamas | Yankee Candle
You can find deals or discounts on all of these items in this Coupons.com Valentine's Day Deals site.
To see more of the Valentine's Day Magazine on The Good Stuff by Coupons.com, just click on the image below and it will open up the magazine in a new tab!
Have you started shopping for Valentine's Day yet? What was your favorite Valentine gift you have ever received?