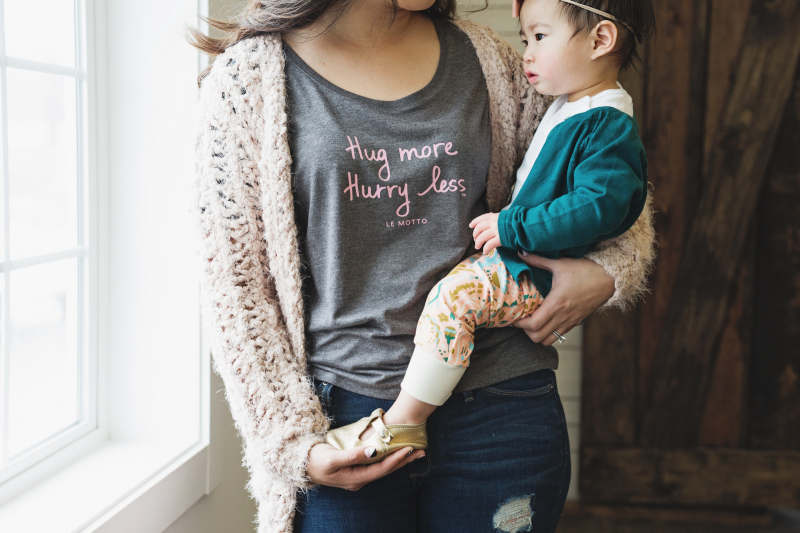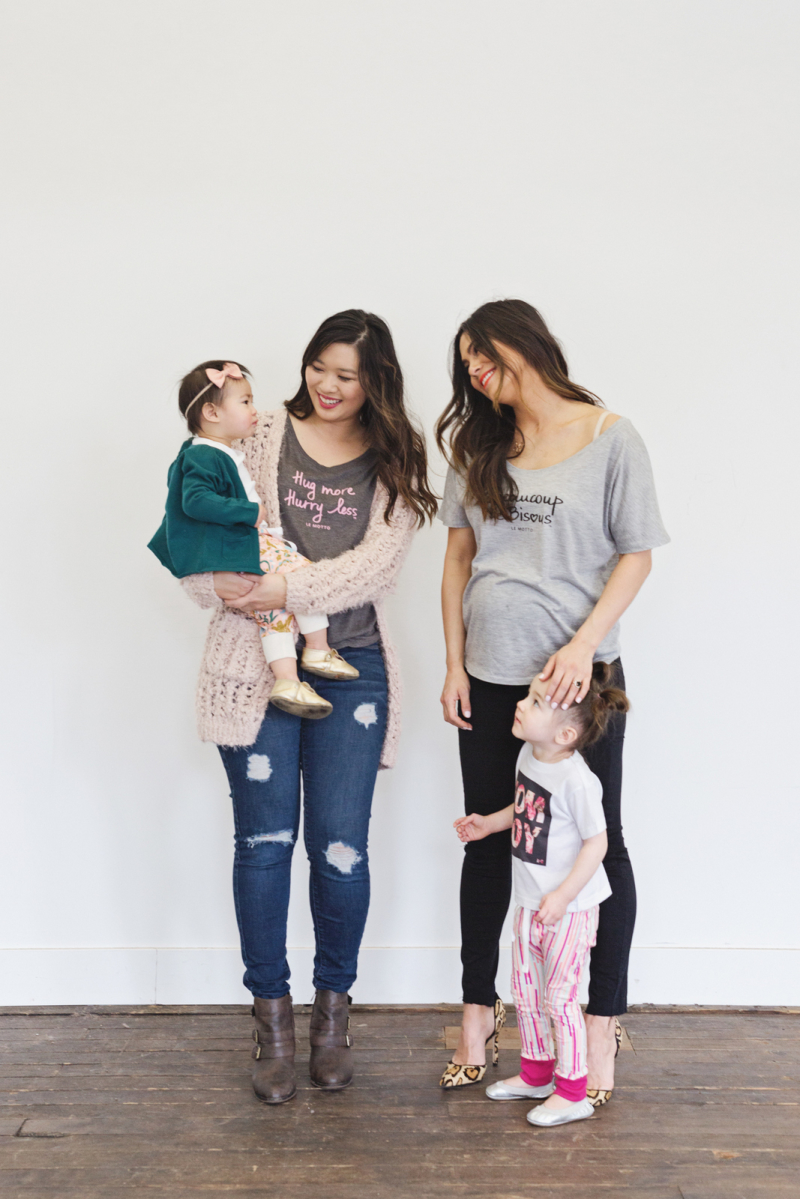 A couple weeks, I got to collaborate with the mama + little Averie over at @missesmeili. She was like 37 weeks pregnant and looked amazing and has since had her handsome baby boy! You need to follow her over on Instagram if you don't already! Seriously though, all these people having tiny newborns or announcing pregnancies is making me baby hungry… eeks. But I know that life is about to get REAL crazy with little Miss Vivian entering her terrible twos pretty soon here. Note to self, after nap time, she needs about a 30 minute warm up period before she will be happy again. Anything I try to do with her within that 30 minutes, will be faced with a grumpy face. But hey, that's pretty much all of us after a nap or waking up in the morning, yea?
In this outfit, the mamas are featuring shirts from Le Motto. I just discovered their shop and wow they have A LOT of sayings on tees. I just love how inspiring, encouraging and funny some of them are, they really are a one-stop shop for graphic tees! I picked one that says "Hug More, Hurry Less", because I fully believe in this saying. It really is a great reminder to stop trying to rush through life task by task, event by event, but really just LIVE and ENJOY in the moment and hug your loved ones tightly. I'm pretty fortunate that both my littles LOVE to cuddle and hug, because I'm sure as they grow older, that will change. 🙁
The baby girls are wearing leggings from Willy Beans, which is a new shop that really has some well made leggings for baby boys and girls. I just love that these have a tie and cuff on the ankle, makes them more sturdy and unique that way!
My outfit:
Tee c/o Le Motto
Jeans: Tummy Trimmer Denim
Boots c/o My Sister's Closet Boutique
Cardigan: Sage by Olivia Wares
Vivian's outfit:
Leggings c/o Willy Beans
Cardigan: Zara
Shoes: Mon Petit Shoes
Bow: Little Poppy Co (take 10% off bow subscription with code HOORAY)
Photography by Nina Tekwani