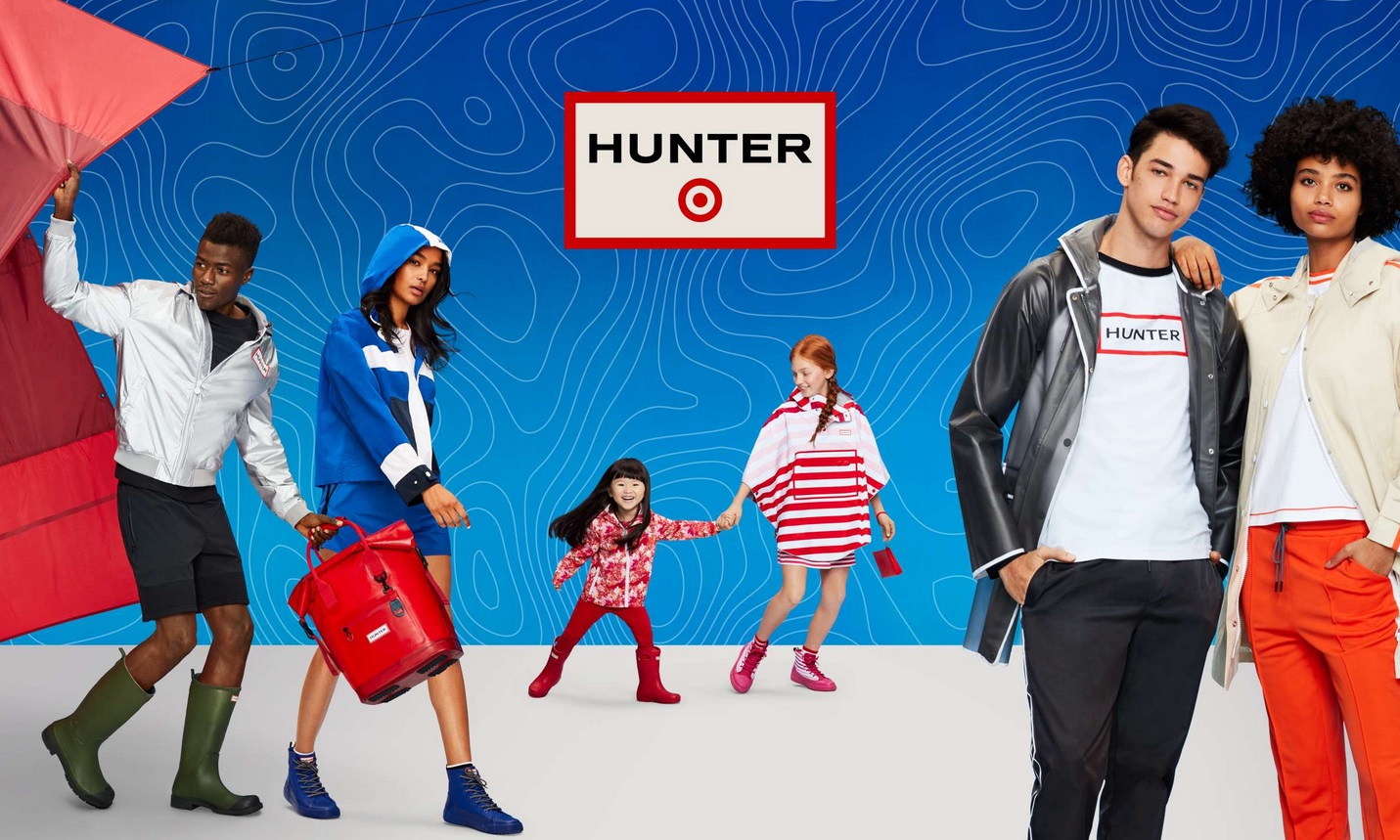 UPDATE: Women's tall boots will not be available on 4/14, they are delayed. Date TBD.
Ahhhh! The wait is almost over for the Hunter for Target release tomorrow. I feel like we've been waiting for forever ever since they gave us a sneak peek last month. I'm sure everyone has a few questions about how everything is going to work. I'll try to answer a few of them here.
When and what time will it launch?
It launches Saturday, April 14th online and in stores. Stores open their doors at 8 a.m. Not sure how dedicated some people may be, but I'm sure there will be some people waiting outside before the doors even open (Remember when Missoni did a collaboration with Target?) I have a feeling it may get a bit crazy! As far as what time it will go live online, no one knows for sure. Past collaboration releases have gone live around 1 a.m. PST / 3 a.m. CST but it can possibly go live as early as 12 a.m. PST / 2 a.m CST. I would set those alarms for both times if you really have your eye on something. And if you don't want things to sell out, but want them right away, I would suggest ordering online and doing Order Pickup or have it shipped!! I have a feeling the site will be running real slow or may even crash with everyone trying to refresh the Target website in the wee hours of the morning. If at first you don't succeed, keep trying!
How long will the collection be available?
With most collaborations with Target, it's usually available for a short period of time OR when supplies run out. The date they have listed is from April 14th – June 14th. I honestly don't think that it'll last past 2 weeks.
What is in this collaboration collection?
The price range for this collection is from $3 – $80 which is very affordable! The line includes their famous rain boots (women's comes in regular and WIDE calf, SIZE UP if you are a half size or between sizes), rain coats, bags and backpacks, and even an adorable wagon! (I've been eyeing this cute updated version of the fanny pack which they call the Bum Bag!) Target has been amazing with including plus sizes in their new lines such as Universal Thread and A New Day. This collaboration is no exception. Every clothing item that is offered is also in plus sizes!
Helpful tips:
– Prioritize what you really want and cart those things first. If I had to guess which items will go first, it would be the rain boots and bags/backpacks.
– Make a Target account ahead of time if you don't already have one. This will save you some time at checkout. Once you create an account, log in and browse the
Hunter for Target
collection. You can click the heart and save the items that you like. Once the collection is live, you can go to
My Account
and then
Shop your hearts
. Everything that you have liked will be saved and all you have to do is check out.
– Order what you can for pickup at participating stores so you can go and browse the other items when picking up your order (Find a participating store near you
here
). Remember that you have 3 days to pickup your order or it will be canceled.
Morning FunFest powered by DayBreak
To add to the fun and excitement, there will be 3 Morning FunFest available in select cities. It will include lots of fun family activities such as face painting, dance parties, and yoga! It's free and you can register for tickets below.
Glendale, CO
Houston, TX
Fort Lauderdale, FL
Below are some of my favorites in each category. I hope this helps you for tomorrow and happy shopping! #HunterxTarget
WOMENS SHOES AND CLOTHES
TODDLER SHOES (Size 5-12) AND CLOTHES (18 Months – 5T)
KIDS SHOES (Size 13 -5) AND CLOTHES (XS – XL)
MENS SHOES AND CLOTHES
BAGS AND TOTES
OUTDOOR AND GEAR
What's are you planning to by from the Hunter for Target collection?