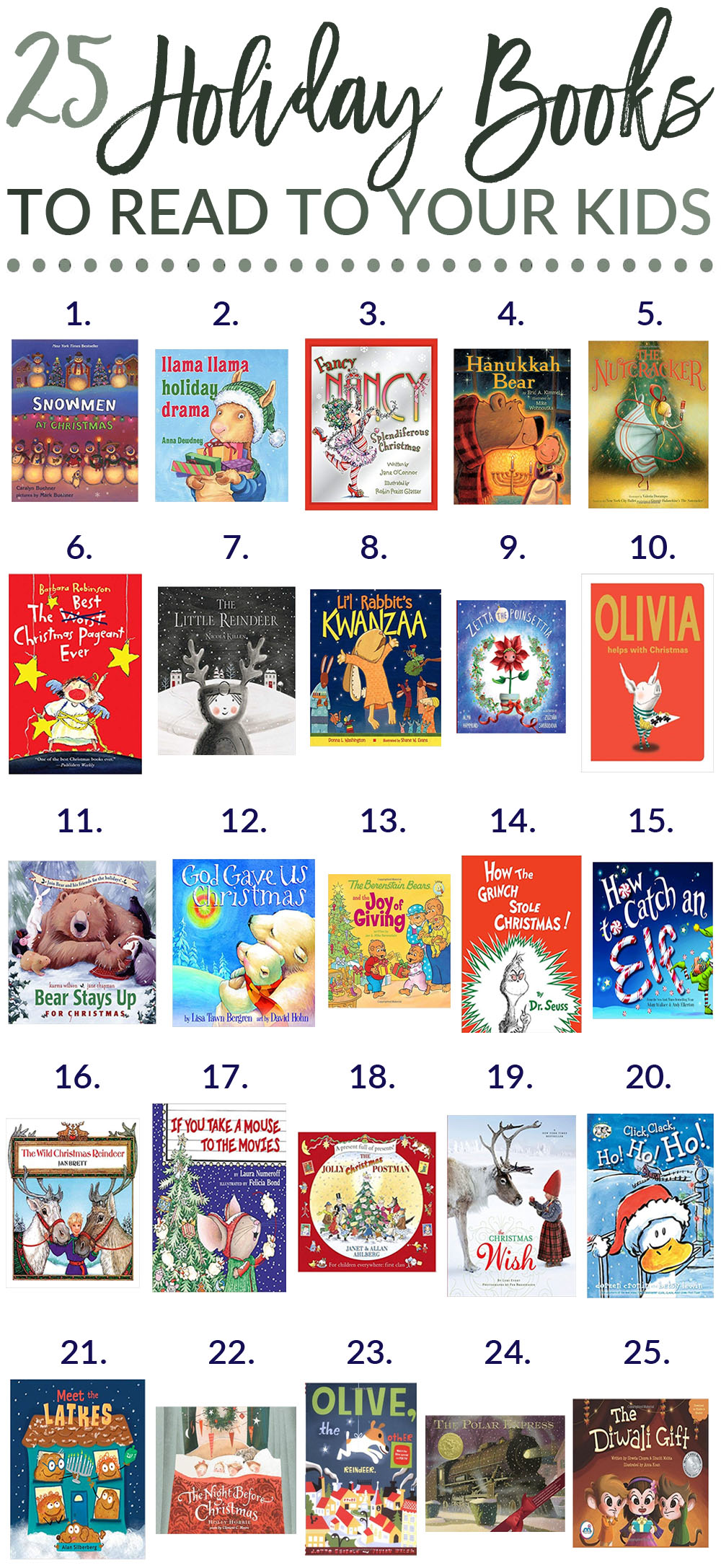 one | two | three | four | five | six | seven | eight | nine | ten
eleven | twelve | thirteen | fourteen | fifteen | sixteen | seventeen
eighteen | nineteen | twenty | twenty-one | twenty-two | twenty-three | twenty-four | twenty-five
In the world of technology and everything being easily accessible with your phone, there is something nostalgic about reading a printed book. I adore the smell and physically getting to touch a book. Do you remember getting so excited when the teacher used to send home the Scholastic book orders each month? Wanting to rush home to circle the books you wanted and showing your parents? My kids still get excited when we buy a new book. Books during the holiday season add to the magic that is this season. I have round up 25 books that will be wonderful additions to your holiday book collection. You can even do a 25 books advent countdown with them! Pinterest has tons of ideas on how to include this fun countdown as part of your family tradition. How fun would it be to open a new book each day??
The books that I have chosen range from ones with snowmen and winter genres to ones that discuss the meaning of the holiday season. Of course, I couldn't have a holiday book list without some of the classics such as How the Grinch Stole Christmas or The Polar Express. I included books that discuss other holidays that are celebrated around this time of year. It's wonderful to celebrate everyone during this season! All of these books include such colorful and animated illustration.
**Now is a great time to take advantage of deals on books at places such as Amazon which is offering $5 off with a purchase of $20 or more on printed books with code NOVBOOK18. Target is also offering the same deal with $5 off with a purchase of $20 or more on printed books (no code needed).**

If you're looking for books for the younger ones, I've round up some board books that will sure to be a big hit with the littles!
Holiday Board Books
(For Ages 0-3)