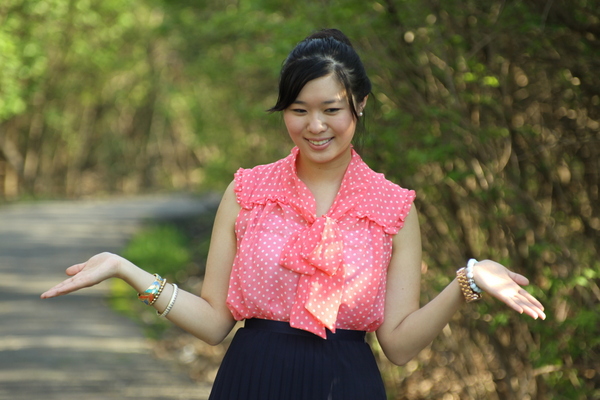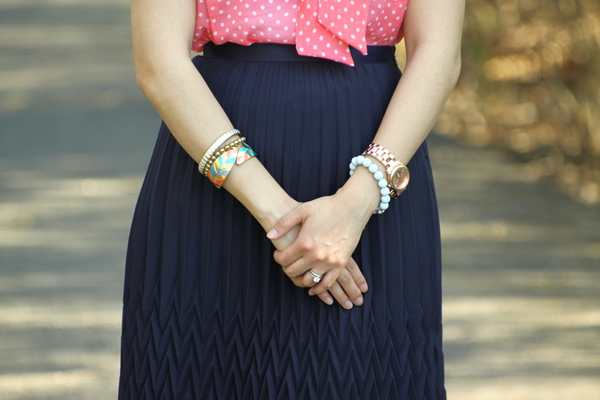 Blouse c/o Conversation Pieces | Skirt: Anthropologie | Shoes: Zara | Bracelets: T+J Designs, INPink, Francesca's | Watch: Target
There's just want too many favorites in this outfit and it has me squealing with delight just looking at it. A polka dot necktie blouse, a chevron pattern on the skirt (which I got on major sale at Anthro, score!), low heeled sandals with a punch of color, and the parties my arms are having… all topped off with a neat "blogger messy bun". (Thanks to Much Love, Illy for agreeing to have a Skype date with me to show me how to do the bun, that's what blog besties are for! I need to be less OCD about having it so neat…) Anyways, I absolutely LOVE the combination of corals/pinks contrasted with navy and a sprinkle of neutral, then topped off with some mint accessories to add some more color. And since I'm in a topping things off kinda mood, all I need now is a white chocolate brownie topped off with vanilla ice cream a la mode.

P.S. The winner of the Calikatrina giveaway is Morgan Bayard of Morgan Bayard Photography! Congrats! Send me an email at sandyalamode(at)gmail(dot)com with your package choice and mailing address!
What are your favorite colors this Spring?