Continued from our Outdoors shoot…
At 6:30PM we arrived back at the studio, where I quickly got extensions put in my hair and changed to this blue dress! We bought a matching tie at the Shi Lin Night Market the night before for Marvin and it matched perfectly with my dress! I totally wish I could HAVE this dress, I've been looking all over for one just like it, but nothing compares! Oh and our photographer decided to jump into a picture as well, while one of his assistants took the picture, hehe!
Then after that I changed into another white wedding dress where we took pictures with beautiful white flowers, damask wallpeper (LOVE IT!), stuffed animals, my parents, the flower girl, and our wedding save the date/invitation/program.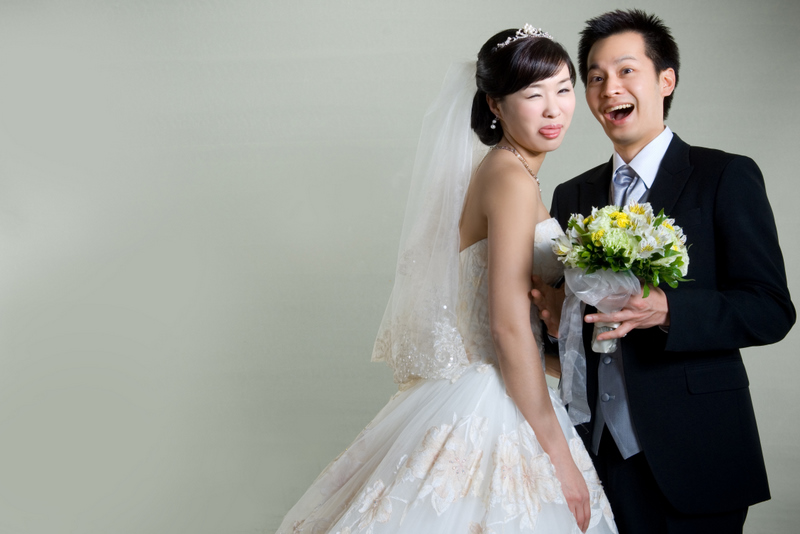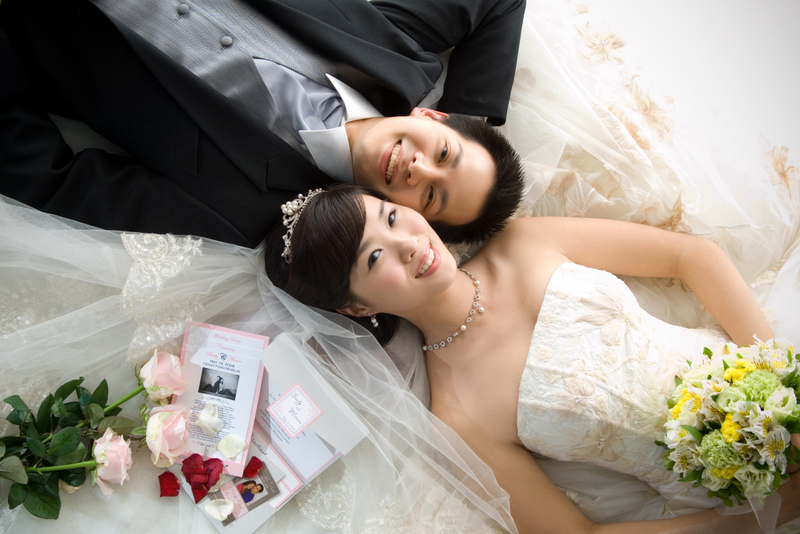 Day 3 – At 2PM we went back to the studio to look through the pictures and pick out ones we liked for the album. We ended up with 100 pictures and they gave us 20 for free. We left the studio at about 10PM – yes it took 8 hours to pick out pictures haha!
Day 4 – We went back to the studio to confirm the layout of the album. We made a couple changes here and there, and 3 hours later we were finally done! All in all, we got a DVD, one big album, one smaller album, one 20 page album, 800 wallet sized photos, one 22 x 30 picture and four 8 x 10 pictures! Just to warn you though, you'll be dropping a couple thou but it's totally worth it! 🙂
Our photographer and his assistants were what made our photo session such a great one, and made the session very bearable AND fun for Marvin (since most guys would dread a FULL DAY of pictures). They were very young, fun and full of energy that there was not a boring moment while we were taking the photos! If anyone wants to take picture in Taiwan, I'd recommend A-Jian at Sophia Ritz! Also, the sales lady we worked with was Xiao Yue and she was amazing as well!
Oh, and in case you missed it, don't forget to check out the Outdoors part of the session that I blogged up previously! And up next, we have our wedding photos which will be posted on our ONE YEAR wedding anniversary, May 16, 2010. 🙂