There's a few exciting events that I'm looking forward to this weekend…
My company is throwing me (and others who have made it) a 5-year luncheon at a yummy revolving restaurant in KC! It's kind of crazy to think that I've been a working woman for FIVE WHOLE years, and at the same place too! Time really flies! As a present, I will be receiving a clock, woohoo!! So… in honor of the tickity-tock, I bring you a fabulous flavors to follow inspiration board!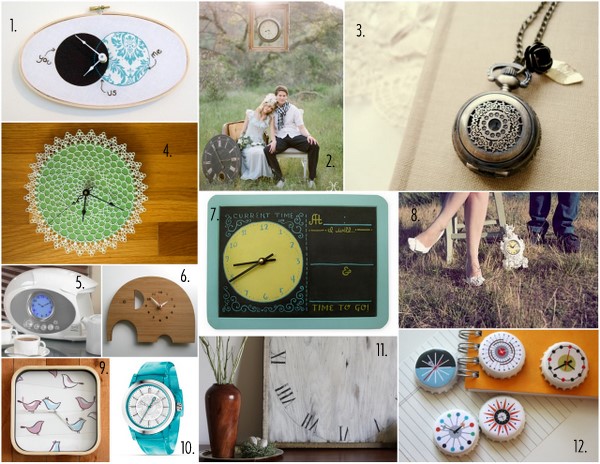 1. me and you venn diagram clock seen on making it lovely
2. wedding photo session on style me pretty
3. brass filigree pocket watch necklace made by oh, hello friend.
4. doily clock seen on make it perfect
5. teasmade alarm clock wakes you up to tea seen on unplggd
6. elephant clock sold by decoylab
7. chalkboard clock seen on poppytalk
8. love shoot by olive juice photo seen on dandelion and grey
9. valery design works clock seen on creamy life
10. DKNY turquoise translucent watch with white dial seen on red vines for breakfast
11. clock tutorial on remodaholic
12. bottle cap clock magnets seen on happiness is
Alright, I'm off to my weekend full of Bachelorette Party shenanigans! My friend Roanna is coming down to KC and we've planned a fun, naughty nice, full of food and drinks weekend for her. She'll be getting married in just 5 weeks, and at the rate this year is flying by, the wedding will be here in no time!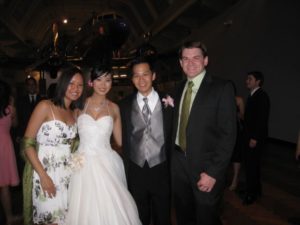 Here's a pic of Marvin and me at our wedding with the Bachelorette and her fiance! Can't wait for the fabulous weekend! See you all on Monday, when I'm in Ohio, AGAIN!
P.S. Thanks so much for all of your support and encouragement on my last post, xo. Don't forget to enter my bunting banner giveaway if you haven't already done so.