Hello Summer! And by hello, I really mean geez it's HOT out, but I LOVE it! 🙂 This past week has brought on hot, humid, 90 degree weather out here in Kansas City, has it been the same for you? Well, this weekend I will be off again to another wedding, this time to…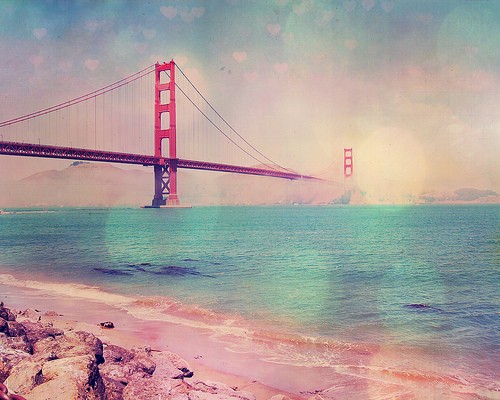 The City of Love – San Francisco
I couldn't be more excited to be attending my dear friend Eafong's wedding this weekend. The story of how she met her fiance really proves that great things can happen when you least expect it… basically she had just gotten back from a three month business trip in Australia and was pretty exhausted. But my other friend was throwing a vampire party and I felt the need to drag her along. When I called her the night of the party to come out, she used the fact that she didn't know what to wear to try to get out of coming with me. I just told her to throw on some black clothes and that I'd pick her up at 8PM, which she finally agreed to. 🙂 Few hours into the party and I kept seeing her with this guy and I wasn't sure if she wanted to be with him or not. As we left the party, I asked her "Are you okay???" because I wasn't sure if he was a creepster or a nice guy. Little did I know that they had already exchanged numbers and planned to have brunch the next day…. and really, the rest is history! I'm sad that she'll be moving away from Kansas City though, because these past five years wouldn't have been the same without her, but I am really happy that she found her true love and gets to be with him. 🙂 Congrats Eafong + Matt!
So in honor of their upcoming navy and peach wedding – I've gathered together a summery peach board for you all!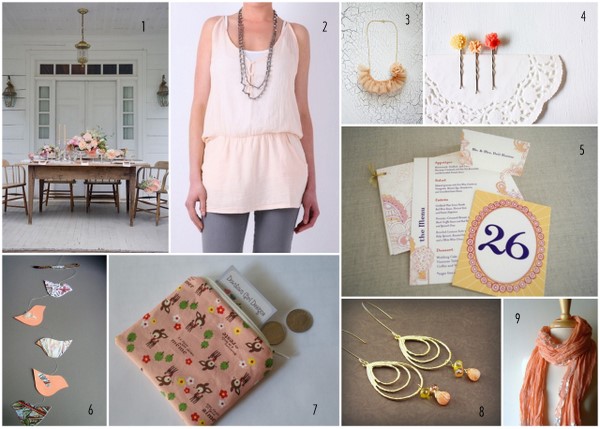 (1) entertain – porch inspiration seen on postcards and pretties
(2) dress – dropwaist button dress seen on wolf and willow
(3) DIY – ruffle necklace on ruffles and stuff
(4) pin – carnival des fleurs vintage hairpin set made by fleur avenue
(5) invite – hindu wedding stationery seen on oh so beautiful paper
(6) donate – peachtree birds donated to help the gulf seen on sfgirlbybay
(7) carry – coin purse made by downtown girl designs
(8) wear – tiered sunshine hoop earrings made by cherry and violet
(9) wrap – fabric fringe scarf made by beautiful bridget
What are your weekend plans??