This past week I kept seeing the book Eat, Pray, Love all over the front stands at airports since the movie just came out.  I read this book a few months ago and just loved it so I can't wait to watch the movie!  There probably couldn't be a more perfect person to play the lead role than Julia Roberts, I love her.  The part that stands out to me in the book is when she goes to Italy and eats at all of these delicious places, especially the gelato o ne, YUM!  So for this weeks flavors to follow, I've scoured the web for different ways to eat gelato!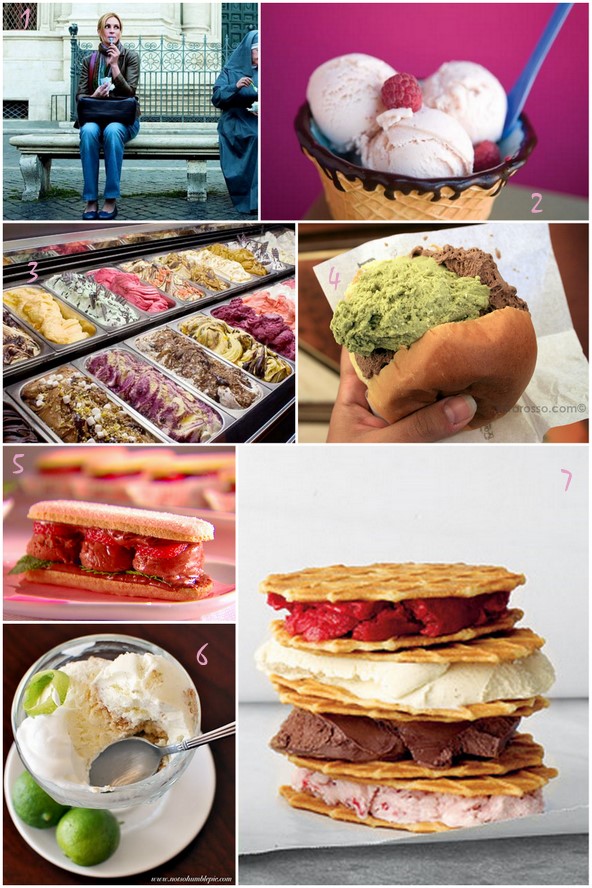 1 eat gelato out of a cup like julia roberts does in eat, pray, love
2 enjoy unique flavors of gelato in a chocolate dipped cone at black dog gelato in chicago, il
3 have a sample of each flavor at gail silverton's gelato bar in los angeles, ca
4 gelato filled to the brim in a brioche bun seen on ms. adventures of italy
5 one of my favorite chefs from food network, giada de laurentis brings us a delicious chocolate gelato baguettes recipe
6 a recipe for key lime with graham cracker gelato by the talented no so humble pie
7 queen of crafts and cooking martha stewart brings us an ice cream waffle sandwich
how do you like to eat your gelato?  what's your favorite flavor?