Have you entered the GIVEAWAY for three sets of moonbeamwishes cards yet??
***
Earlier this week, I received some happy mail! It was from my snuggle up scarf swap partner, Meg, from Everyday Nonsense from a Nonsensical Gal. Since I'm staying in a hotel in Montana this week, I had to snap some self portraits with my point and shoot. Here's one from my hotel room haha.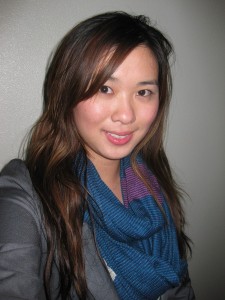 It was a beautiful circular blue scarf with a line of purple that reminded me of the colors of a shirt I used to have. The special thing about that shirt was that it was the VERY FIRST SHIRT that my husband (then boyfriend) COMPLEMENTED me on when we were dating. <3 This was about 5 years ago, and since I have a chronic problem for shrinking shirts, I had to donate that shirt b/c it doesn't fit anymore. 🙁 But now I'm glad I'll always have this new scarf (that I can't grow out of) to remind me of that shirt!
And here's a few more pictures I took outside my hotel, do you see that mountain in the background?? That's the Rocky Mountains!! 🙂
And you want to know what else is sooo magical about this scarf? It's from Selena Gomez's Dream Out Loud line! You know, the doll from Wizards of Waverly Place?? Yes, she has an ADORABLE clothing line with affordable prices at KMart (which I'll probably save for another post)! 🙂 And Wizards of Waverly place totally happens to be me and Marv's favorite Disney show! Yes we watch Disney!
Thank you SOO much Meg for this beautiful, magical, warm scarf! And a SPECIAL THANKS to Our Journey From Irag to the Altar and Hello Miss Chelsea for hosting this scarf swap! It was such a GREAT idea, I totally want to host one too now so I can get another scarf hehe. 😉