Have I told you how much I love blog swaps? They are so fun! This past month I joined in on the Why Girls Are Weird Keep Warm, Look Snazzy Scarf Swap and I'm super excited to share with you the package I received. My swap partner was Kaylin from Letter Kay, I hadn't "met" her through blogging before so it was great to find a new blog. Cool thing is, we're both super pregnant too and blog about maternity fashion among other things! So without further ado, let me show you the AWESOME package I received from her, thanks Kaylin!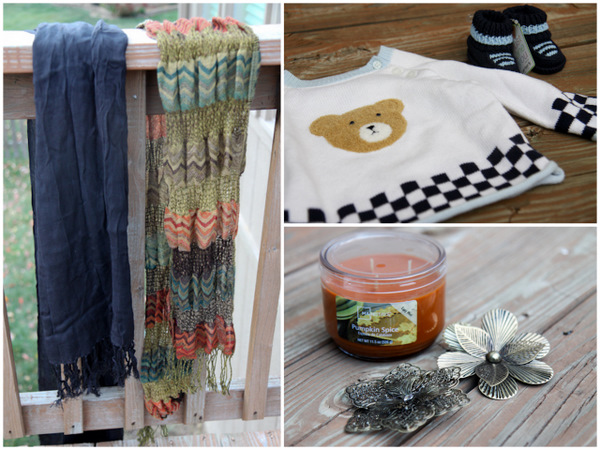 Would you look at all of that? I swear this girl has been reading my mind. I was seriously just thinking about how I wanted a colorful fall colored scarf with chevron pattern on it and now I have it! The baby clothes… ADORABLE! The Pumpkin Spice candle… can't wait to use it this weekend at our last baby shower. And the flower pins are so pretty. Even better, is that I received this package ON my birthday so it sure was a nice surprise! 🙂 Here we go with a few outfit pics with my new scarf. It's the outfit I wore out to my birthday dinner too!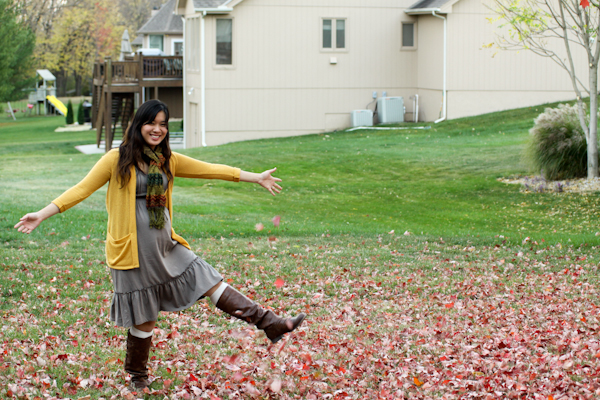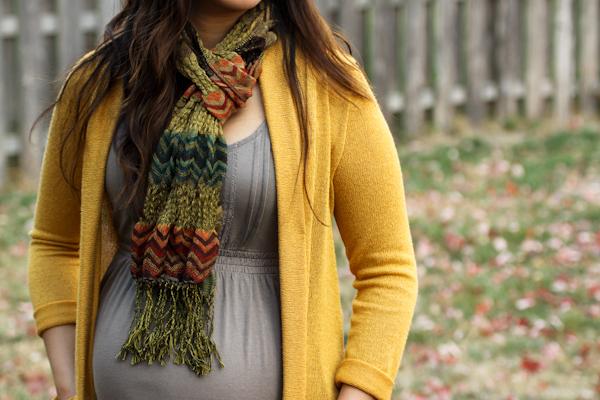 Dress: Old Navy | Cardigan: BDay present from Marv (Urban Outfitters) | Scarf: Swap present from Letter Kay | Socks: Forever 21 | Boots: Famous Footwear
Bump update: 33 weeks
– Doctor just told me that what I kept thinking was baby's head was actually his butt, so instead of gentle head pats I've actually been lightly spanking him this whole time… oops.
– He is head down and ready to go! Although there's still quite a few more weeks for him to move around…
– Totally craving MILK, any kind, skim milk, almond milk, coconut milk
– Went to our first Prepared Childbirth class. Let's just say it was graphic, interesting, relaxing, and scary all at the same time.
– The Snoogle pillow has been my new best cuddle buddy… sorry Marv!
– Had a Prenatal Massage and I swear baby liked it as much as I did, must have another one soon.
– Third and last baby shower / housewarming party is this weekend, so exciting! 🙂
What are you planning on doing with the extra hour we gain this weekend (if you are in a Time Zone that honors DST)?
I'm planning on sleeping, trying to do as much of that as possible before baby comes!
Don't forget, all my SIX

BIRTHDAY GIVEAWAYS

are open until November 7, so enter your little hearts out and spread the word please!