grace is one super talented and amazing mom that does it all! i just love all of her modern print designs in her etsy shop! on her blog, she posts a lot of crafty projects, pictures from her every day life, and inspirations! and she does happen to live in my husband's hometown so hopefully one day we'll actually be able to meet up!

***

Thanks Sandy for letting me house-sit on your pretty blog while you are on vacation. Looking forward to photos when you return!
Speaking of pretty (online) homes, I have been looking forward, since November, to incorporate some of the fresh takes on classic holiday decorations that I have found online, to update our 5-year-old holiday decorations. Although we are already close to the end of the holiday season, I think that these are such quick and do-able ideas that anyone can still use them to add an extra festive touch or a pop of unexpected color to their home.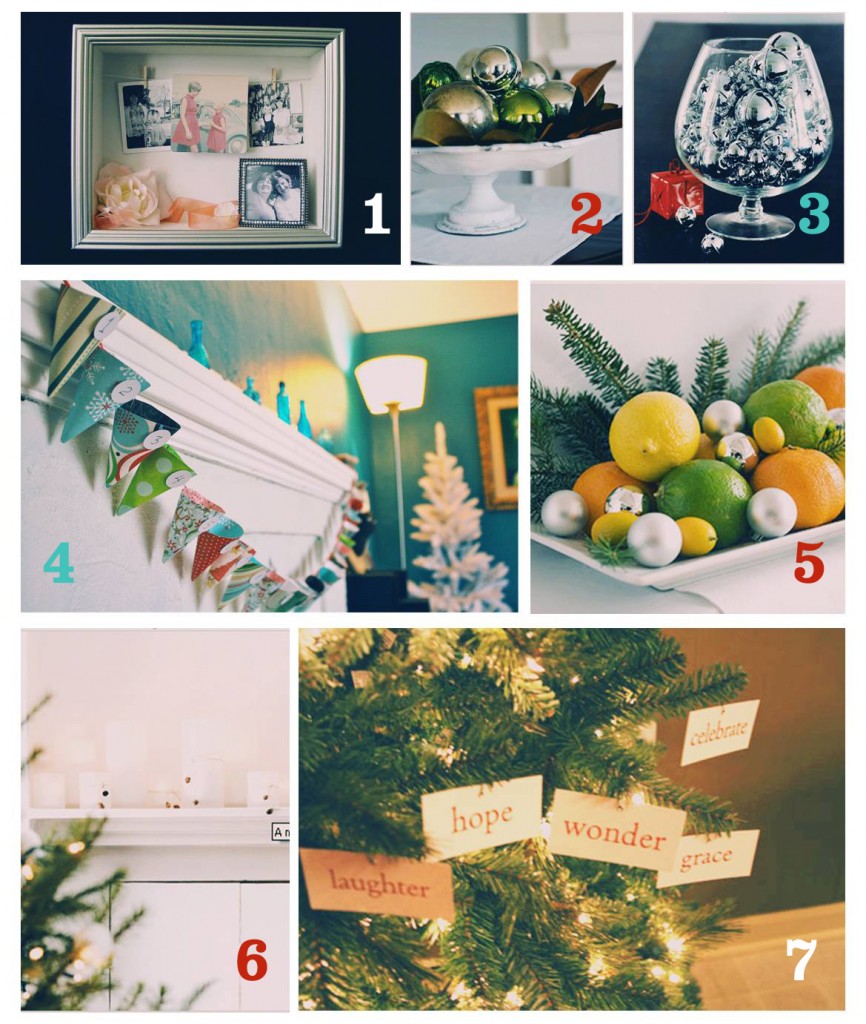 1. Display photos and holiday mementos in a shadow box and then stand the shadow box or hang it on the wall via corriespondent's Flickr Feed.
2. House holiday ornaments in glass jars and vases. Try different color schemes or . . .
3. Use different sizes and shapes of the same color to provide visual interest via Real Simple's 30 Simple Holiday Decorating Ideas
4. Use patterned paper to create this super easy and fun advent cones via Shoot From the Hips's Flickr Feed
5. Create a festive centerpiece for the dining table using bright and colorful citrus fruits. Add in holiday ornaments or cut sprigs from your tree and tuck them in-between the fruits via Better Homes and Gardens
6. Place battery-operated votives in tall vases, or candle votives in shorter ones, and arrange them on top of the mantel. For a fresher touch to this classic look, try clear vases in a color family for a monochromatic look via Real Simple's 30 Simple Holiday Decorating Ideas
7. Print words tags in a classic font and hang them with ornament hooks on the tree via Ali Edward's 2007 Christmas Project Download printable word tags here and use a corner-rounder like the We R Memory Keepers' Corner Chomper to make rounded corner tags
I hope the roundup brought some inspiration to you just as I was inspired by them. Happy Holidays!