brandi is one of those people that is good at everything she does. she designs. she bakes. she inspires. she blogs (two blogs). and she's a great friend! i was hoping i'd get to go to alt summit next year so i could meet her but i just couldn't make it work, maybe 2012! 🙂 read on for a fabulous recipe that i just can't wait to try!!

***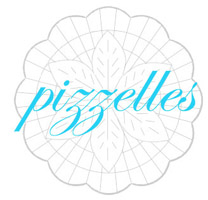 Hi everyone! While Sandy's away, she was nice enough to invite me over to share with you one of my favorite recipes. I write a design blog called Not Your Average Ordinary, where I swoon over beautiful things on a daily basis. But this past September, I decided to take my foodie endeavors to the next level and start a blog called Pizzelles. The kitchen is the heart of the home, and so I thought what could be better to give you during this holiday time than a delicious recipe.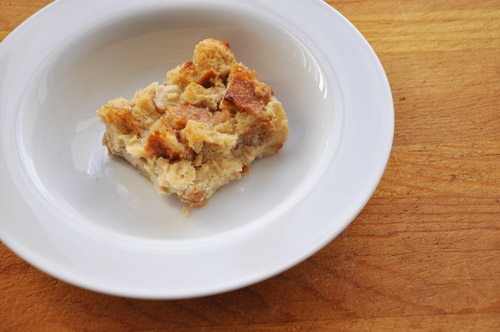 Since officially getting over my initial reluctance to try bread pudding, I have developed an obsession for it. It's like a paradox: sweet enough to be dessert, but so reminiscent of French toast that I think I should be allowed to eat it for breakfast. (Rice krispie treats and my poppy seed cake also fall under this category of non-breakfast foods that I've convinced myself are okay to eat for breakfast.) It does, in fact, share a key characteristic with French toast: namely, that if you end up with a loaf of spare bread, it's a perfect solution. This happened to me on Thanksgiving: at both dinners I attended, there was bread that was ignored in favor of the tastier dishes. I suspect the same will happen at Christmas too. And so, caramelized pear bread pudding to the rescue!
Pears have always been my winter fruit. If apples and figs define the autumn, and berries and melons rule the summer, pears shine in the cold months. They're fantastically versatile, adding that perfect bit of sweetness to breakfast, salads, or desserts. Especially when warm. Give me a bowl of oatmeal with some roasted pears on top and stick me in front of a roaring fire, and I'm good. You can play a bit of holiday music in the background if you'd like, but I just like listening to the wind rustle the branches outdoors. Snow, of course, really adds to the whole scene.
For best results with this dish, you'll want to start working on it the night before you plan to eat it (warning: make sure you have friends and/or family around when you do, so you don't eat it all in a single sitting by yourself). The bread can be soaked in the custard overnight, and it's nice to have the vanilla sauce finished beforehand so you're not trying to work on it last minute. That said, if you don't start it the night before, don't worry, though you will need to make the vanilla sauce first so it can cool in the refrigerator.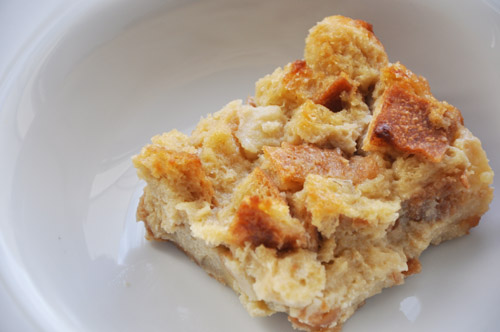 Caramelized Pear Bread Pudding
Adapted from Rustic Fruit Desserts
Baking time: 40-45 min
Serves: 8-12
1 tablespoon unsalted butter at room temp for dish
Preheat oven to 400 degrees F. Butter large 9×13 baking dish.
Pudding
5-6 eggs
1/3 cup granulated sugar
1/4 cup pure vanilla extract
pinch of salt
2 cups whole milk
1 cup heavy cream
1 ½ lbs stale bread (about one loaf, cut in cubes)
In a large bowl, whisk eggs. Add sugar, vanilla, salt, milk, and cream to eggs, then mix to incorporate. Pour in cubes of bread and press the bread into the custard, so all the bread pieces absorb some of the liquid. You can refrigerate this overnight, letting the bread soak the custard up completely, or assign a good friend who's visiting for dinner to press the bread into the custard repeatedly to make it the same day (I went the latter route).
Pears
3 tablespoons unsalted butter
½ cup sugar
6-8 pears (peel, core, and cube – any variety works though I prefer Bosc)
In a large pan over medium, melt the butter. Add the pears and sugar and mix until the pears become soft and release their juices. You can use up to 3/4 cup of sugar, but I find that the pears release so much sweetness, you only need a 1/2 cup (if that).
Pour bread-custard fabulousness into the baking pan, then top with caramelized pears and all the juices from the pan. Mix to incorporate bread and pears, even entire mixture in baking pan, and bake for 40-45 minutes. You'll know it's done with the bread on top becomes golden. Remove from oven and allow to cool for at least 10 minutes. While this dish is best the day it's made, you can also tightly wrap leftovers with past wrap and eat it the next day as well.
Vanilla Sauce
1 cup whole milk
4 egg yolks
1/3 cup sugar
1/8 tsp salt
1 teaspoon vanilla
2-4 tablespoons brandy (pear brandy, if you'd like)
heat milk in saucepan over med-low heat until warm
whisk yolks sugar salt together until slightly thickened
pour half of milk into yolk mixture and whisk
pour whole thing into saucepan and cook over med heat until thick enough to coat spoon
set bowl over ice bath, strain custard through fine mesh sieve into bowl
add vanilla and stir until cool
add in liquor and stir
refrig for 2 hours
In a saucepan over medium-low heat, heat the milk until warm. In a separate bowl, whisk together the egg yolks, sugar, and salt until mixture slightly thickens. Pour half of the milk into the yolk mixture and whisk. Then pour all of the milk-yolk mixture back into the saucepan and cook over medium heat until the sauce is thick enough to coat a spoon. Make sure to stir regularly, and when finished, remove from heat. Set a bowl over an ice bath and strain the custard (the milk-yolk mixture) through a fine mesh sieve into the bowl. Add the vanilla and stir until cool. Add the liquor to taste and stir. Refrigerate sauce for at least two hours or overnight.
To serve, slice and plate a piece of warm caramelized pear bread pudding, then top with vanilla sauce. Vanilla ice cream would be an excellent side (if you're not trying to convince yourself this is a breakfast dish). Happy Holidays!