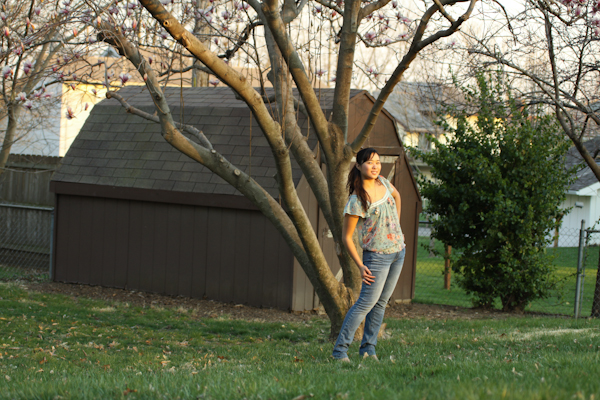 Shirt: Forever 21 | Necklace: Charming Charlie's | Hairpin: Sandy a la Mode | Jeans: Charlotte Russe | Shoes: Target
Hope all you amazing mother's out there have had an amazing day! My mom is one of the most amazing woman I have ever known and I strive to be just like her when I become one. Even though we live so many miles away from each other right now, I always feel her support right next to me. I love you mom! 🙂 This outfit post reminds me of my mom for two reasons, the first one being that I just gave her some of my hairpins for Mother's Day and the second being that flowers always remind me of her.
I was recently tagged by jdavissquared, another fellow local blogger, in a fun little "get to know me" type of post. It's been awhile since I've just shared some tidbits about myself. So here goes, a chance to learn a little bit more about me through the alphabet!! And if you haven't checked out her blog, it's got some rocking inspiration, recipes, tutorials and just tidbits from her life, so… go check it out!
Age: Late 20s, even though I'm sure I look 18. 🙂
B ed Size: Queen. It fits perfectly in our bedroom and is just the right size for us.
Chore you hate : Cleaning. And I'm no good at it either!
Dogs: They are cute, but I've never owned one.
Essential start of your day: Hot shower.
Favorite Color: This is a TOUGH one. Pink, mustard, grey… oh I can't pick!
Gold or silver: Right now, gold. I used to always love silver but recently gold has really caught my eye!
Height: 5 ft. 4 in.
Instruments I play (or have played): Don't play any now but when I was younger I played piano and flute (I was first chair, baby)!
Job Title: Healthcare IT Consultant
Kids: Hopefully soon!
Live: Kansas City, MO (used to live in Ann Arbor, MI)
Mom's Name: Carol
Nickname: Sandy, Sandra, Di, San San
Pet Peeve: Getting stuff stuck in my teeth (it happens almost every day!)
Quote from a movie: Mel: I'd like to see you have a little direction. Cher: I have direction! Josh: Yeah, towards the mall. (Can anyone guess the movie?)
Right or left handed: Right
Siblings: 1 brother, but many brother and sister in laws!
Time you wake up: On weekdays, 7:00am. On weekends, 10am or later. 🙂
Underwear: Not sure how to answer this one, but yes I wear it!
Vegetables you dislike: Hmmm, I actually don't think I dislike any!
What makes you run late: #1 Culprit – Twitter.
X-rays you've had done: Just Teeth.
Yummy food you make: Pretty much anything I've posted on my blog in the "The Dish" category. 🙂
Zoo animal: I love watching monkeys, polar bears, and elephants that can do tricks.
And now I tag Krysten of After I Do, Annie of Wattlebird and Gracie of Gracie Bella Butterfly! And anyone else who wants to play along, feel free!