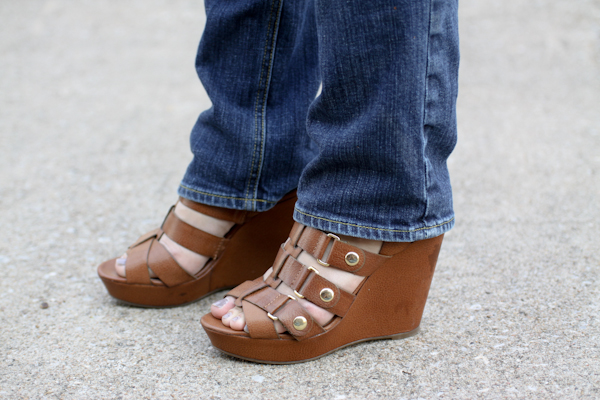 Top: Forever 21 | Jeans: Salt | Shoes: Target | Clutch: Giveaway winning from My Best Friend Jules on Maie Dae | Hairpin: Giveaway winning from Giddy Up and Grow on Josiah's Nest | Necklace: Forever 21 | Nailpolish: Essie Chinchili
First of all, I just wanted to thank you all for your sweet comments about our 2 year anniversary on Monday! Marvin and I had an amazing vacation day from work and just hung out in our own city. We did a little shopping, had pho for lunch, had frozen yogurt for dessert, took a nap in the middle of the day and went to a Brazilian Grill for dinner and watched Dancing With The Stars. The 3 day weekend was just what we needed. 🙂
I'm excited to be linking up to What I Wore Wednesday today, there are so many things I love about this outfit, from the matching cognac belt and shoes to the items that I won from giveaways to the floral top. I seriously don't think I could own enough floral tops, that's all I've been buying lately. Are you the same way? It is Spring after all!
Speaking of this Spring season, I am so sad that all of my favorite TV shows are ending soon. Desperate Housewives on Sunday, Dancing With The Stars and Castle on Monday, Dancing With The Stars and The Voice on Tuesday, and American Idol on Wednesday and Thursday! Whew, all my blogging is pretty much done while I'm fast forwarding through the DVRed episodes of these shows. I always watch 15-20 minutes after the show has begun so I can fast forward through commercials, haha! What are your favorite shows right now?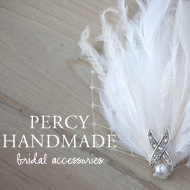 And lastly, I just wanted to announce the winner of the Percy Handmade Giveaway! The lucky lady who gets to win $70 credit towards the amazing Percy Handmade shop is Leonora of Yellow Heart Art! Woohoo! Congrats girl, send me at an email at sandyalamode(at)gmail(dot)com and I'll hook you up with Tania!
For all those who didn't win but want to buy your own Percy Handmade piece, receive

10% off

your order with code

SANDY10

from now through next Wednesday, May 25 at 12PM CST!
One last thing… Have you entered the Sew Ewe-Nique Designs giveaway for a matching clutch and earring set? Ready, set, go!