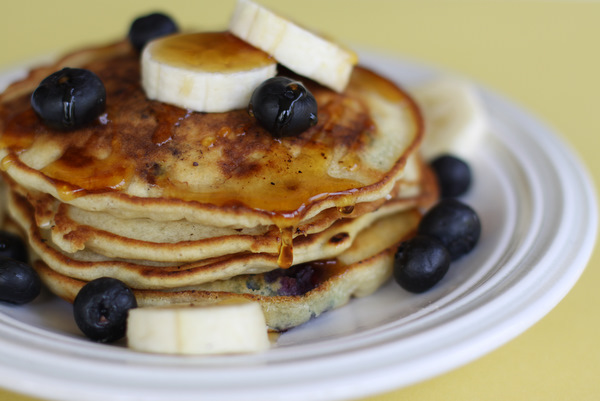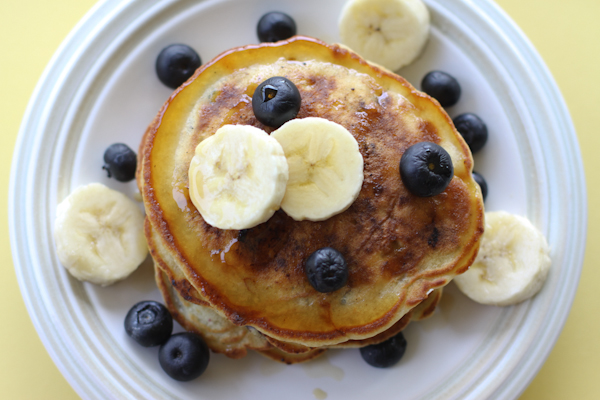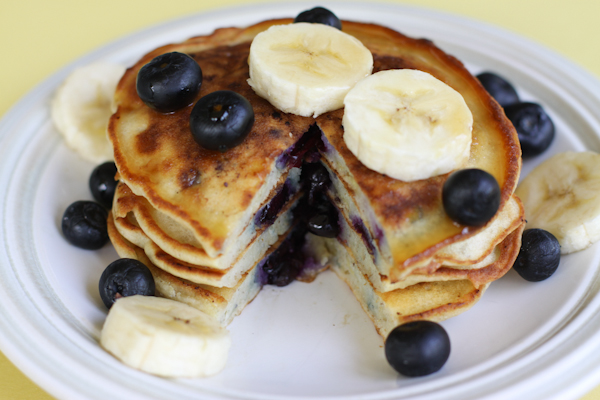 {pictures taken by me – oh how i heart food photography}
Blueberry Banana Pancakes (recipe from Real Mom Kitchen)

2 cups all purpose flour
2 tablespoons sugar
2 teaspoons baking powder
1 teaspoon baking soda
1/2 teaspoon salt
2 cups well shaken buttermilk (you may need a little more if you want a thinner batter, if you use milk/lemon juice substitute in place of the buttermilk the batter will be thinner)
1/4 cup well mashed banana
2 large eggs
1/4 cup vegetable oil (I used canola)
container of fresh blueberries
Mix dry ingredients together in medium bowl.
Add all wet ingredients (eggs, buttermilk, banana and oil) to a separate bowl and stir just until blended.
Add the wet ingredient to the dry ingredients just until combined. Do not over mix, batter will be slightly lumpy.
Lightly coat skillet with oil. Heat to medium low (I do one notch below medium).
Drop 1/4 cup of batter onto heated skillet. Use the back side of a spoon to help even out the batter if needed. Sprinkle with some fresh blueberries.
Cook on first side until bubbles begin to form on surface and underside is golden, about 2 minutes.
Flip over and cook another 2 minutes until golden brown and center springs back when lightly touched.
Serve warm with maple syrup and butter. Makes 10-12 pancakes.
We've been buying a lot of fruit lately. Blueberries, mangoes, bananas, strawberries, apples, and clementines. I LOOOVE eating blueberries and sliced mangoes when they are frozen, bananas mixed into breads, strawberries with whipped cream, apples as is, and tons and tons of clementines (Cuties to be exact) in a row. Sometimes we buy so much fruit that they end up going bad before we have a chance to eat them, and that makes be so very very sad. So in an effort to save the bananas and blueberries in our household, I served up a hearty breakfast of Blueberry Banana Pancakes last weekend… and it was muy delicioso I tell ya! I think the maple syrup really tied it all together, oh yes it did. I wish I had time to make fancy breakfasts like this every morning, but alas, they are more special since they are weekend treats. 🙂
What are your favorite fruits of the moment?