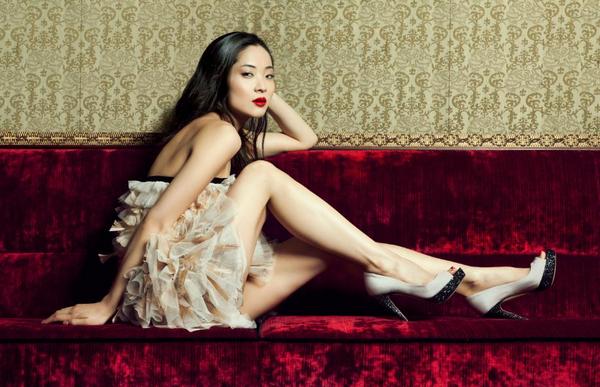 Help me, I've found a new shop that I'm utterly obsessed with!  That shop is called De Siena, and they make the most amazing pumps.  Think Hollywood glam, cocktail party glitz, cruise ship formal night grooving, and date night hottie.  I've always said that I need to own a pair of Louboutins before I'm 35… well add a pair of De Siena shoes to that list as well.  Their shoes are sexy, romantic, classy and powerful.  They are 100% Italy made and claim to be comfortable fit for having such a tall heel, if someone would like to buy me a pair, I can be a judge of comfort level, just saying.  Their SS12 collection was just recently released with 13 pairs of stunning heels.
I've put together a couple looks with two of my favorite shoes from the SS12 collection!
Here's a look I created with the Pas platform sandal. It's kind of the perfect outfit for a dinner date with a loved one, don't ya think?
Or what about this look with the ever gorgeous red and sparkly Jin platform sandal?  This outfit has got glitter, lace, leopard and is the perfect pairing of red, gold, navy, and black. It's such a versatile look for shopping with your girl friends or for a first date.
Oh my gorgeousness!  Sign up for their newsletter or follow their facebook page for all the latest news about their shoes and to get a first glance at their FW12 collection (think flowers, snakeskin, ruffles, and studs).  Excuse me as I go clip coupons to save up for a pair…  😉
Which pair are your faves?  What are your dream shoes?