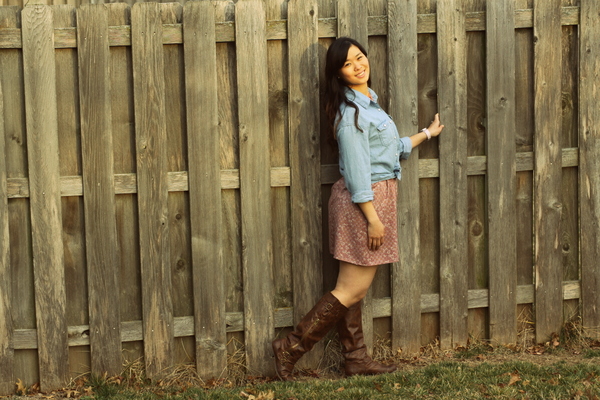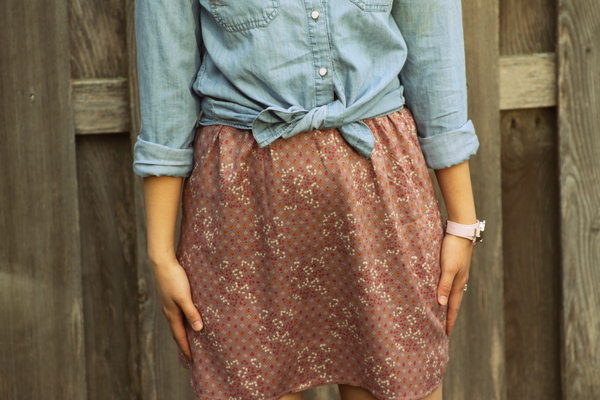 Chambray Top: Forever 21 | Dress: Francesca's | Boots: Famous Footwear | Necklace: 31 Bits | Watch: Gift
On Monday, I'm guest posting over on Sew Caroline with 3 different ways to wear chambray and florals! And for those of you visiting from over there, WELCOME! 🙂 Here's the 4th look!
Believe it or not, I hardly own any floral skirts in my closet (that needs to change soon) so for this outfit, I chose to wear my chambray button down over a floral dress (because heck, I own a ton of those)! Being able to turn a dress into a "skirt" really opens up a ton of options in terms of remixing your wardrobe. You could tie the ends of a button down like I did here or wear a belt to "hide" the bottom of the shirt if it's too long since you can't tuck it in to your "skirt". Pair this look with brown boots and you are ready to move to the countryside to herd cattle, in style of course. Who's with me?
P.S. Have you entered to win a pair of SHOES in the B.A.I.T. Footwear Giveaway yet?
P.P.S. Congrats to Amanda A. for winning the March Group Sponsor Giveaway! Check your email!