Putting together a Flavors To Follow post while on a shopping hiatus is like one of the hardest things I've had to do this week. I'm forced to do some online virtual shopping to put this post together, yet I cannot buy a single thing, torture I tell you, torture. But lucky for you, I am your personal shopper, at your service. You can thank me by buying me one of these pieces, pretty please. 🙂
But anyway, my new obsession of the week is polka dots. This trend has been around for quite some time now that I'm not even sure it really is a trend, but it's almost like a staple piece in my opinion. I have a few tops, tunics and dresses in this pattern, but I am lacking in polka dot cardigans, accessories and shoes. Not that I need polka dots in all of these things, but it would be fun, wouldn't it? Polka dots can make a statement on their own paired with a solid, or it's great for pattern mixing with stripes, florals, and even other polka dots.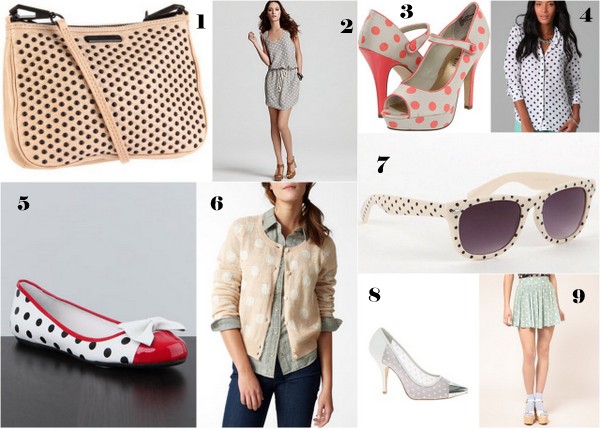 1. This cute Rebecca Minkoff bag is the perfect mix of rocker and feminine. The studs look like polka dots to me. Studded Rocker Cross Body
2. This Sam & Lavi dress is simple, but so darling. It's like the perfect staple polka dot dress you need in your wardrobe. Olivia Polka Dot Terry
3. I've always wanted polka dot pumps. These Madden Girls need to make their way to my closet someday. Lyons (Coral Multi)
4. This classic Equipment blouse is the perfect piece for layering and playing! Earl Retro Dot Blouse
5. Polka dots, cap toe, and a bow, Lola Ramona read my mind. What else could you ask for? Rinna Polka Dot Flat
6. I've never bought anything from Levi's but I think this sweet pink cardigan is a must. Dotty Cardigan – Shifting Sand
7. Afraid of polka dots? Then just add a little pop of it to your wardrobe with these Pac Sun sunnies. With Love From CA Polka Dot Sunnies
8. ASOS captures my heart again with these metal toe polka dot shoes. Point Court Shoes With Metal Toe Cap
9. Pair this MINKPINK skirt with a fun floral top and nude pumps for a cute day look. Add tights if your afraid if it being too short. Peppermint Patty Polka Dot Skirt
P.S. The winner of the April Group Sponsor Giveaway is Audrey of Putting Me Together! Congrats girl! Send me an email to sandyalamode(at)gmail(dot)com with your mailing address!
Are you a fan of polka dots?