Hi friends!  It's almost the weekend and I am SO excited.  This has been a busy week at work and I'm just looking forward to unwinding and relaxing.  We have a game night and another Thanksgiving dinner planned with friends (can't wait for more pumpkin desserts), once Baby a la mode comes it will be a lot harder to just go hang out with friends on a whim, ya know?  Lately, I've been super obsessed with all things sequins.  I guess it's the season as it's always fun to sparkle a little at those Christmas and New Years parties!  Here are a few that I looouuurve!! 🙂  Hope you all have a wonderful weekend!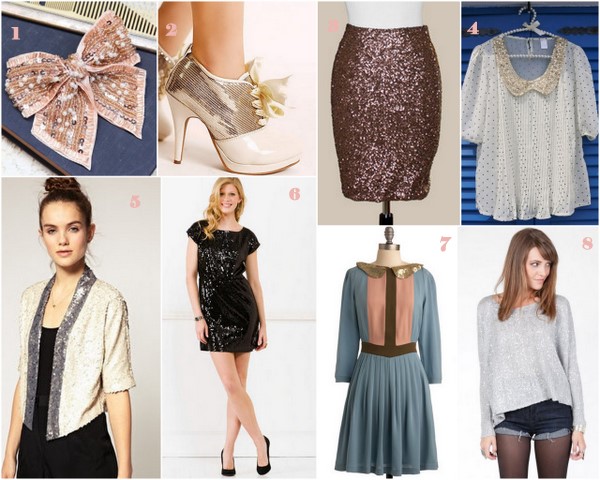 1 Let your hair make a statement with this adorable Ruche bow hair clip (you know I have a soft spot for bows).
2 These Yesstyle boots are will keep you dancing all night long!
3 This Shopkempt skirt would be so perfect for a night out with your significant other of your girl friends!
4 Peter pan collar and polka dots, such a great combo for a shirt from Chicwish!
5 Pair this Asos sequined jacket with a plain outfit for instant fabulousness.
6 And lastly, who says your staple little black dress can't be one with Francesca's sequins all over it?
7 Such a timeless little dress with a removable sequined collar from Modcloth.
8 This Sosie top look so comfy and so glam at the same time, love it!
Have you entered the $35 credit giveaway to the lovely Seek First rosette accessories shop?
Are you a fan of sequins?