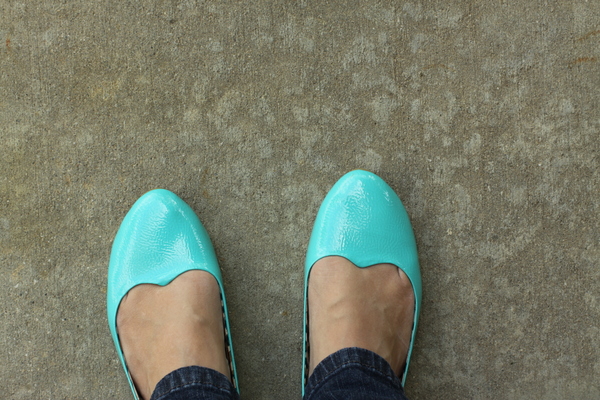 Shirt: Forever 21 | Vest: Conversation Pieces | Jeans: Target | Shoes c/o B.A.I.T. Footwear | Bracelet: Forever 21 | Earrings: Pretties By Meg | Necklace: Oh, Hello Friend | Ring: Asos
A couple outfit posts ago had a top with stripes and it was in this exact same location for taking pictures. I'm running out of new locations around the house to take pictures guys. There's this deck stairwell, the fence, the front door, the walking trail and rarely the side of the house, the sidewalk and on the deck. That's all I got around the house my friends. My mom keeps encouraging me to go to the pond or a neighbor's house that has a pretty flower in their yard, but it's so hard to find the time to venture out and quite frankly, I'm a little paranoid by the neighborhood stares. Even when I'm taking outfit pictures around the house and neighbors see me, I wonder what they think. Why could she possibly be taking so many pictures multiple times a week? Is she modeling for something? Well I guess you could say yes, for the blog. But they don't even know I have a blog.
I've had people ask me how I find the time to always take pictures. Actually the truth is, a lot of times I will take outfit pictures on the weekend and sometimes if it's still light out after work we can take them in the weekdays (this never works in the winter though). I always like to hear Marvin's reaction on Saturday morning when I say, "Hey hun, I have 4 outfits I want to take pictures for today". Sometimes if he is in a good mood and not too tired, he'll be like "sure". But most times, he comes back with something sarcastic like "OK, I'm snapping 4 pictures total" or "OK, you get 1 minute of picture taking in each outfit". Either way, I really appreciate him being my photographer! (Did you read that hun?) 🙂
Do you take outfit pictures daily or a bunch at one time? What locations do you take yours at?
P.S. Have you entered the B.A.I.T. Footwear giveaway yet? Win the shoes I'm wearing in this post or any shoe of your choice!
P.S.S. The winner of the $50 shop credit to Conversation Pieces is Amanda C. of Dragonflight Dreams! Congrats girl! Send me an email at sandyalamode(at)gmail(dot)com to claim your prize!