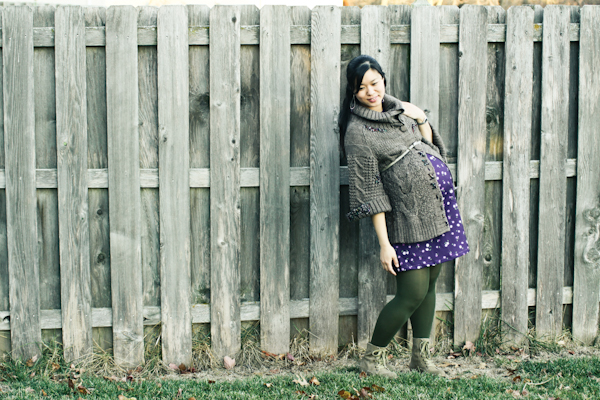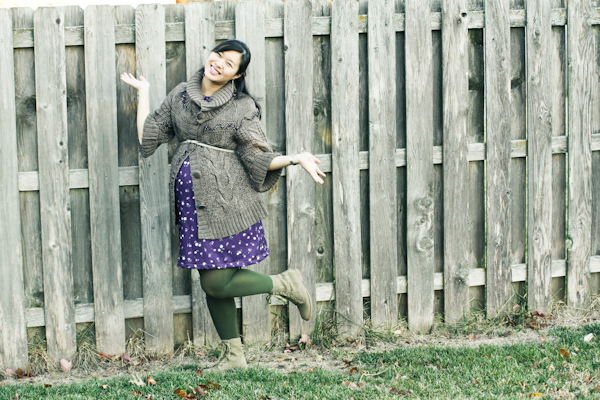 Dress: Tea & Tulips | Cardigan Sweater c/o Maple Boutique | Belt: Forever 21 | Tights: TJMaxx | Shoes: Blowfish
As my belly gets bigger and bigger (40 weeks, 3 days today), I can't help but to live in big comfy sweaters (like the one I'm wearing from Maple Boutique) and tights. Oh, and sweat pants too. It's kind of funny that this past weekend whenever anyone would ask me when my due date was… I'd say I'm past due haha. I've also gotten plenty of comments about how I look like I'm ready to pop, yes, I sure am. We actually were able to get in A LOT of sleep this Christmas weekend, we finally got a glider for me and baby to use, and I just keep adding more things to that hospital bag (which I'll probably not end up using half of it).
Hubby and I exchanged gifts on Christmas Eve… we just couldn't wait until Christmas Day! He seriously showered me with gifts, as usual. I got a new pair of earrings, a new point and shoot camera (Canon S95), Lightroom, and pink earbuds! I'm seriously such a lucky one. I just can't wait to see how he will be with our little A, he's going to be the best Daddy ever. 🙂 We got showered with gifts throughout the past few weeks from hubby's family in package form (LOVE getting packages at our doorstep) too. And then on Christmas Day, my parents came into town and they are staying for awhile to help take care of little A once he decides to arrive. They brought us a ton of gifts from my brother's family and it was fun to have a gift opening session on Christmas night! We're so blessed to have our family here to help us through this exciting and sure to be trying time as new parents!
What was your favorite Christmas gift that you received this year?