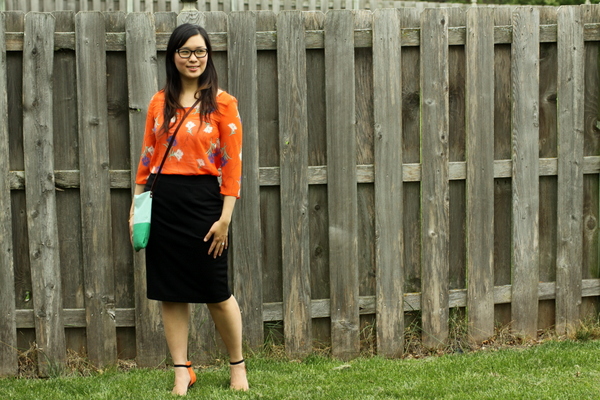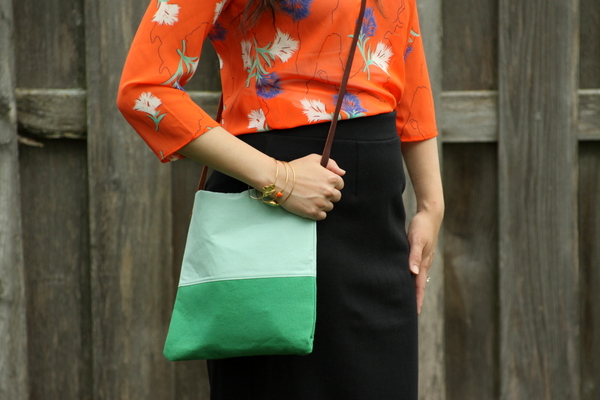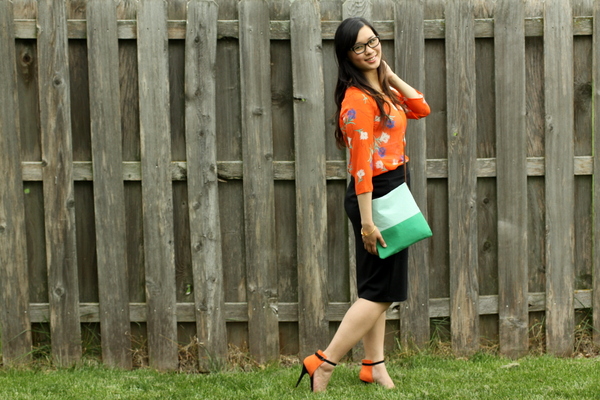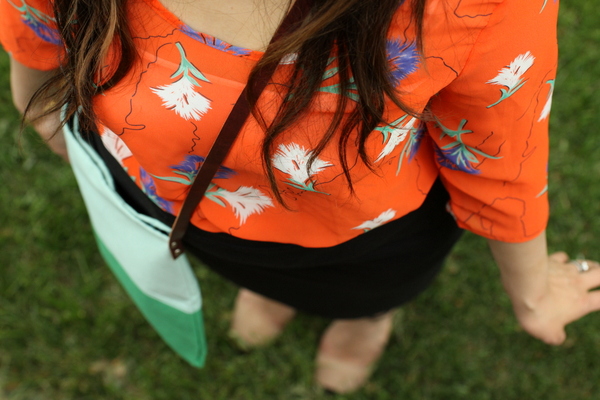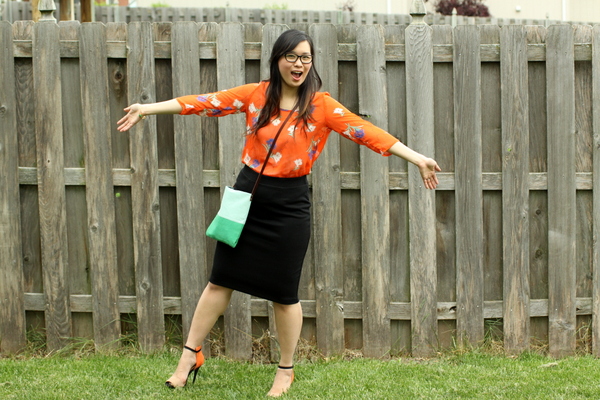 Top: Francesca's | Skirt: Target | Shoes: Zara | Tote: Rouge & Whimsy | Bangles: Frosted Willow | Glasses: GlassesUSA
Floral blouses, pencil skirts, anything with mint, and Zara shoes… these are a few of my favorite things. And I just can't seem to get enough of each of these things.
Floral blouses are so perfect for Spring right now and will make a great transition into Summer. Even the long sleeve ones will be great for me because in the Summer, the A/C is always on full blast in my office building. Florals are the perfect thing on top to go with a solid bottom or stripes/polka dots if you want to do some pattern mixing. Love my new tangerine tango colored blouse!
Pencil skirts that are knee length are slowly creeping their way into my closet. I love that they aren't too body hugging but have a nice straight silhouette. The ones that are knee-length are again perfect for work and I don't like showing off too much thigh anyway.
You already knew that I loved the color mint. This color block tote from Rouge & Whimsy is kind of the perfect accessory for adding mint to ANY wardrobe because wearing mint just puts me in a good mood. Win one for yourself in my giveaway here!
And Zara shoes? Their shoe designs are BEAUTIFUL. The prices are REASONABLE. Comfort is questionable, but I don't care, they are totally worth it HA! I've been eyeing this basic sandal forever and am so happy to have them. I want the blue/turquoise version too now!!!
P.S. The winner of the B.A.I.T. Footwear giveaway is rikrak! Congrats girl! Send me an email at sandyalamode(at)gmail(dot)com with your shoe choice, size and mailing address!
P.P.S. Have you entered the giveaways for baby stuff, sweets and totes?
What trends/items can you not stop buying?