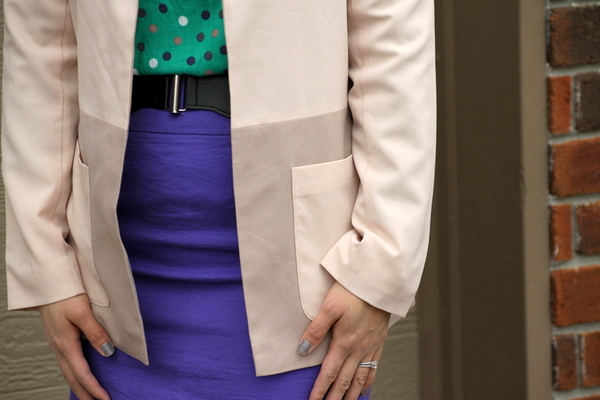 Top: Splendid | Skirt: J.Crew | Blazer: Stitch Fix | Necklace: Love Little Whimsy| Shoes: Target
First, excuse the wrinkles on the skirt, these photos were taken after a long day of work… you know, my day job, where I literally sit in the same chair all day.  On days that I don't work out, the only time I get up from my chair is for bathroom breaks and to get my lunch.  However, most days I just bring my lunch back to my desk and eat it while continuing to do work.  I've always heard that it's good to take a break for 10 minutes every hour.  Not sure exactly why, but I'm pretty sure as I grow older my eyes are going to hurt or I won't be able to see well because of constant computer use, I'll look like the Hunchback of Notre Dame because I slouch all the time (in my chair and standing), and I'll have carpal tunnel from the times where I have to use the little mouse pad on my laptop.  Yea… this is a really upbeat post huh?
Anyways, a little bit about this outfit… to me, all this color screams "the weather is getting warmer, yay!!"  I'm excited to finally be able to wear dresses and skirts in the office again soon (as long as they don't crank the A/C on when its warm outside, who am I kidding, they always do that!).    I love how the ombre dots in the necklace pair well with the polka dots in the shirt which also matches the purple skirt.  The matchy matchy side of me really came out here.  And the colorblocked blazer?  This is just the first of many blazers you will continue to see on my blog, in love with them~!!