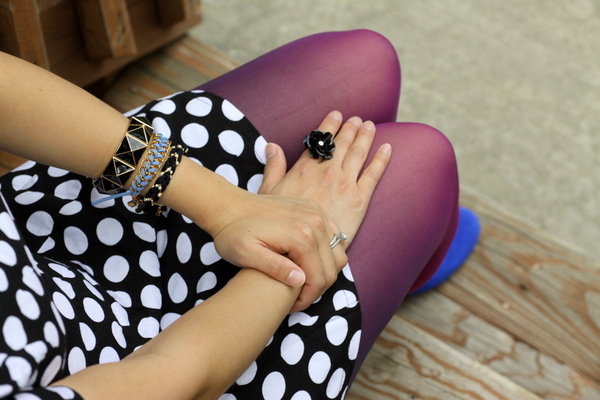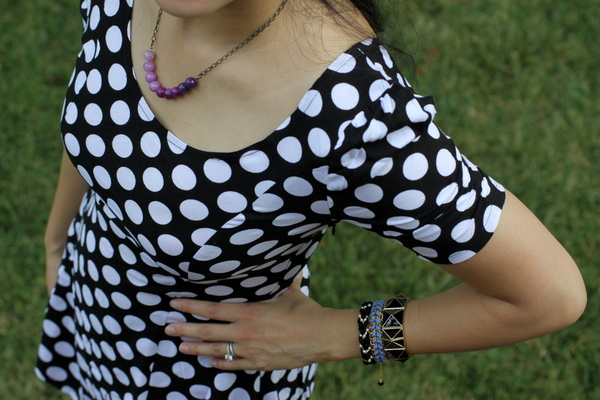 Dress c/o Swaychic | Tights: BZR Shop | Shoes c/o Chromatic Gallerie | Necklace: Love Little Whimsy | Purse: Charming Charlies | Bracelets: Isshou No Yakusoku, Whimsical Workhouse, Forever 21
So I realize that 2 posts ago, I just posted a black, white, and purple outfit.  I guess I must really LOVE this color combo because I'm posting about it again today.  BUT, I am adding in a cobalt blue too, which is my other new favorite color of this year.  I love these purple and blue because they are so bold and so great for transitioning into Fall.  I know I'm being kind of matchy matchy here with purple ombre tights and necklace, and blue in the shoes and bracelet, but I can't help it, it's my nature to make sure colors "match" and are "tied together" throughout my outfits.  But this blog has definitely helped me to venture out of that comfort zone as well.  🙂
And polka dots?  Well, let's just say I have a severe obsession with them.  I just did a top of my head count of how many polka dot items I own and I think it's upwards of at least 20 items (and there's probably more that I've kept since college that I'm not remembering right now).  I have a polka dot problem, foreals.  Please tell me I am not alone in this.
P.S. Head on over to The Tiny Heart to enter a my giveaway!! Win $25 to your choice of J.Crew, Madewell, Modcloth or Forever 21!
P.P.S. And you have one more day to enter the Isshou No Yakusoku Arm Party giveaway!!