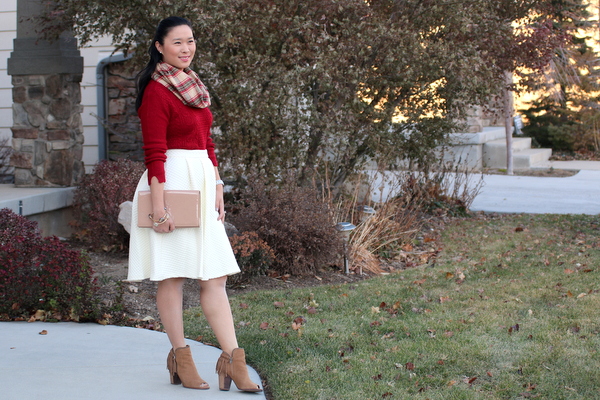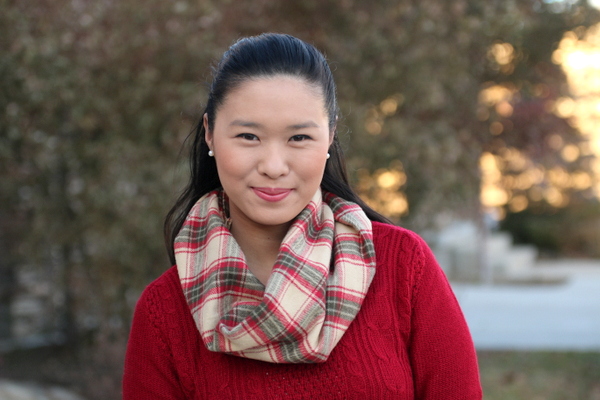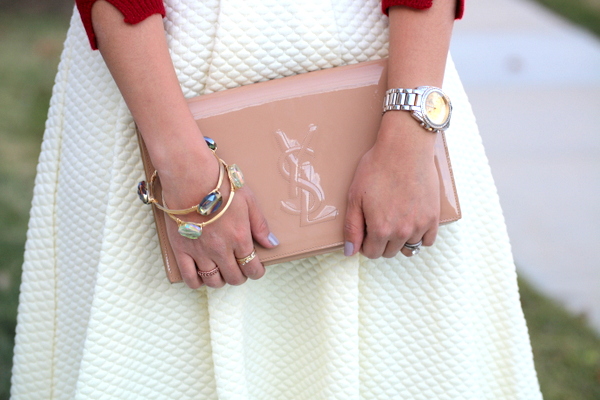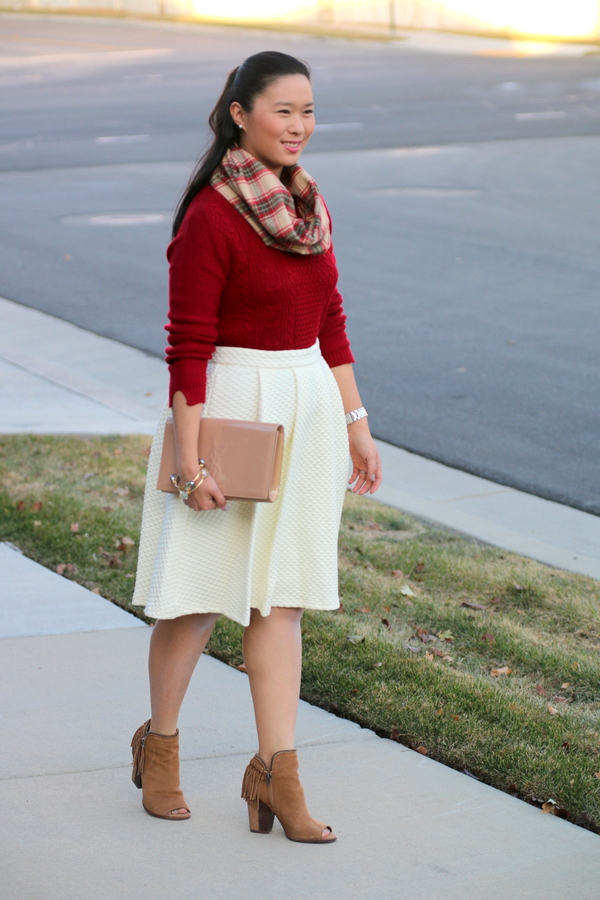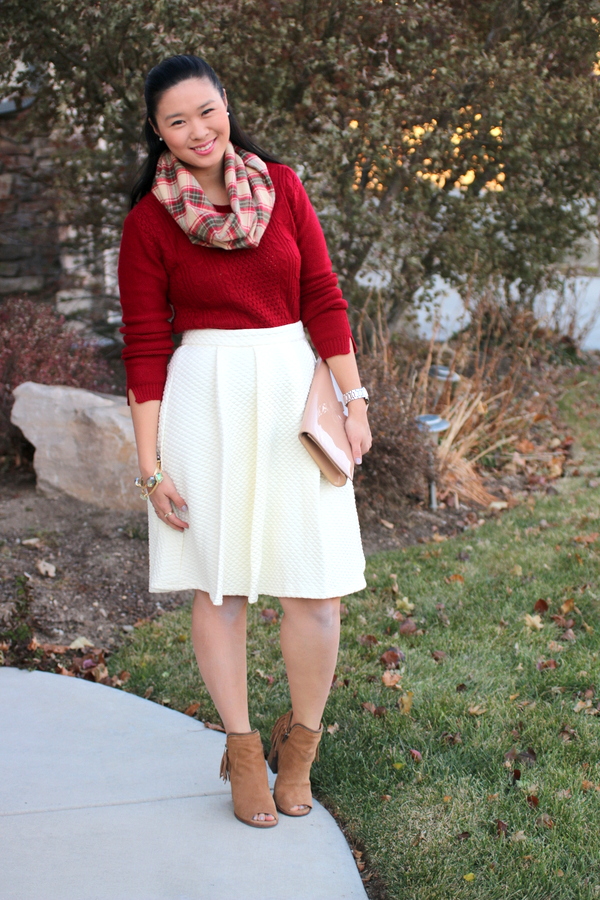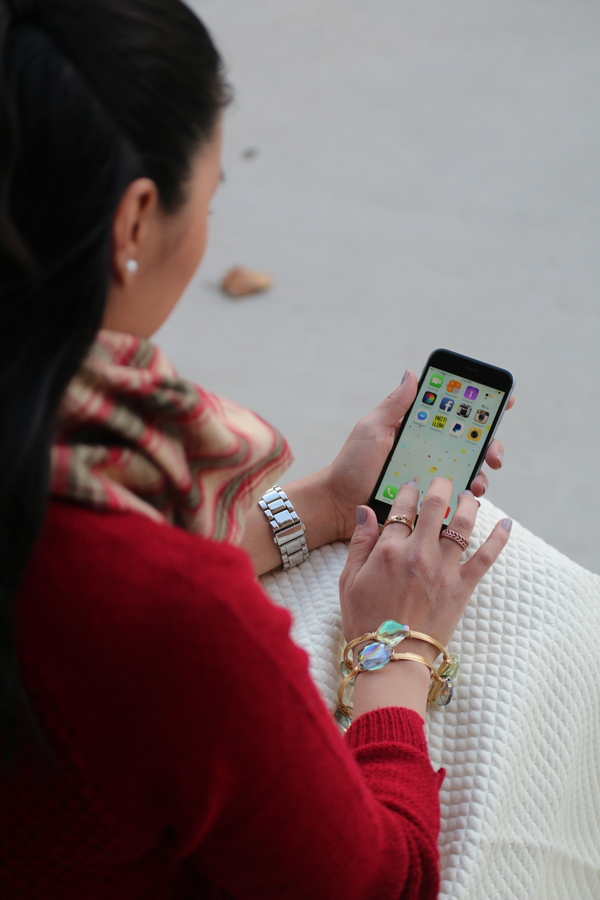 Outfit Details:
Sweater: Bohme
Skirt: Spark at Trolley Square
Scarf: Thejodybeth
Bracelets: Poppy Style
Clutch: Saint Laurent
Shoes: Riffraff (take 10% off with code SANDYALAMODE)
I am on Day 3 of holiday outfit inspiration week! 🙂 Although I think I have styled up so many holiday outfits lately that I can probably spread this out into next week too. You guys, can you believe that Christmas is like 8 days away!? Seriously!? I can't believe it crept up on me soooo fast. It has been a tough transition back into work these past 2 weeks, but I am kind of excited that I will have some short work weeks the next two weeks because of Christmas and New Years! 🙂 The other day Vivian giggled so hard and for a long time and my in-laws got to see it, but I still haven't gotten to see it yet. I feel like I'm missing out on so many of her milestones by being back at work and that just makes me sad. So my goal for Christmas break is to make her giggle, A LOT! As of right now, the verdict is still out there if we will be getting a white Christmas or not. It's snowed a couple days here and there but the snow hasn't stayed on the ground for too long. Which is weird because I assumed living in Utah we would have snow from November to May with no break. But I am totally OK with a mild winter so far. Are you guys getting lots of snow where you live yet?
And on a totally other random topic, I finally jumped on the iPhone bandwagon and I couldn't be more excited. Seriously, it feels like every blogger or Instagrammer I know has an iPhone and I was missing out. I am still slowly downloading the essential apps but so far I think I've got the photo editing apps covered…
1) Afterlight – Android never had this app, so I was so happy to get this one finally! My sister in law raved about this one and now I know why! It does basic editing like contrast, brightness, etc. but I also love that it can get rid of grain too!
2) VSCOCam – I love the filters on this app. I know that using filters has almost because a faux pas, but I love their black and white filters the best! Because some photos are just taken in too poor of lighting that black and white is the only thing that can do to make it postable!
3) PhotoGrid – So great for making collages! I actually had this one on Android too, but was so happy to download it again!
4) AirDrop – Such a cool app for sharing photos with friends who are close by! It's easy to use and are great to use for blogger events (or any outings really) when you want to send your friends photos!
5) FaceTime – I love being able to chat and SEE my friends immediately. This is similar to Skype but just a little bit quicker since it's just a simple video call to other iPhone users!
6) iMessage – Obviously this is just the standard iPhone text messaging app, but I love that you can see when others type. It makes it really interactive like an IM conversation. I don't know why I like that feature so much, but I guess it's the little things.
And lastly, I have yet to use Siri, but I hear she is pretty great.
Are you an iPhone user? Care to share your favorite apps with me? 🙂