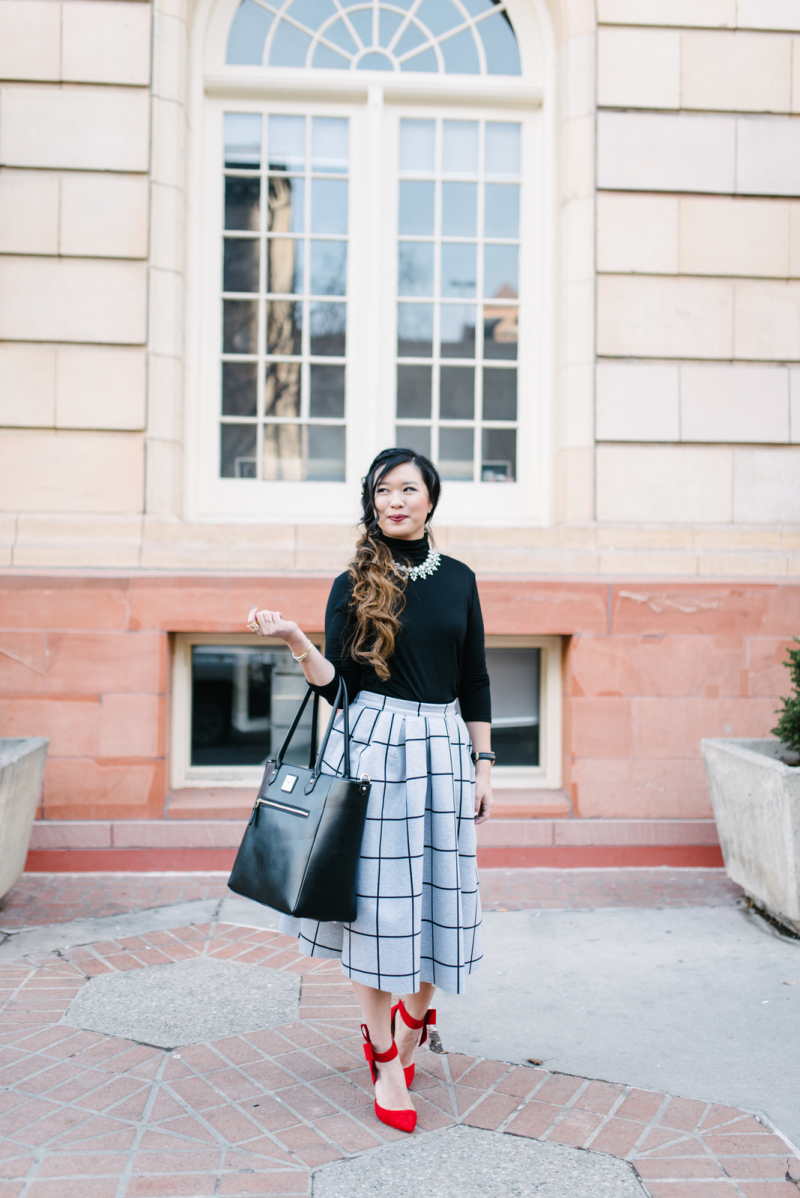 As you may or may not know, last week I attended ALT Summit Winter 2016 blog conference. It was my second ALT conference (I went for the first time last Winter) and it was so much fun yet again. The layout of the conference was pretty much the same, but I was actually able to attend more of it since I didn't have to run up to a room and pump every 3 hours (sorry if that was TMI, but that's life).
For me, the conference is about being in the company of other bloggers, meeting new bloggers, learning from other bloggers, attending classes to learn how to grow my blog / social media, and connecting with brands. And I think I did all of those things pretty evenly. I also was able to sneak in a few outfit pictures too, as I thought it was a great time to do that during conference breaks! Obviously there's a TON to share, but I've just narrowed it down to my top 5. Ones that I did or plan to implement or stuck out in my mind. Oh and it was nice to get away and stay with some girl friends in a hotel for two nights, thanks to the hubby for watching the kids! It was only made possible because I did THIS with Vivian.
By the way, this is the outfit that I wore for Thursday day… I'll be sharing more of my ALT outfits in the next couple weeks as well!
Outfit Details:
Turtleneck: Drifter
Skirt: Chicwish
Heels: SheInside
Bag: Charlotte + Asher
Ring: Pink Peonies
Bracelet: Pink Peonies
Hair styled by Tanglez Hair and Makeup
Photography by Lisa Miller Photo
Shop the post:
1) Download the ColorStory app for photo editing.
Is anyone else's Instagram editing process kind of ridiculous? Whenever I take an iPhone photo, I edit it in Afterlight to take out the grain, PS Express to make it more clear, Pic Tap Go to brighten it, VSCO to make the colors pop… and then finally some last minute Instagram editing before the post goes up, heh! Well anyways, I actually just found out about ColorStory app by A Beautiful Mess girls (love them!) and I just love their base filters. They make pictures WAY brighter and whiter, which is what I really need in my life. Because you know, real life is pretty drab and the colors don't pop as much as they do on Instagram, HA! 😉 And now I officially have 5 apps to go through when editing… or hopefully I can cut it down to just 2, I'll let you know.
2) Movement in social media is where it's at. Snapchat. Youtube. Periscope. Podcasting.
What do I mean my movement? I mean like video or sound. Pictures aren't worth a thousand words anymore, well maybe they are, but video and sound are worth a million then. It's the new wave and if anybody wants to become "big", video or podcasting is where it's at. Unfortunately, I still feel awkward on camera half the time, so maybe my blog growth will be stunted. Or maybe I'll just stick to snapping and try to do so more often than my once or twice a week of my kids being funny.
3) Use Google Keyword Planner when planning SEO friendly post titles
So in the past few months, I've gotten more and more intrigued with SEO (Search Engine Optimization). I've sat through a million classes on it during various blog conferences and never acted on it. Apparently, I have some big LulaRoe fans or at least people find my blog by searching it and they go to this post. I learned this when I did an SEO audit and again, since then, I've made sure my titles were SEO friendly, use the Yoast SEO plugin to make sure I have an accurate Meta description and make sure to update all the "alt tags" on my images to something besides "IMG_9494". BUT, learning about Google Keyword Planner is another step in the right direction when planning out the "focus keywords" of my post. You can type in what you think you want to title your post and it will show you how often that keyword is searched and similar keywords to it so you can maximize your reach and pick a title that is more searched on Google. Did I lose you?
4) Pitch, pitch, pitch, be specific.
This one I knew, but it really really sunk in during the conference. It all begins with having a specific niche or a few areas of focus on your blog. And then all of the pitches that you send out to companies or blog networks should really relate to your "mission statement". Don't have one? Create one.. mine goes something along the lines of… "Sandy a la Mode is a women and kid's fashion blog that inspires others to have fun in life while also dressing well". And then if you are pitching a certain campaign, be specific with what your "idea" is, how many posts you will do, when you will be posting, etc. The more specific the better.
5) Red shoes really make a statement.
Umm and if you want to get noticed during a conference, wear red shoes, like these ones I am wearing here. I understand that most people may not be able to wear heels throughout the day, but there's tons of other red shoe options like this or this as well. We got to listen to The Red Pump Project speak and what really stuck with me about what she was saying is that branding is important. You need to have a signature style or color or pattern that people remember you by. Hers is obviously red shoes. Maybe mine is Vivian? Haha, no, but I need to figure this one out. For now, I'm happy if people remember me for wearing fabulous shoes, I'll take that.
Oh and want a bonus tip? If you attend a conference and are local, a lot of times brands that sponsor the event bring a whole lot of things with them for their booth set up. And then afterwards, they either donate the goods to a place like Goodwill, ship it all back home… OR they are happy to gift items to local bloggers. Some people left the conference with chairs, desks, pillows, prints, beef jerky… and if you are one of those lucky people, the courteous thing is to at least do a post about those items!
If you are interested in learning more of my blogging tips, I did a post on "How I Make Money Blogging" here.
Did you attend ALT Summit or any other blogging conference recently? What was one of your takeaways? Would love to hear!