This post was sponsored by KFC through their partnership with POPSUGAR Select. While I was compensated to write a post about KFC Popcorn Nuggets, all opinions are my own.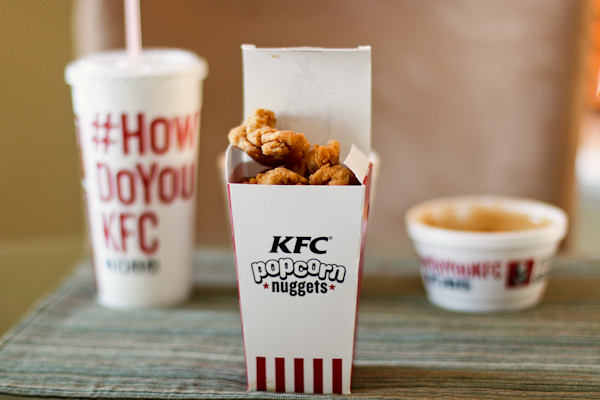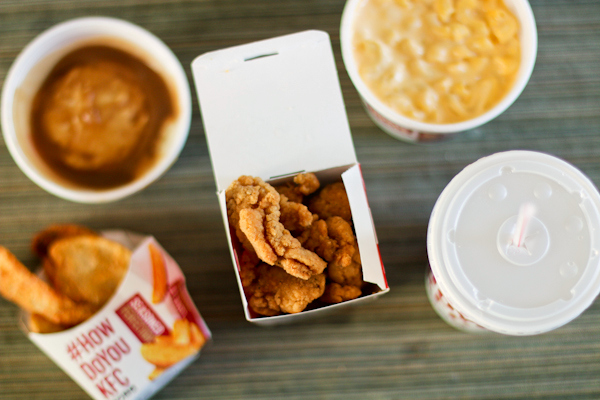 My 3 year old son is a picky eater. We're at this stage now where we basically have to spoon feed him dinner sometime because he takes one hour to eat a meal. He likes to look around, talk to us, kick us, sing songs, but rarely does he just like to eat during dinner. BUT, there are certain foods that he will eat on his own, quickly, and a lot of… and one of those things is chicken nuggets. We always find ourselves at the same fast food restaurants that serve said chicken nuggets or buying the same dinosaur shaped nuggets from the frozen section of the grocery store. Can we say Nugget-vention anyone?
KFC  recently debuted their Popcorn Nuggets and we just had to give them a try, alongside some of our staple favorite sides from there. Last weekend, after a morning of running a ton of errands, we needed some food quick because we were getting close to my son's naptime. We went through the KFC drive thru and got some Popcorn Nuggets combo meals to go so we could eat at home.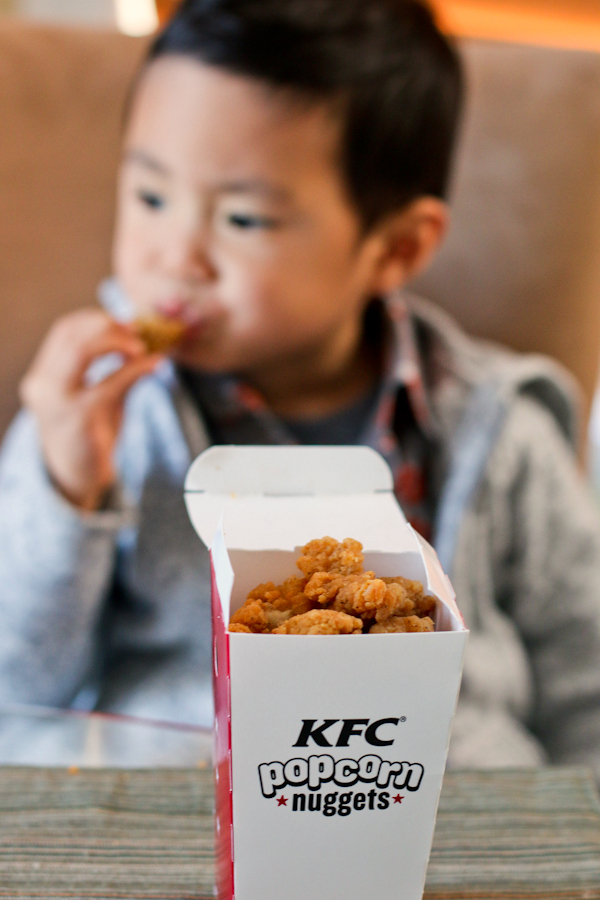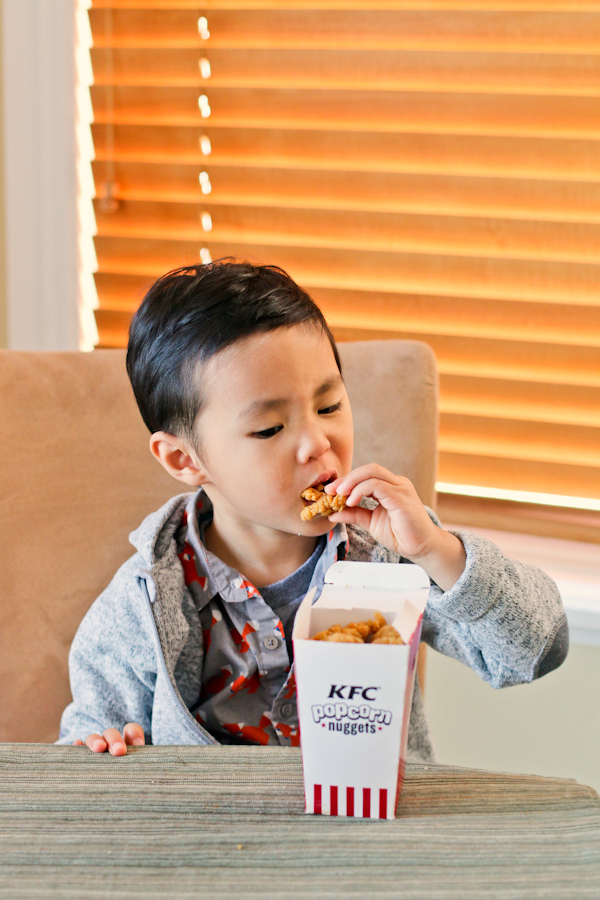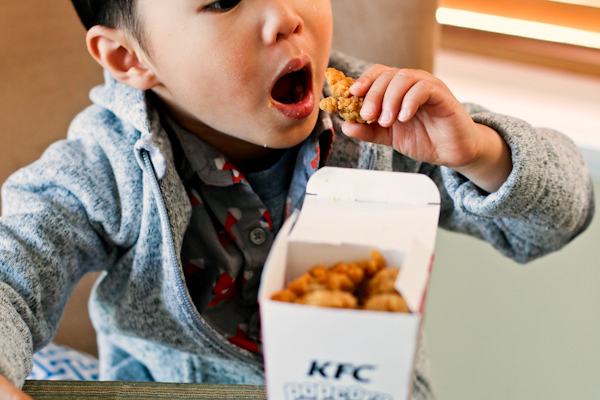 As soon as we got home, my son literally dug into the box of Popcorn Nuggets and wouldn't stop. KFC Popcorn Nuggets are made from 100% white meat, are double breaded and crispy and are never pressed or formed (you can tell by the variety of shapes and sizes that they come in).  Austin was very easily able to pop them in his mouth and devour each one in a matter of a few bites.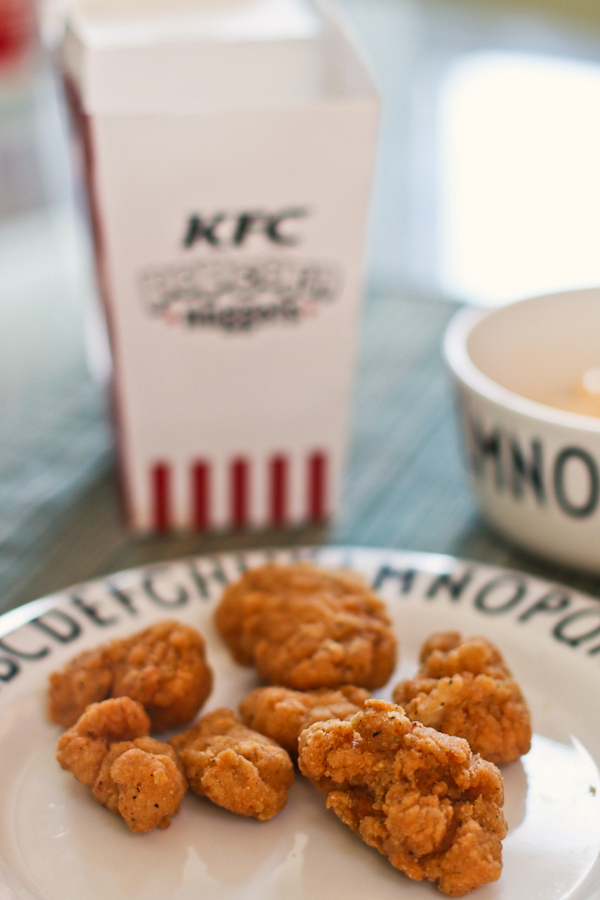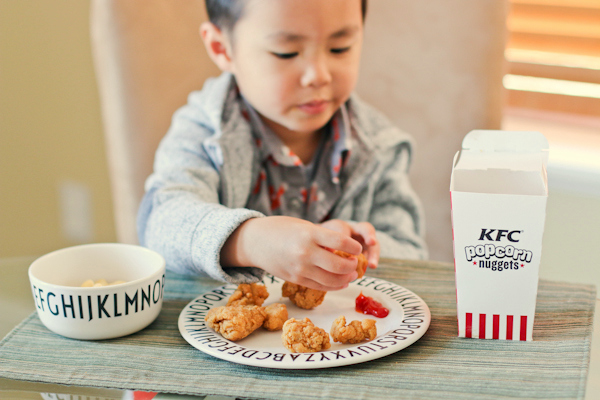 After Austin's initial hunger was satisfied, I was able to convince him to let me put the KFC Popcorn Nuggets and other sides into plates and bowls and eat like a civilized person. Yet, these Popcorn Nuggets were made to be eaten by hand which is right by Austin's alley (he is still not a fan of silverware too much).
Do you know someone who needs a Nugget-vention in their life? Here's a few suggestions of places where I could see one happening:
1) You've burnt your pack of frozen nuggets that took up space in your freezer and spent a certain amount of time baking only to realize that the temperature on your oven was set too high.
2) You don't think that at this particular moment – a 4 or 6 pack of pressed chicken nuggets will fill you up, you need more.
3) You go to a child's birthday party and see that they are serving fish sticks and stuffed mushrooms, which you know your child will not eat.
Have you tried KFC Popcorn Nuggets before?  What do you think?