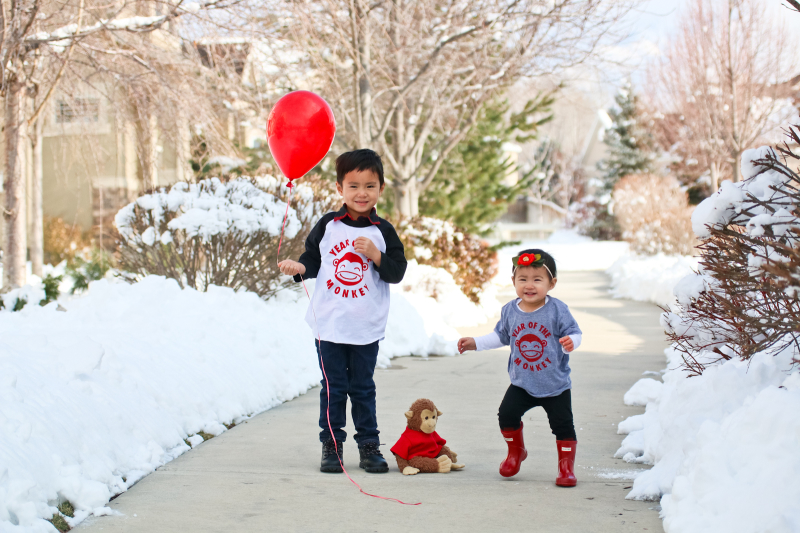 Monday, February 8 marks this years Chinese New Year and it will be the Year of the Monkey. My husband was actually born in the Year of the Monkey so this is HIS YEAR (and you can probably guess how old he is now, ahem there are 12 animal zodiac signs). It's kind of great that Christmas, Chinese New Year and Valentines are all pretty close to each other because wearing red for all these holidays is the thing to do!
Growing up, our family would always celebrate Chinese New Year. That's lots of little things we did to celebrate such as setting a table full of food and incense to dedicate to our ancestors, decorating with and wearing red, and eating a delicious meal. I know that if you are living in Asia, in a country that celebrates it, there's so many more things done such as fireworks and staying up all night with the rest of the town, but we didn't do everything here in the US (since I think fireworks might not be legal that day here)? However, I did want to share some of the things we did do to celebrate Chinese New Year with kids, which I plan on doing with my own kids this year.
By the way, the kid's matching shirts are from Mochi Kids. I met the owner of this shop a few days ago and I just love her so much. She has lots of cute designed tees in her shop, some are Asian inspired but a lot are not. There's actually a ton of cute Valentines shirts like this one and this one. She is running a sale right now through Monday, 1/18/16 where you can get 15% off with code "WEEKENDSALE"! Hurry up and order for Chinese New Year or Valentines or check out her other cute items!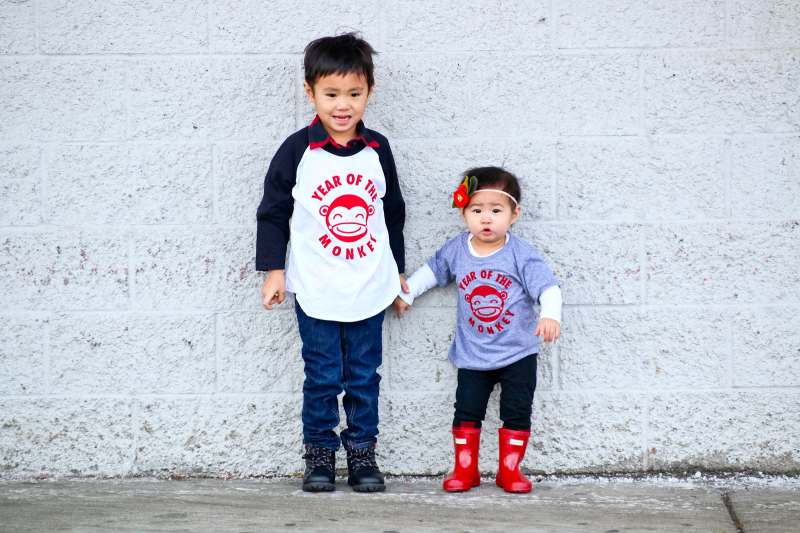 Austin's outfit:
Shirt c/o Mochi Kids (use code WEEKENDSALE for 15% off your order good through 1/18/16!)
Button down: OshKosh B'Gosh
Pants: GAP
Shoes: OshKosh B'Gosh
Shop his outfit:

Vivian's outfit:
Shirt c/o Mochi Kids (use code WEEKENDSALE for 15% off your order good through 1/18/16!)
Headband: Fancy Free Finery
Socks: Copper Robin
Boots: Hunter
Shop her outfit:

1) Clean the house
Well, our house is always in a constant state of mess. Whenever I put things away, my kids manage to pull something else out and make a new mess. But it is said that a few days before the New Year (I should probably start now), you should clean your house to get rid of the old and welcome the new. ON Chinese New Year, it is bad luck to clean so thus you must put away all cleaning products!
2) Put up red decorations.
After the cleaning has been done, most people decorate their house with red. You can hang up an upside down Chinese "fu" sign, hang up red paper lanterns, origami, etc. Red signifies a good luck color.
3) Prepare a bowl of oranges.
Tangerines in Chinese sounds similar to "luck" in Chinese, thus eating oranges and tangerines is good luck around this time of year. I remember when I was younger, my mom would set out a whole table full of fruits, and definitely oranges along with incense and a picture of my grandparents. It was a gesture of remembering them and providing them with food and luck as well.
4) Gather for New Years Eve dinner.
A New Years holiday wouldn't be complete without gathering together as a family to make delicious Chinese dishes and to get help in making them. Our favorite way to involve the kids (or how I was involved when I was younger) was to help wrap dumplings. Well actually my cousin was an expert dumpling wrapper maker so he would come over in the mid-afternoon every New Years Eve. He would help make the wrappers, my mom would make the filling, and we would all help wrap them. And in one single dumping, we would stick a penny inside, and whoever ate the dumpling with that penny, would have extra good luck that year! I think it's also a way for parents to encourage their kids to eat more, am I right?? Sneaky…
5) Wear red.
Wear red underwear, yes I said underwear. Wear red clothes. It's kind of self explanatory… but again, red is good luck!
6) Fireworks (bubble wrap?)
Well like I said, in the US, fireworks may not be allowed at this semi-random time, so a great alternative is popping bubble wrap. Actually though, my son is NOT a fan of the sound, so I guess you should make sure your kids are OK with the sound first, HA! Update, I just found out that fireworks ARE allowed in Utah for Chinese New Year, so maybe they are for you too?
7) Give red packets of money to young children.
Probably the best part of the New Year was receiving money (I kid, it's not THE best since I don't want to sound greedy, but it is pretty high up there). 😉 Basically the elders would give the kids red envelopes filled with money. It is thought that this would help suppress evil, give the kids long life and keep them healthy.
8) Attend any local community celebrations.
And lastly, one fun thing you can do if you want to celebrate with others, is to see if your local community has any celebrations. I know in Utah, in the past, there would always be some type of celebration at the downtown library that was put on by the local Chinese community. They are bound to be a ton of kid-friendly activities for the whole family to enjoy.
Pin this for later:

Do you celebrate Chinese New Year? How do you celebrate?