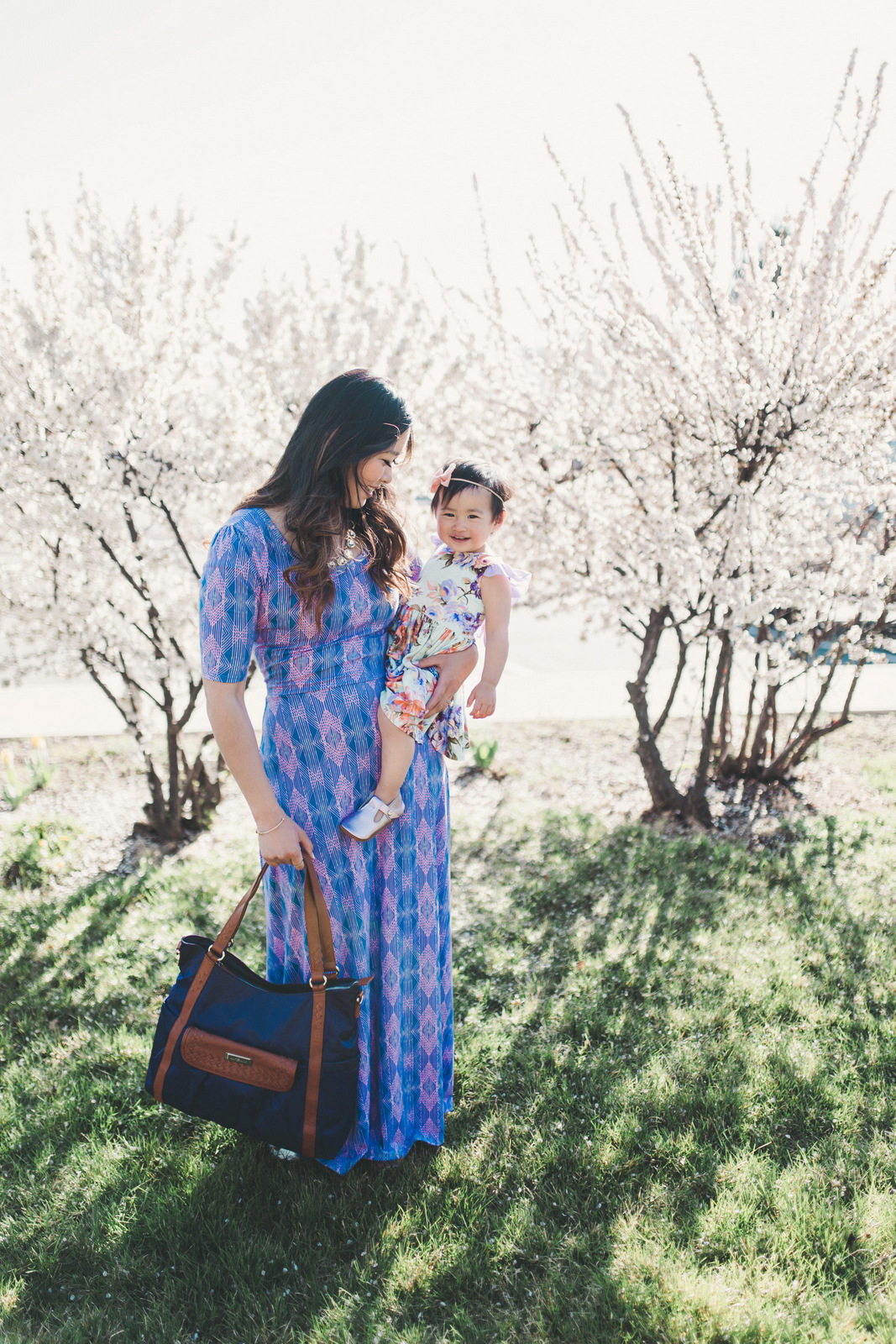 This past Monday night was one for the books. At dinner time, my 4 year old son was complaining that we gave him too much food, that he was full, that he wanted dessert, that he wanted to do this and that. Meanwhile, my 1 year old daughter refused to sit in her chair, when we got her in the chair, she was just crying and throwing food all over the floor. And in that moment of chaos, my husband and I just looked at each other and then kind of laughed at the hysteria that was going on around us. Oh and I forgot to mention that my son crawled on to my lap and asked me to feed him too. Now some may say perhaps we don't discipline our kids well enough and will blame things back on us, and that's fine if you have that opinion, but honestly, sometimes you do your best, kid's have their own opinions and you just let the moment ride until its over and you are on to the next thing. Because one of the most important things I've learned about motherhood… is that everything is a phase, and this too shall pass. Oh and how could I forget, that later that evening we went for a family walk and my son complained that he was hungry, literally starving, as though we didn't feed him… but remember before he was saying that he was WAY too full.
When I first found out I was pregnant with my son, I called all my family and friends and screamed with excitement and joy. I always knew I wanted a few little "mini me's" to play with, to teach, to learn from, to love. I went through 9 months of pregnancy, I never got sick once, we prepped our house, strangers were so nice to me, I felt like I got the royal treatment. My labor was relatively smooth, I only felt real pain for about 20 minutes (although it was an awful pain) and when my son was born, the first words that the doctor said were "now the hard part begins". In that just haven given birth daze, I didn't really know what he was talking about because wasn't labor the hard part!??! That's what you have been nervous for 9 months about, right? Once you have that newborn squishy baby, your life is complete and amazing, right??
The next few weeks, my perfect little world of motherhood shattered bit by bit. Motherhood was not getting any sleep, motherhood was struggling with breastfeeding, motherhood was pain, motherhood was confusion, motherhood was my baby sitting under blue lights, motherhood was fighting with my parents and in-laws, motherhood was getting snippy with my husband, motherhood was not going up stairs, motherhood was not drinking or anything cold, motherhood was googling everything and anything to figure out why my baby was crying. For the first few weeks you are working like a machine and there is no reward, no baby smiles, no baby giggles, you're just in a tired state of confusion trying to get by each and every minute.
But what I truly learned through that all is that you really just learn to use your gut, take things as they come, fight each battle… and eventually you won't have to use blue lights on your baby so their skin is not yellow, eventually you get the hang of breastfeeding mixed in with formula feeding, your baby starts to smile, and most importantly, they sleep through the night, woo hoo!
Motherhood has completely changed me as a person, and whether its for better or worse, I've learn to adjust to these changes and move on with life. I used to think I was on time to things, I was detail oriented, I had lots of time to care for and be concerned about my extended family and friends. But now we struggle to get out the door, well, every day, the house is a complete mess most days, and pretty much our lives revolve around our kid's nap schedules and bed times. But hey, we are out of the eat and sleep every 2 hour phase, so that's a plus, but we are in the tantrum and teething phase, so which is better? Again, it's all a phase. What this has taught me is to be more agile and quick on my feet. It has taught me that I really need to make everything a calendar appointment on my phone or else I will forget about it. And more than ever now do I rely on my family, friends, mom friends, Facebook group friends who I consider my friends, blog friends, etc. to help me through the struggles, the hard times, and to let me know that they too are going through the same perfectly imperfect day that I have just faced.
My outfit:
Dress c/o LulaRoe via LulaRoe RUSH
Necklace: Cents of Style
Bag c/o Lily Jade
Eyelash Extensions: Amazing Lash American Fork
Vivian's Outfit:
Dress: Remie Co.
Shoes: Mon Petit Shoes
Bow: Little Poppy Co
Photography by Shailynn Photography
We got into a really great routine with Austin and we knew things would change when we had my daughter (my son was 2 years and 9 months at the time she was born). We prepped him for what might come, but baby #2 rocked his world probably more than it did to ours since we "kind of" new what to expect. But even with that, every child is SO SO different and Vivian nursed like a champ, didn't need to bask in the blue light and had lungs so strong they probably woke the neighbors at night…. every few hours or so. We were all in this together and although we did have experience, it took more adapting and adjusting to becoming a family of 4. And now a couple years later, we have an amazing 4 year old who does have less frequent outbursts or tantrums and we have a 1.5 year old who still doesn't sleep through the night and is probably teething all the time (although that is like the hardest thing to tell as a mother)! But as I fully am aware of, teething is just a phase, throwing food is a phase, and they have to eventually sleep through the night, right? Please say yes (well at least my son has caught on to that amazingness of getting a full night's sleep at around age 3)!
But for now, as my children are little, I want to remember to be present for them, I want them to remember me playing with them, I want to cuddle with them as long as they will let me do so. Because I know that in the blink of an eye, both of my kids will be off to college and these stories and memories will be ones that I have captured here in this space and I can't wait to share these little anecdotes of life with them. To all the mamas out there, we all have a beautiful story to tell, it might a bit of a hot mess like my #StoryOfMotherhood, but we all have a story that needs to be heard, and I'd love to hear it. Share your #StoryOfMotherhood below for a chance to win a Lily Jade bag of your choice! Good Luck!!

The Lily Jade #storyofmotherhood Giveaway!