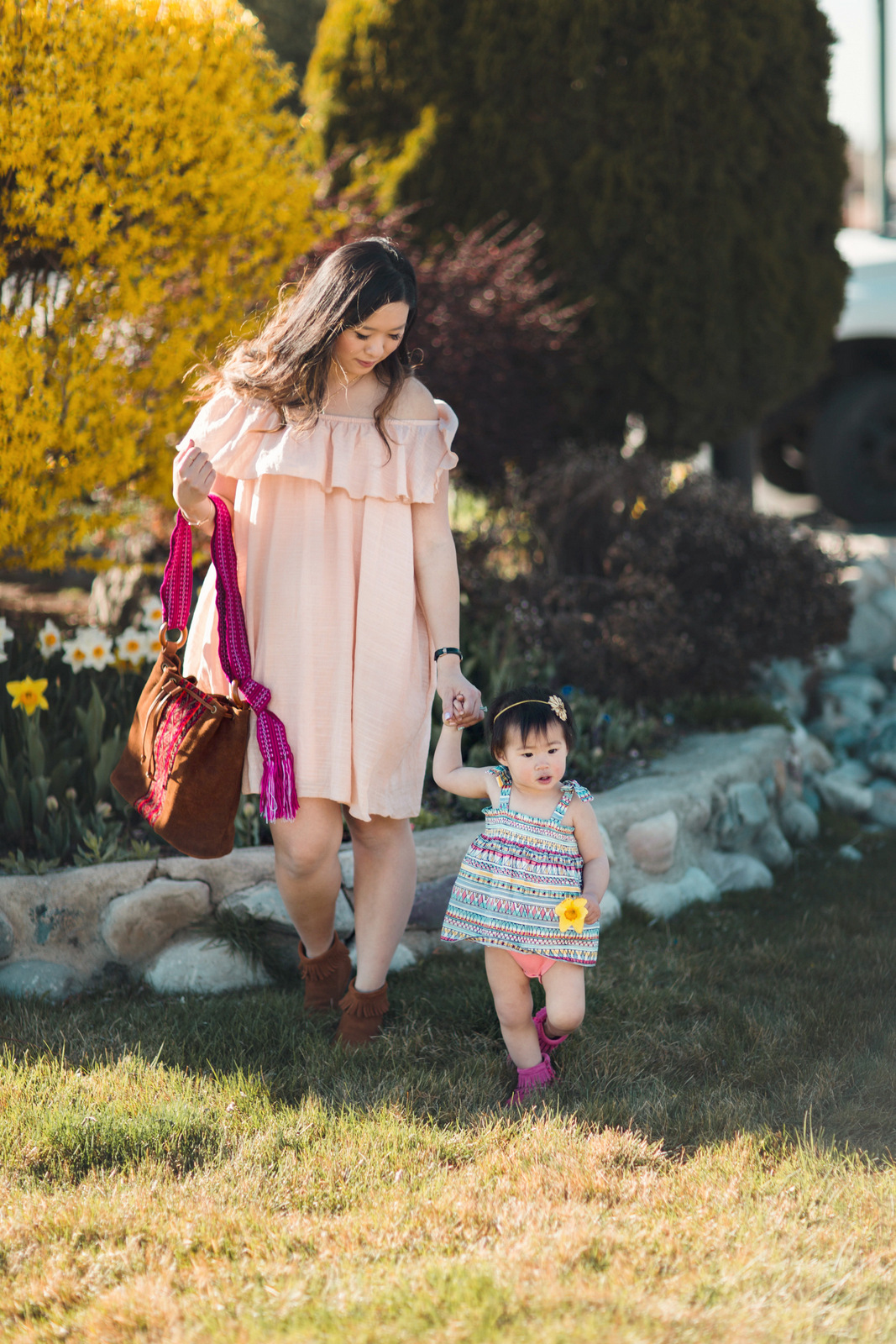 Isn't it crazy that we are only a few weeks away from Mother's Day? To me, Mother's Day, should really be celebrated every day because mothers are amazing, am I right? The answer is yes. 🙂 For this Mama and Mini style look, me and Vivian are twinning with Minnetonka Moccasins boots. I have loved this brand for the longest time and when I found out they made baby shoes, I was sold. These shoes are super comfortable, very easy to slip in and can be worn all year round. Obviously they are great for colder months, but they can be worn for Spring and Summer with rompers or dresses. Keep on reading because I will be giving away $100 to Minnetonka Moccasins below!
To go along with or Boho vibe, I am wearing a bag from Pip's Marche. They have a lot of amazing bags and accessories that can make any outfit really unique. This bag I am wearing was designed and handmade in Ecuador using high-quality Ecuadorian suede with leather accents and local patterns. And lastly, Vivian's romper is from Tea Collection, a clothing store for babies and kid's that I have been obsessed with for a long time. They have very high quality, stylish pieces for an affordable price and constantly come up with their own unique designs. Their clothes are perfect for kids to play in, but also have ones for kids to dress up with as well for a special occasion.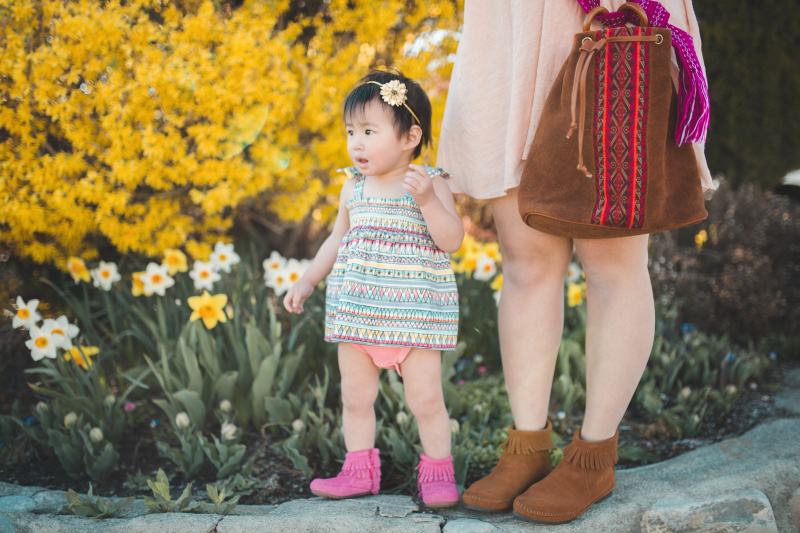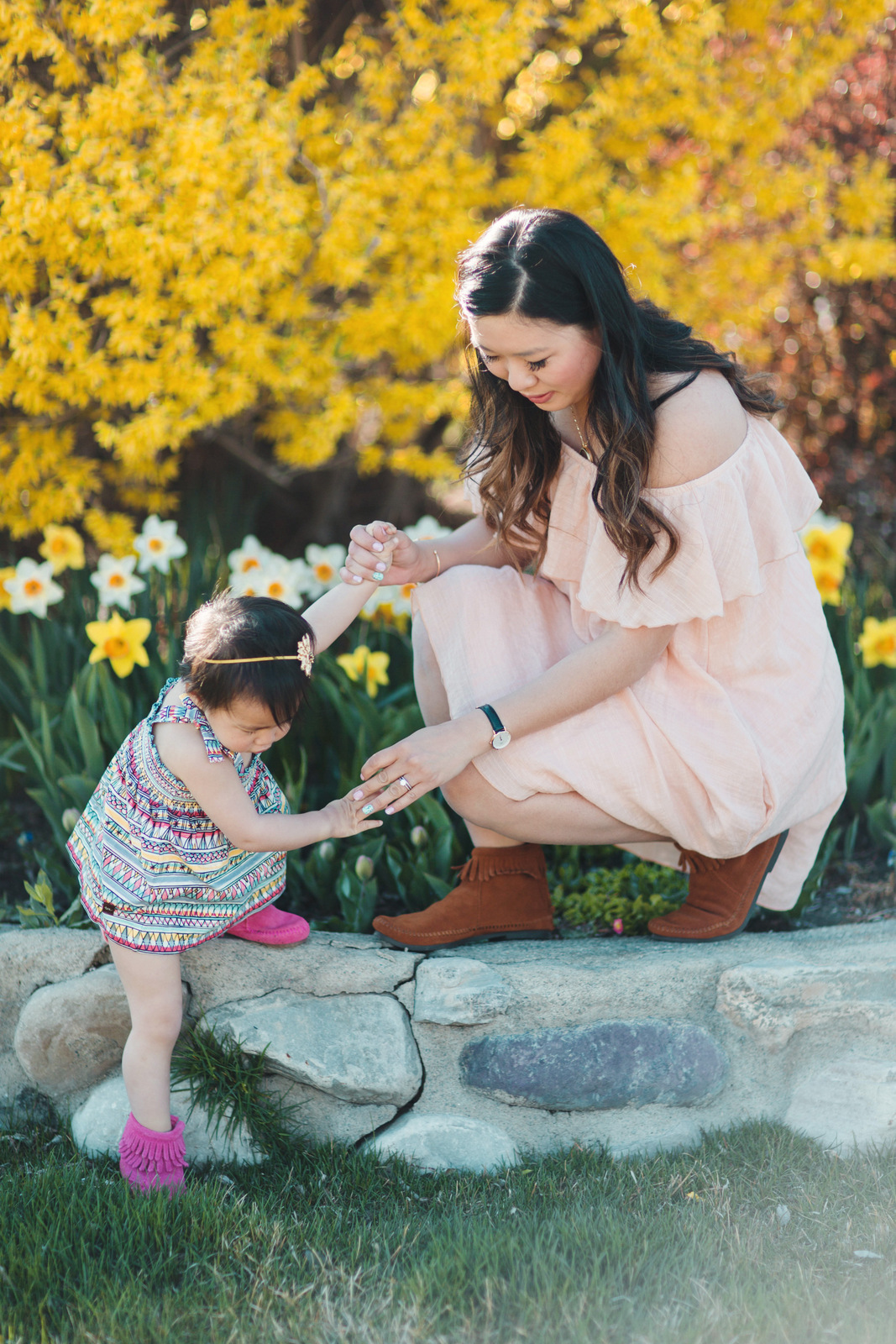 My outfit:
Dress: Morning Lavender
Shoes c/o Minnetonka
Bag: Pip's Marche
Watch: Daniel Wellington
Necklace: gLockets
Shop other Women's Minnetonka
Vivian's outfit:
Romper c/o Tea Collection
Shoes c/o Minnetonka
Headband: Garden of Arden
Shop other Kid's Minnetonka
Photography by Shailynn Photography

We hope you are enjoying the Mama and Mini Style series as much as we are loving taking pictures with our baby girls! And we are ALL giving away $100 to Minnetonka, so make sure to enter mine below and then hop to the other mama's blogs to enter theirs!
Chasing Davies | Lipgloss & Crayons | Walking in Memphis In High Heels
This giveaway closes on May 3 at 11:59PM MST. Good luck!
And before you go, one last thing I have to tell you about, but we have started a new Facebook group called "Mamas and Mini Style Collective, where it's a place for mamas to share their own fashion as well as their kid's fashion. It is designed to be a space for inspiration, sharing, chatting, posts about sales, new launches, etc. And we would love to have you along on the ride with us, so pop on over and join!!! We'd love to have you!