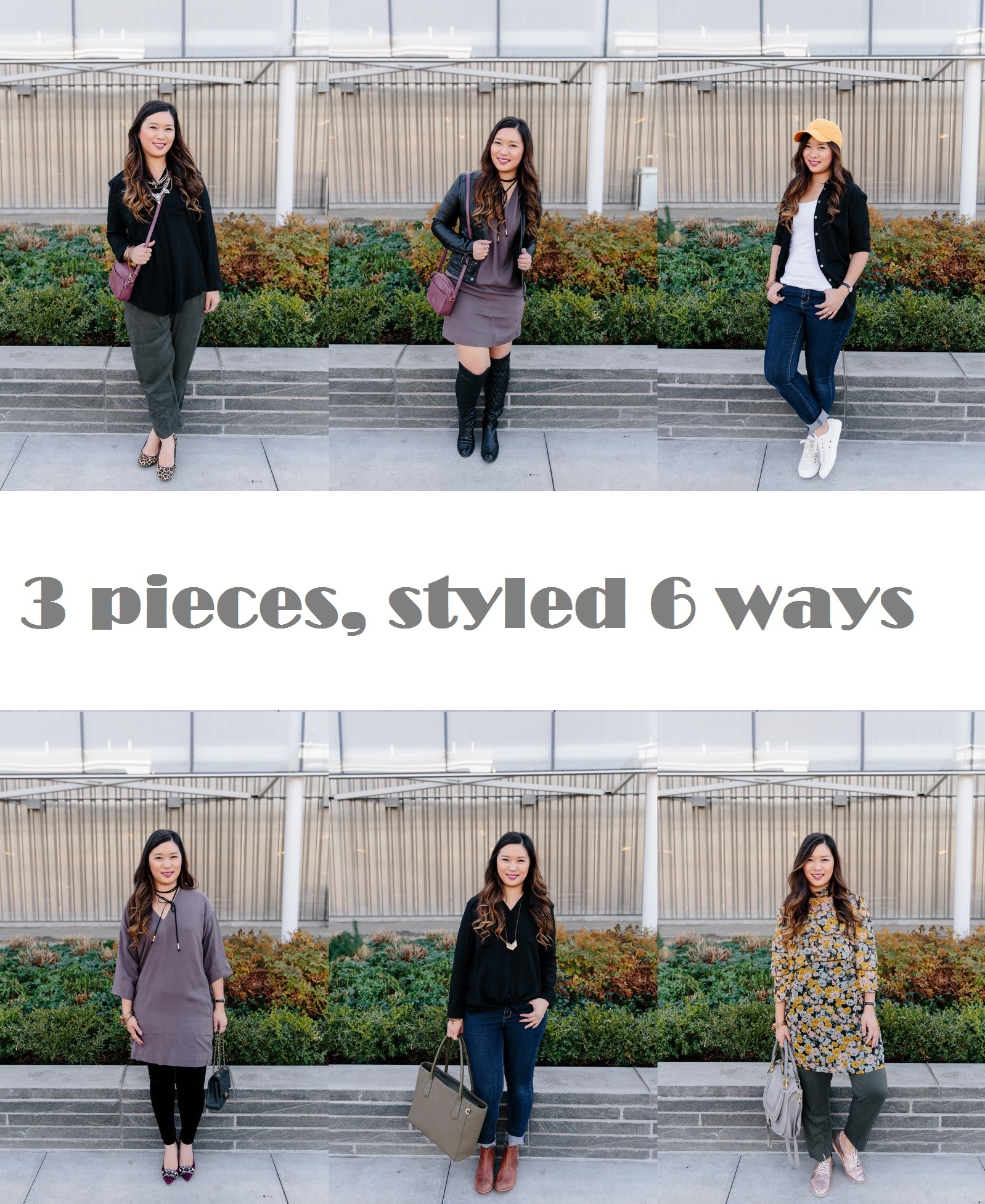 As you all know, I am a working mom blogger who likes to go out and have fun, play with my kids and work, work work. Because of this, it's important that I have outfits and clothes for all different facets of my life and the different functions I go to. That includes work clothes, mom clothes, going out clothes, you name it, I like to be dressed well for any occasion! And especially with the holidays coming up, it's especially important to be able to mix and match clothes for maximum wear in order to save money for the holiday spending! So I've teamed up with Thacker today to show 3 of their clothing pieces (+ 1 bag) styled in 6 different ways with other pieces I already had in my closet.
Thacker is designed to be the hardest 10% of your closet that you reach for everyday. Think modern and basic essentials (like tees, sweaters, leggings etc) but never boring. Thacker works for women of all ages and helps them look polished, pulled-together, and chic in a flash. The collection empowers women to simplify their life without sacrificing style. In fact their 67 pieces in the collection can create 600,200 looks!!! They also have an amazing app "You Style It." The interactive online app allows you to style their collection and create endless looks at your finger tips. Save them to their site where people vote them up or down, or share them with your friends. It's SO addicting! One collection. Endless looks. It's basically your digital closet at your fingertips!
Look #1 – For the Office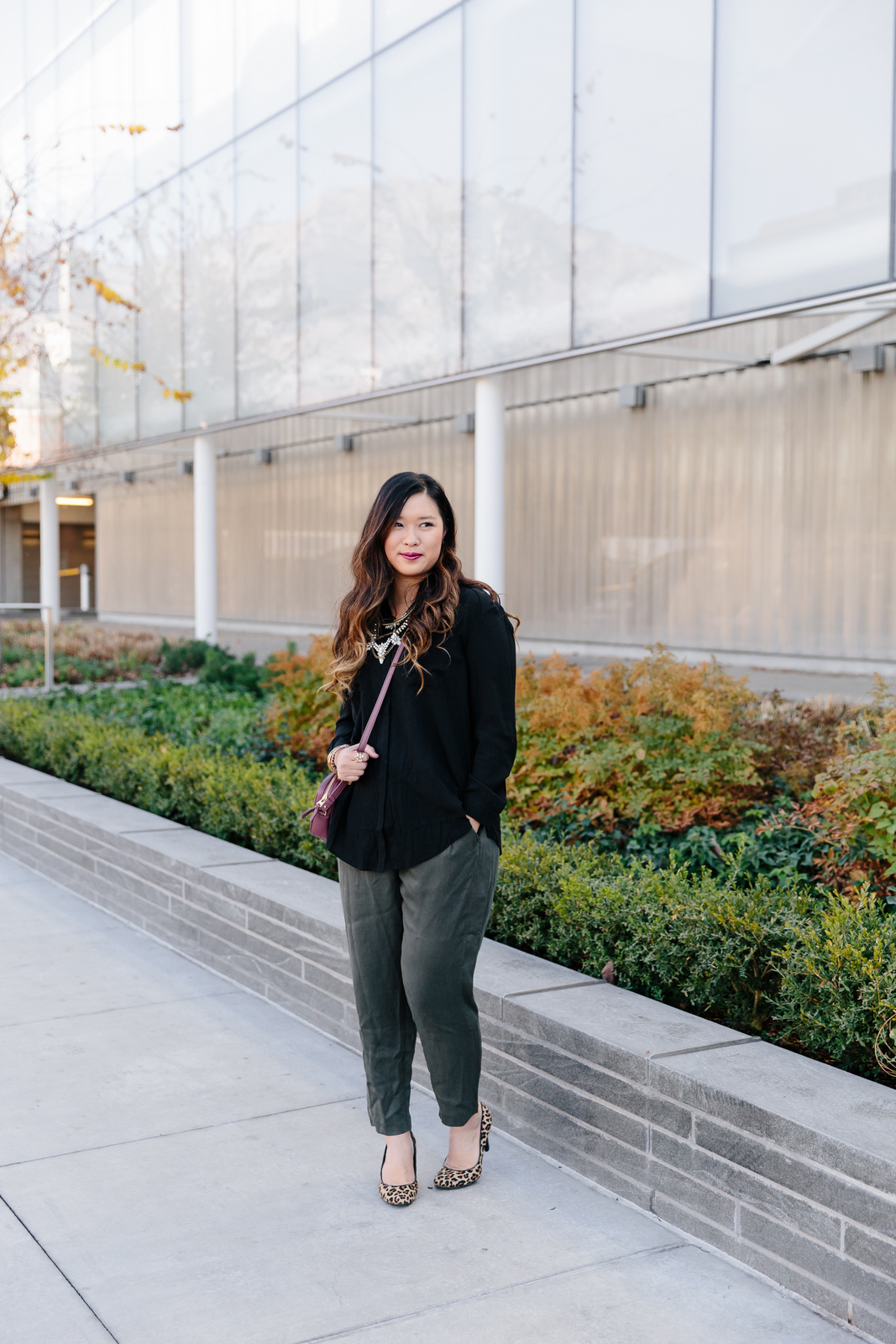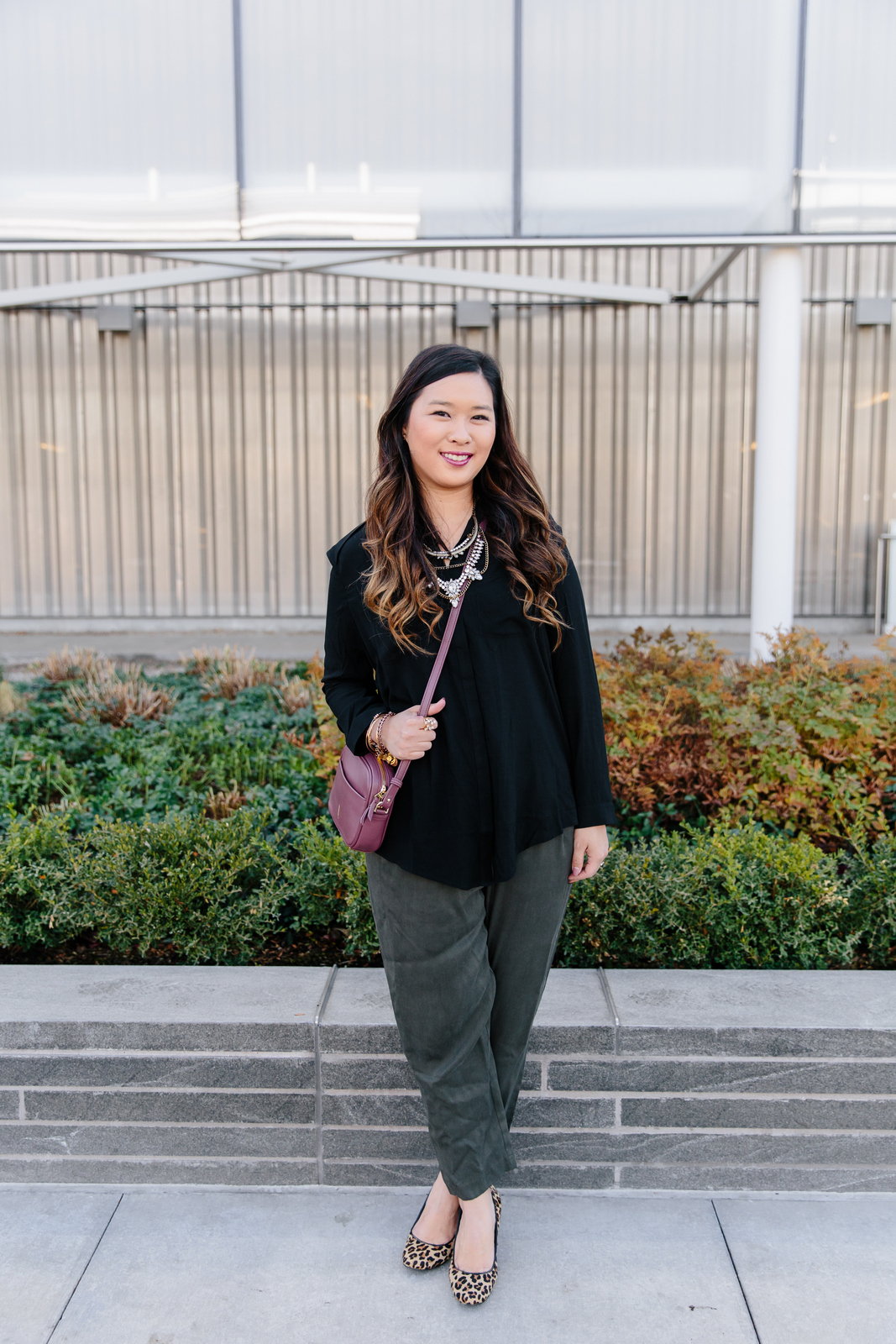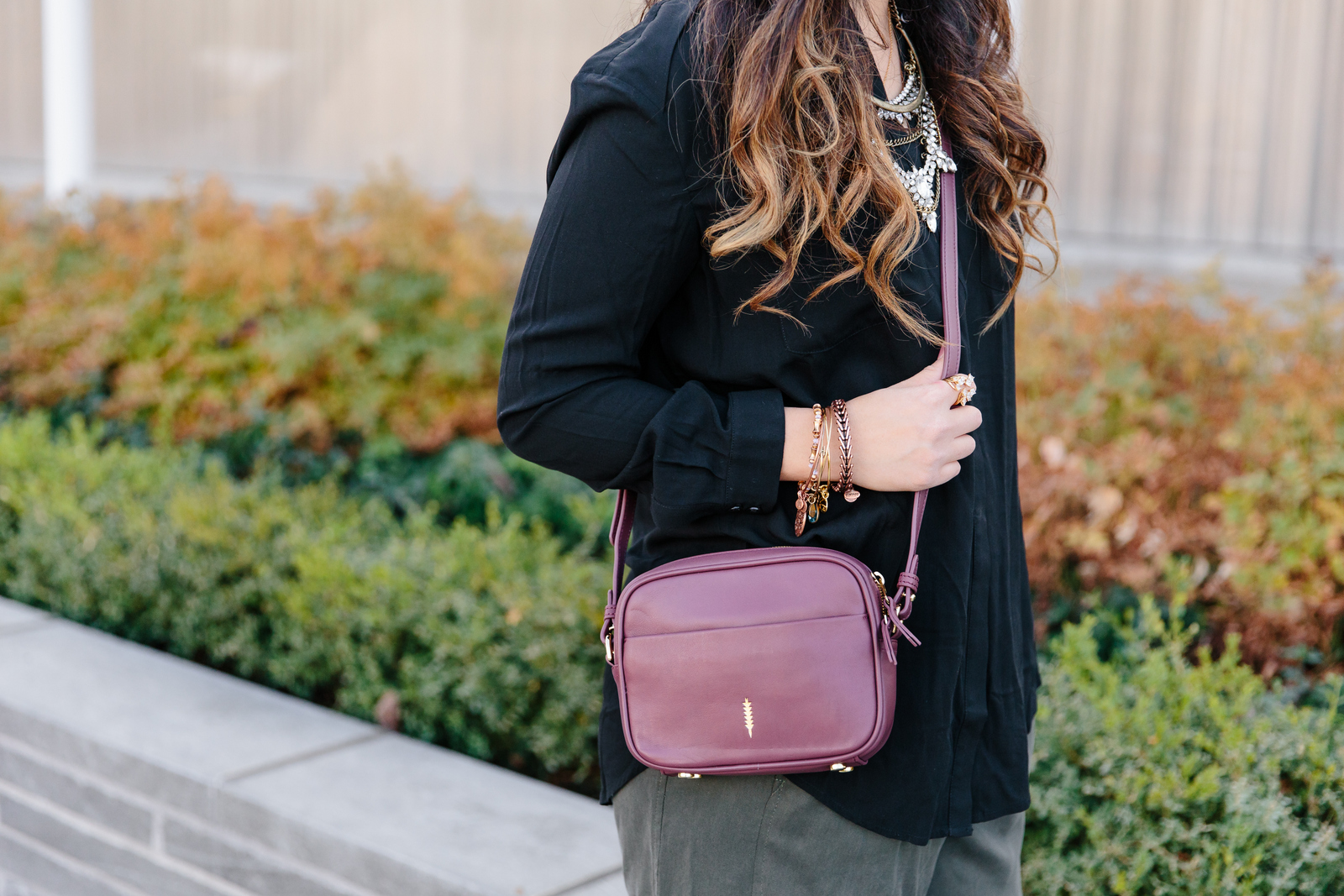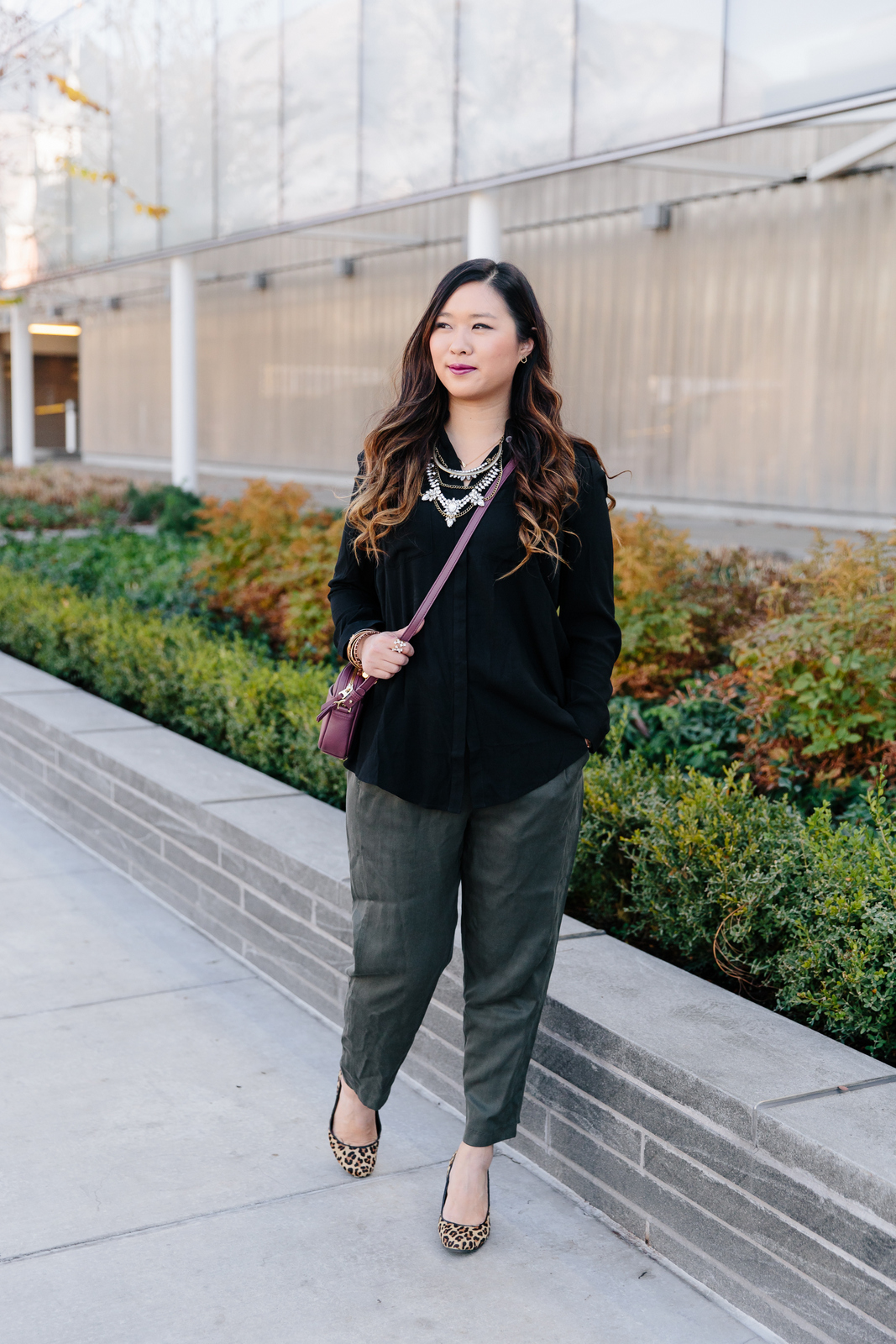 Top c/o Thacker
Pants c/o Thacker
Bag c/o Thacker
Shoes: Target
The Dixon Boyfriend shirt is the one I styled most in these looks as it is probably one of the most versatile shirts you could own ever. It's great for work and casual and everyday looks. It comes in a few colors and I swear I could own the all and put together endless outfits with them. Whether it's layering them over or under shirts, unbuttoned or buttoned, they are just a great piece for any wardrobe.
The Ren Draped Crop Pant can really be dressed up with a pair of great heels, dressed more casual with booties, or even casual with a tee and flats. I like that they are a bit loose so even after a Thanksgiving meal, they aren't tight in the waist or legs!
Besides the gorgeous Tea Rose color of the Lola Camera Bag, this little crossbody bag fits all your staples and comes in a TON of colors!
Look #2 – Girl's Night Out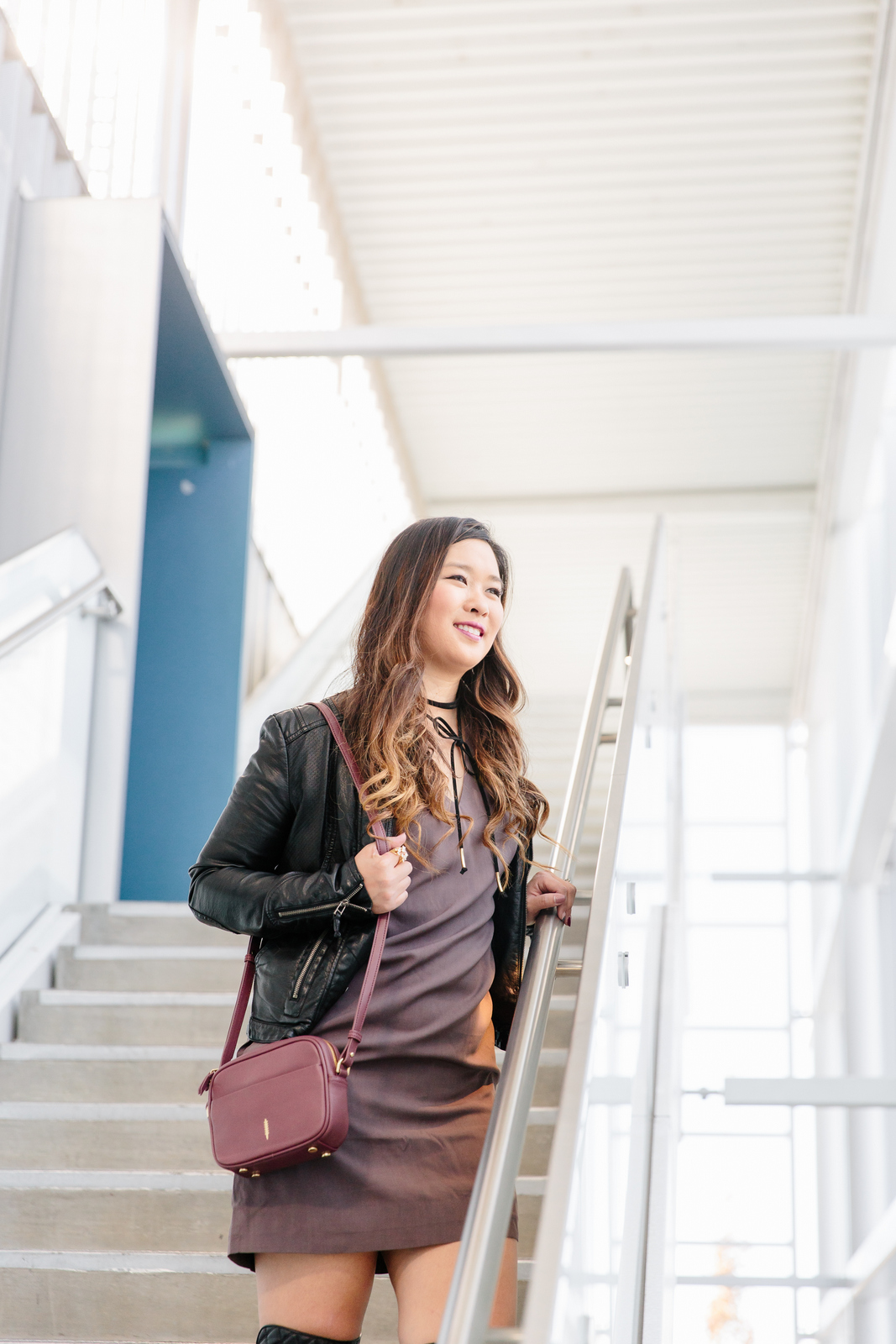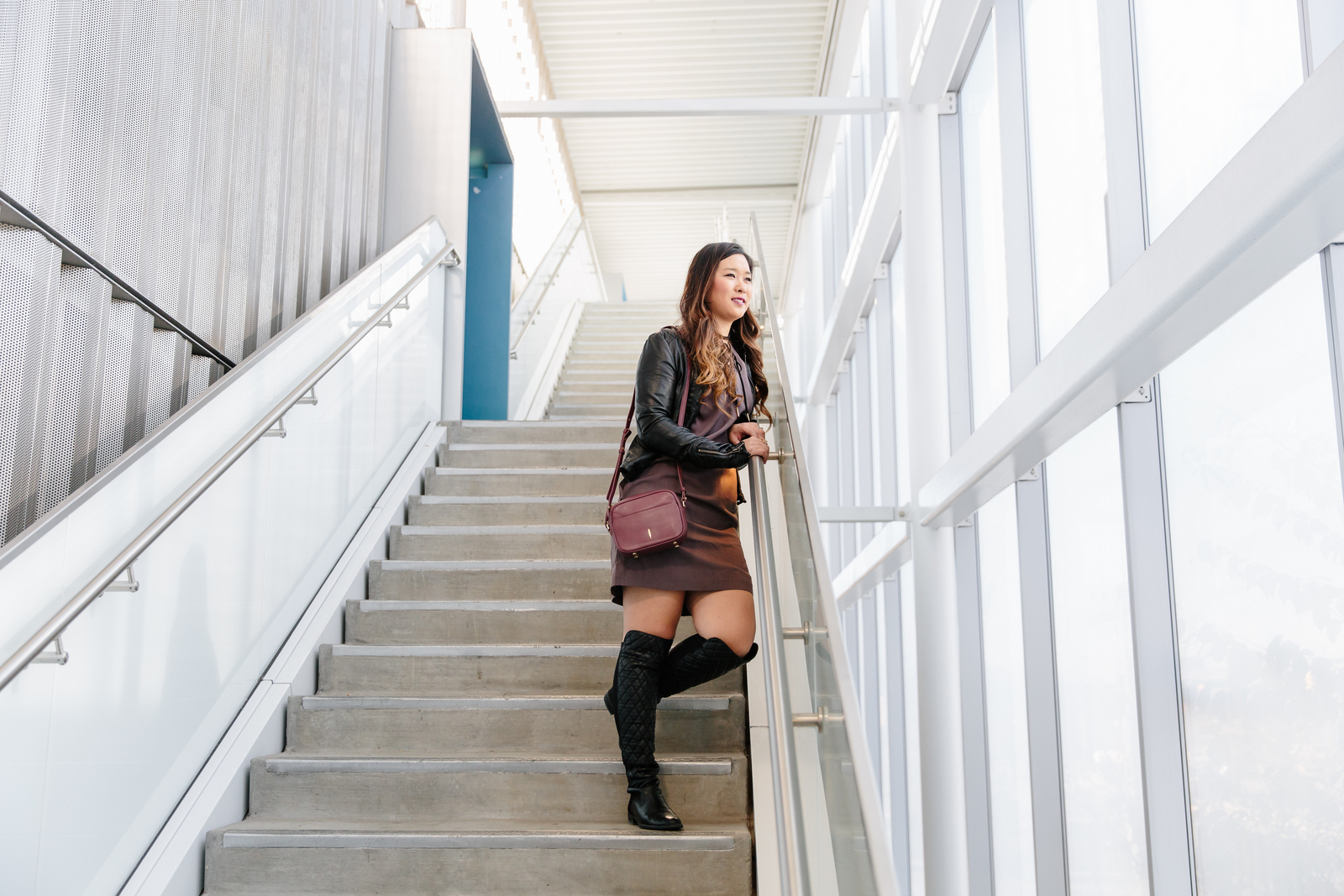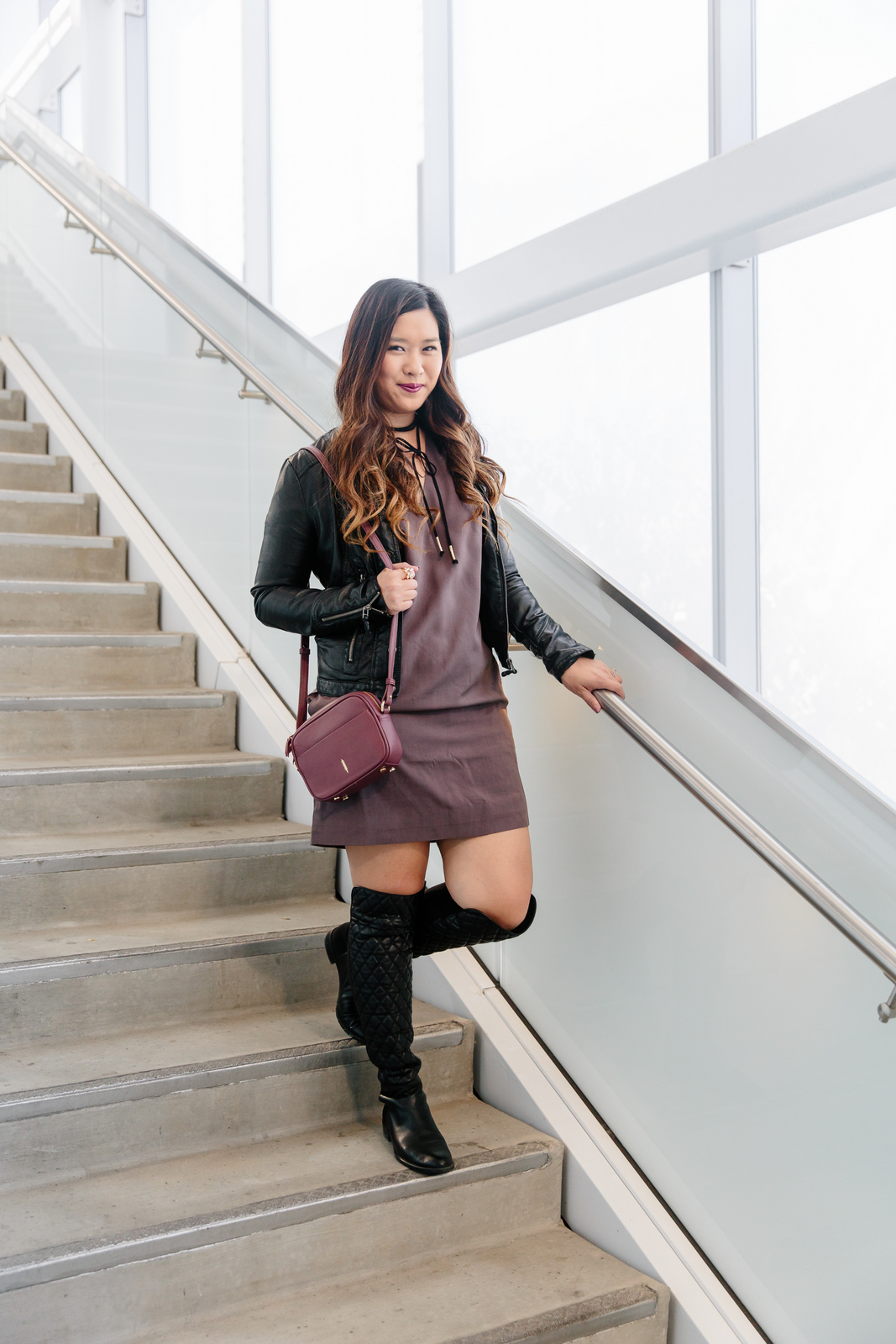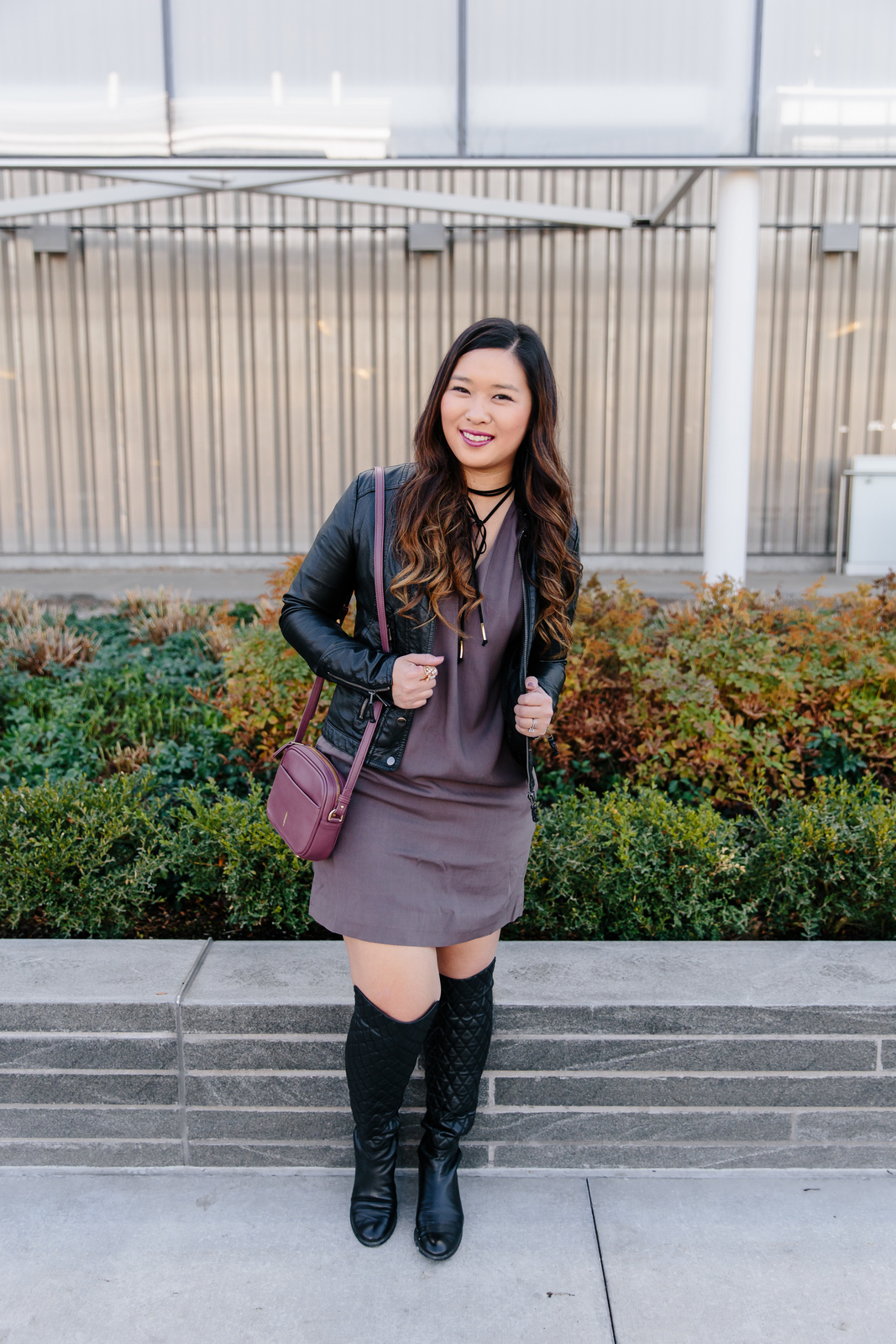 Dress c/o Thacker
Jacket: NY & Co.
Choker: Cents of Style
Bag c/o Thacker
Boots: Stuart Weitzman
Going out for date nights or girl's nights are far and few between, but hey, it's necessary to have a good dress to wear when I do, right? This Liya Tunic Dress can be worn as a dress itself or even a tunic over leggings (shown later). And hello, IT HAS POCKETS!
Look #3 – Running errands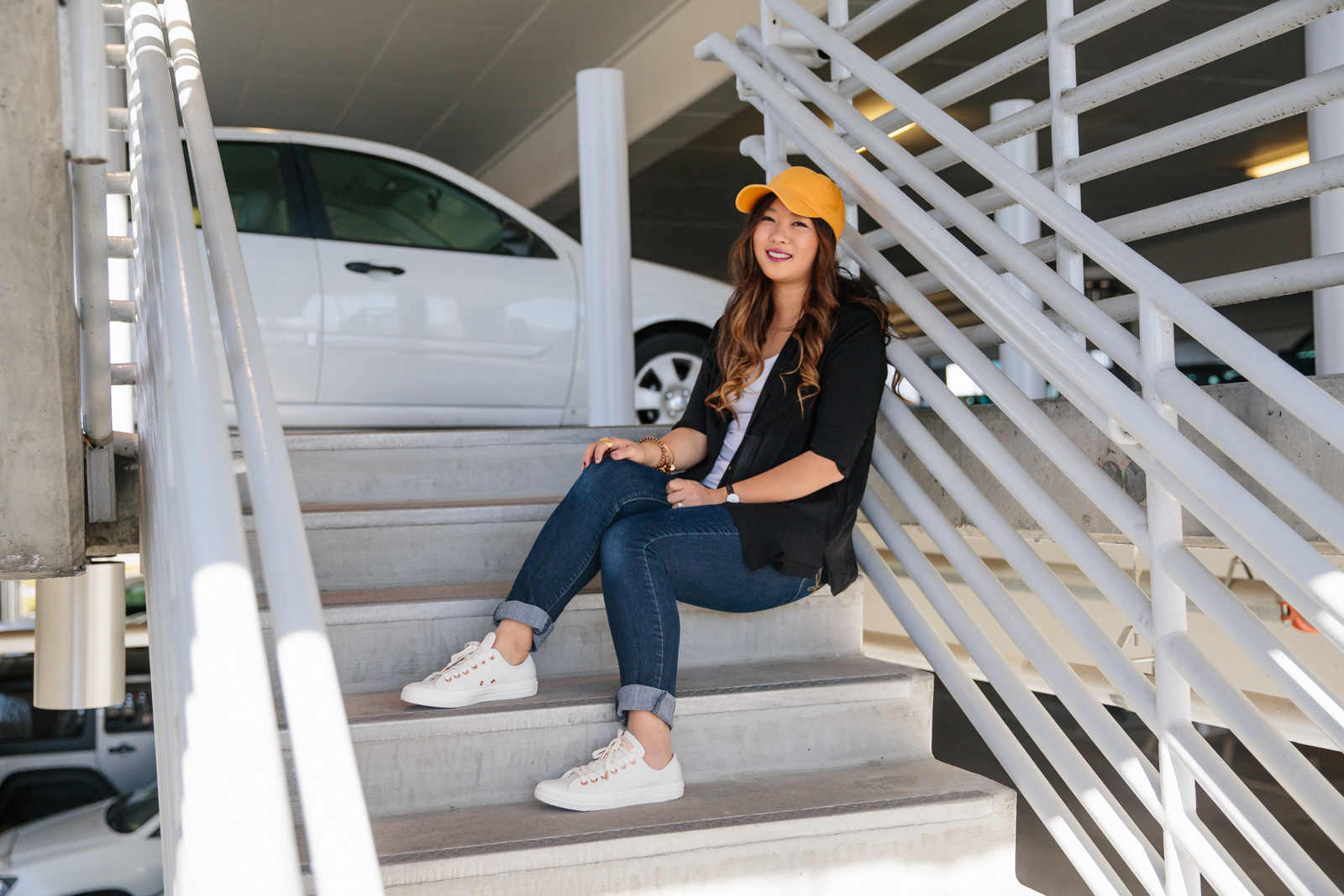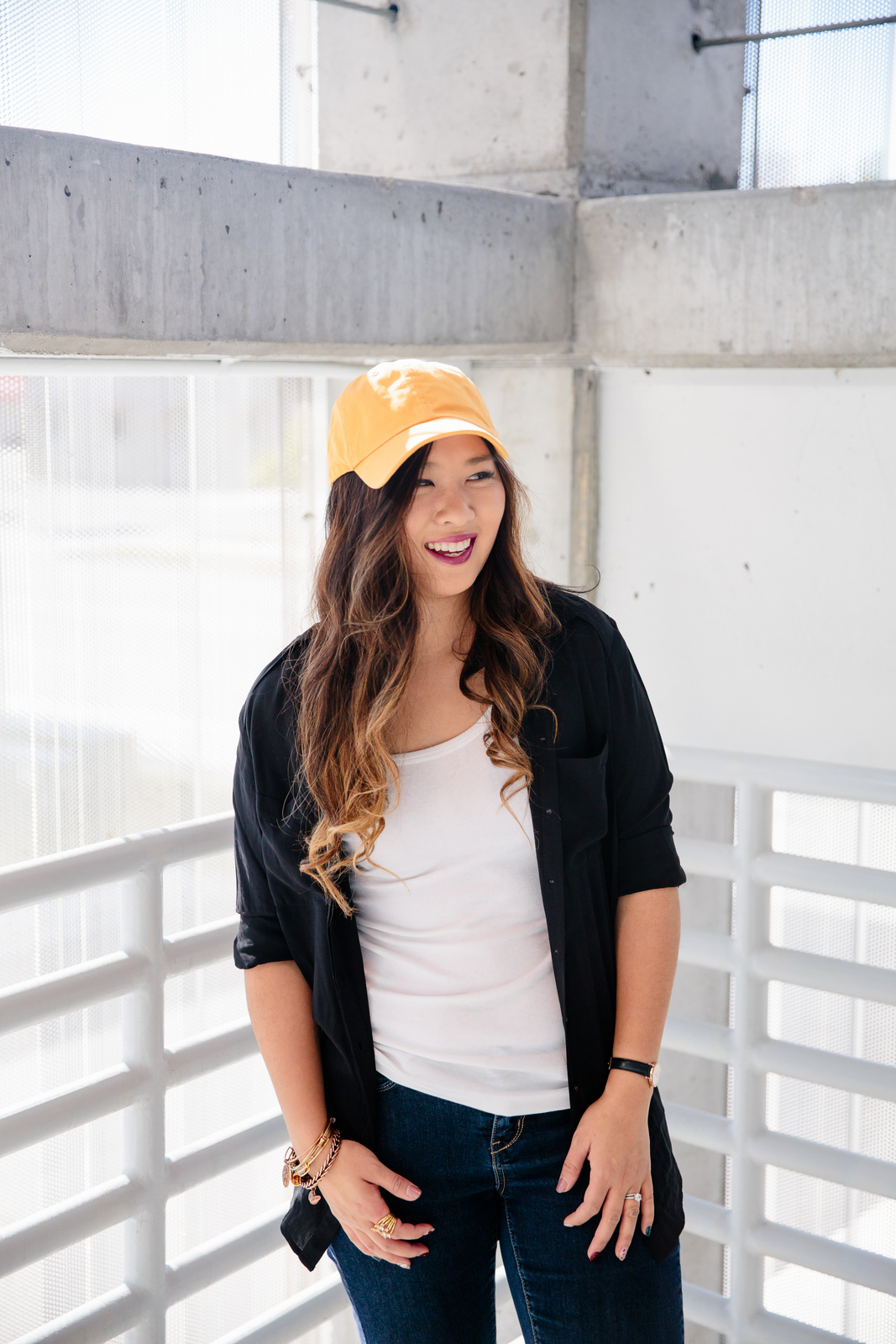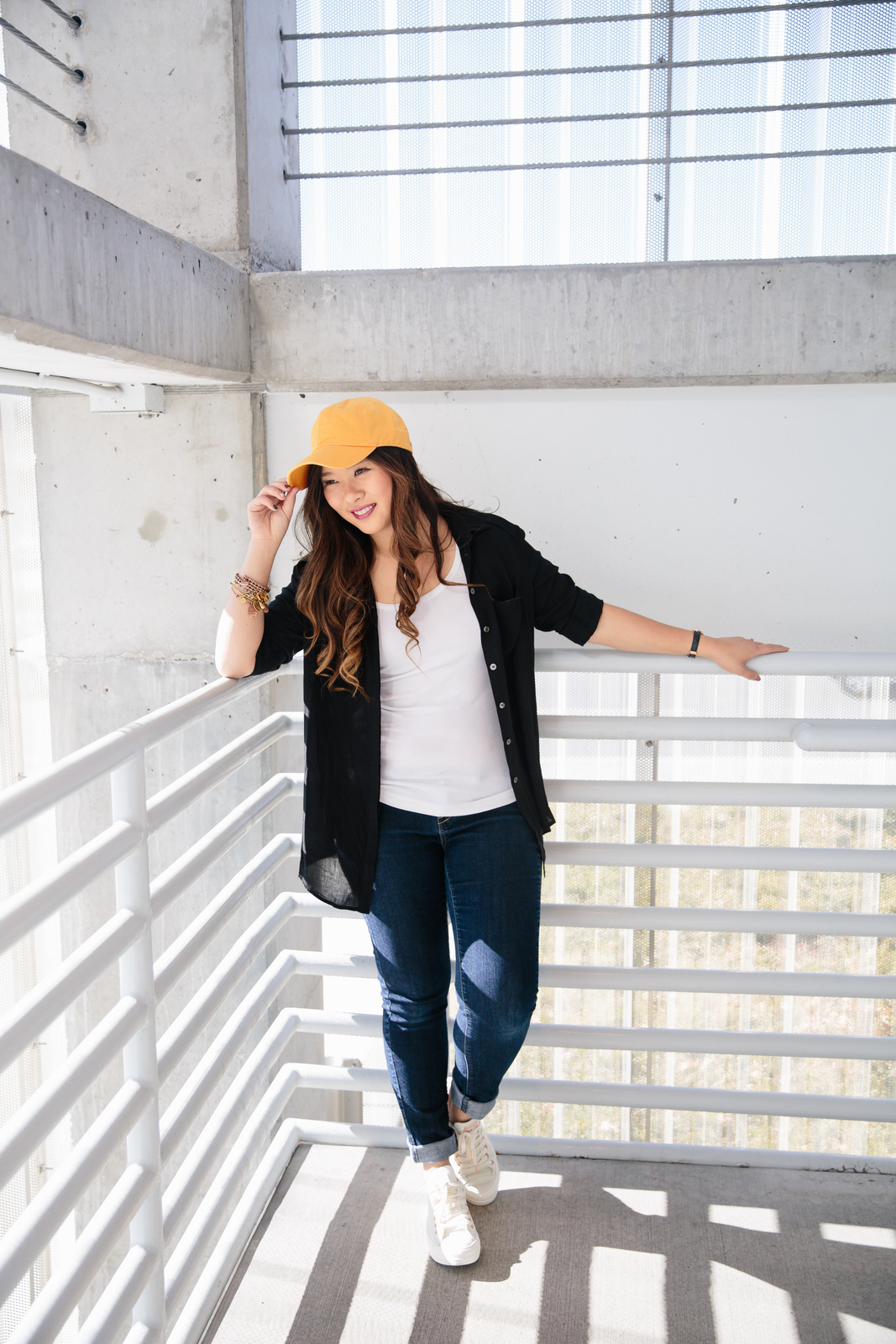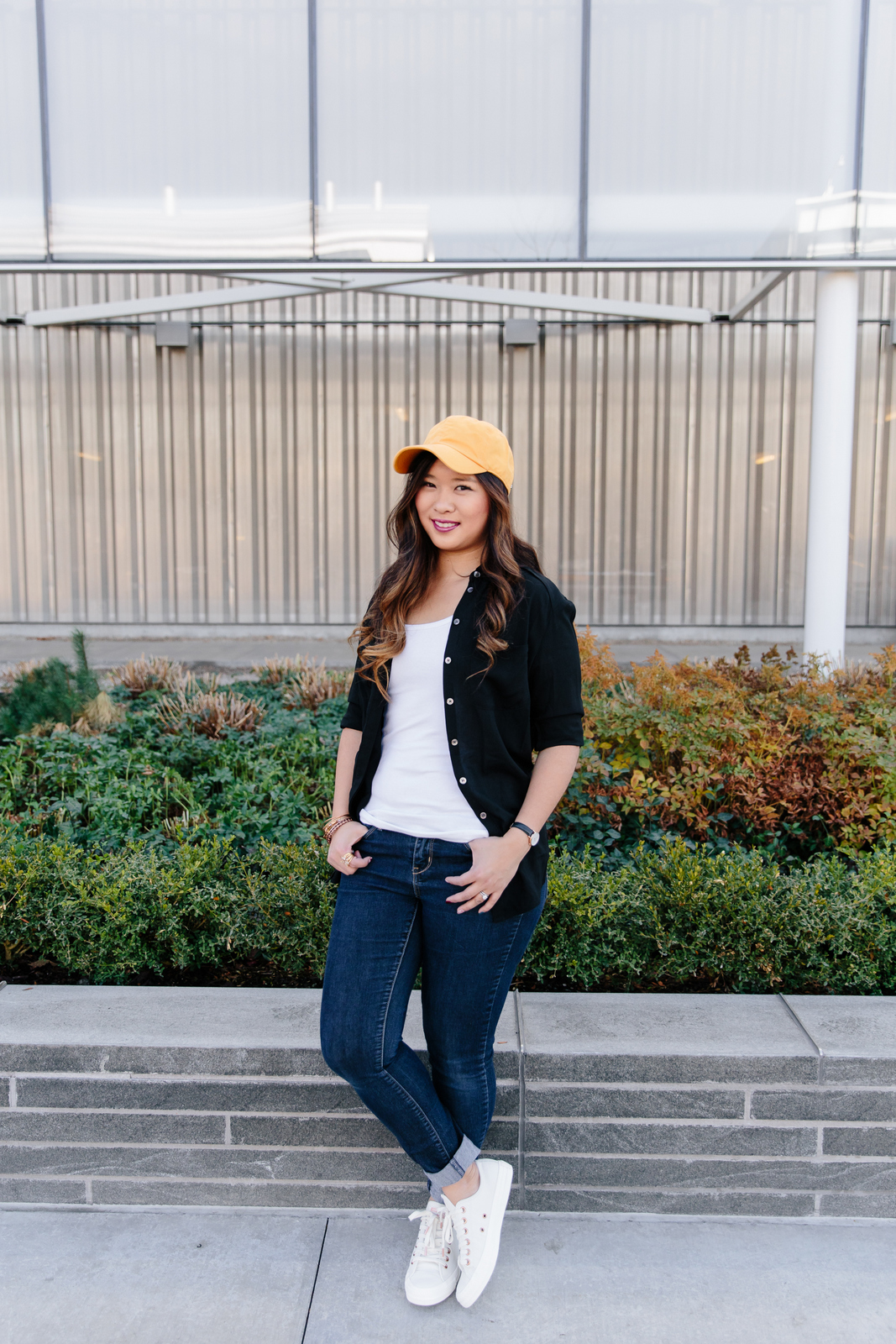 Shirt c/o Thacker
Jeans: Target
Shoes: Converse
Hat: Gigi Pip
Look #4 – Date Night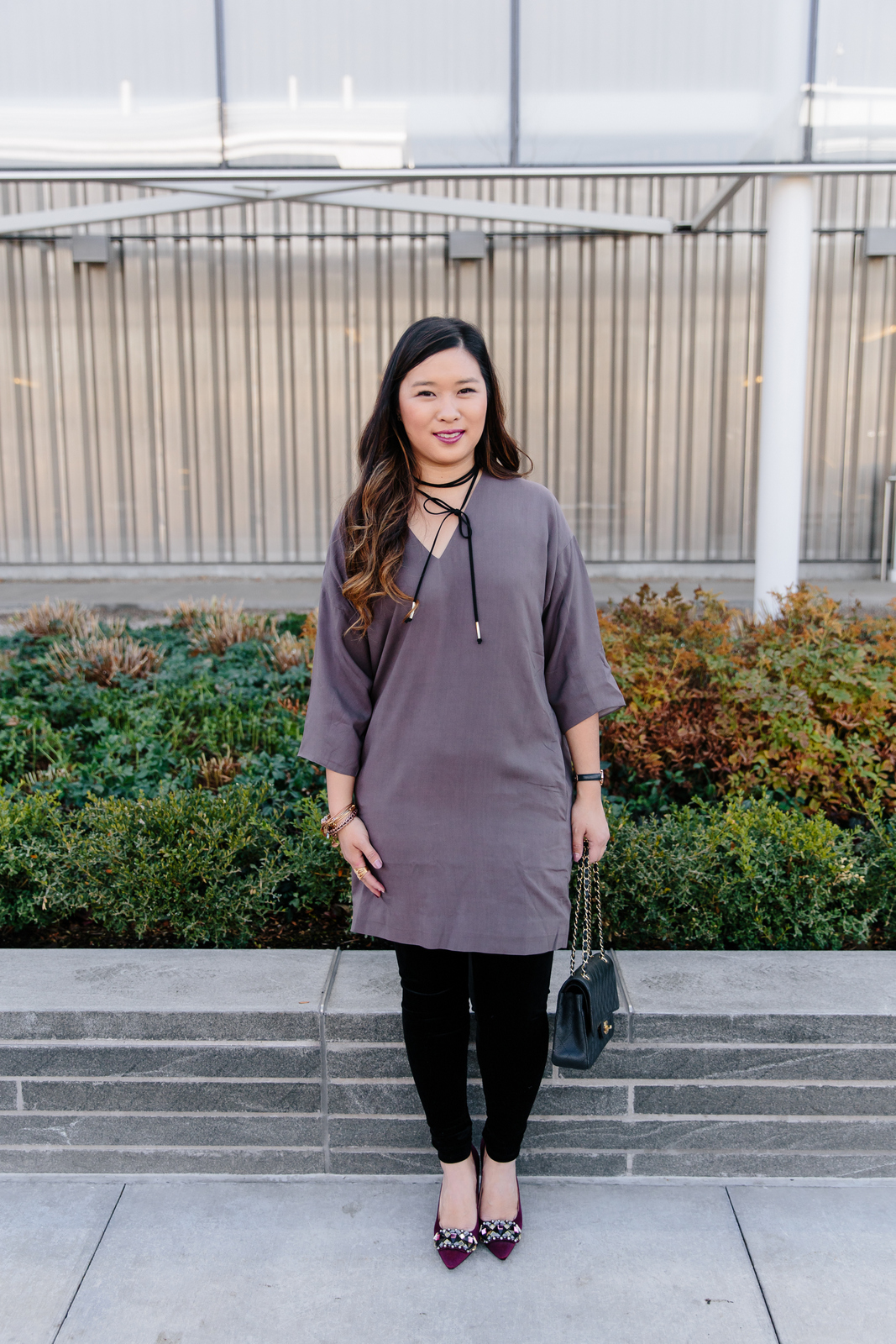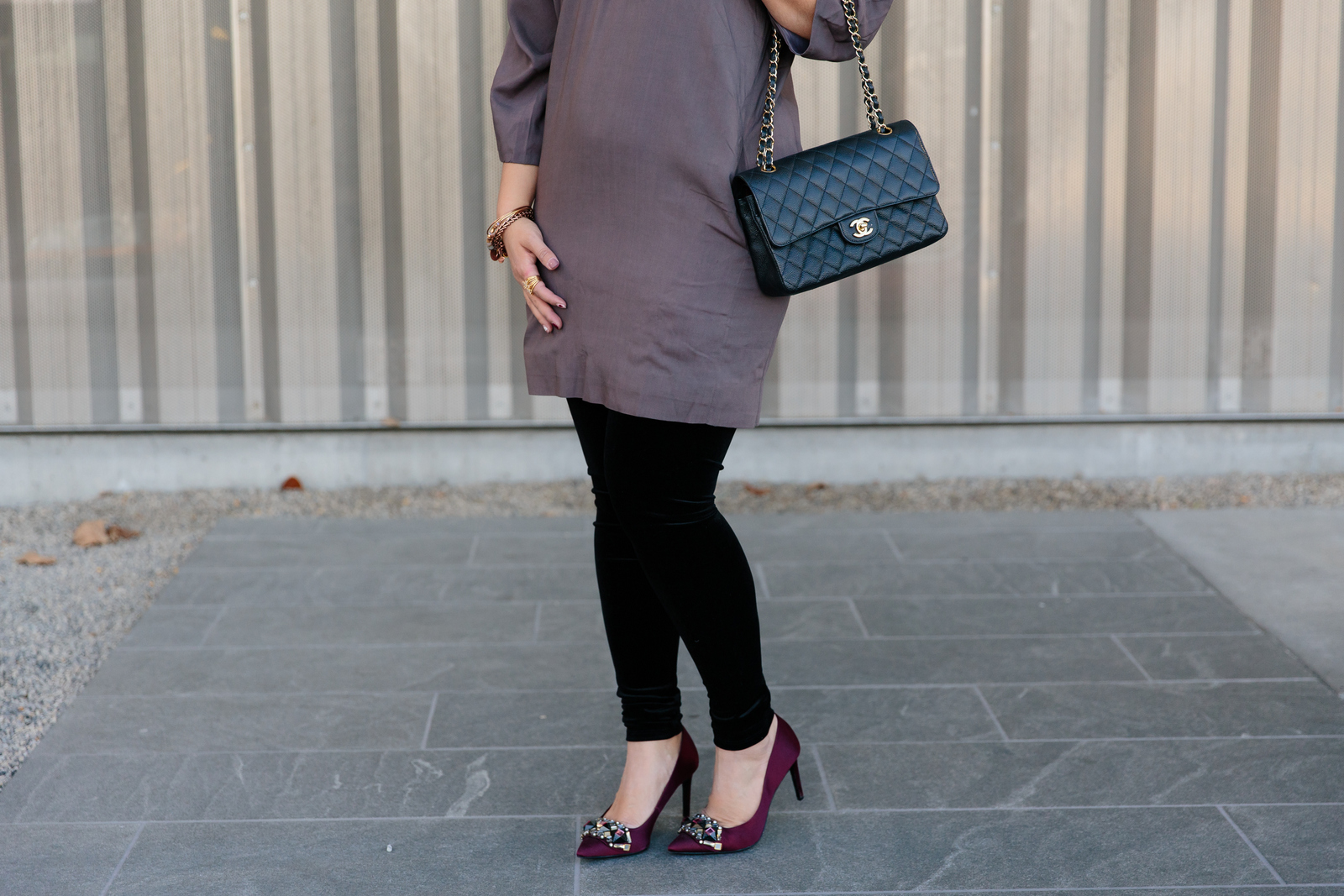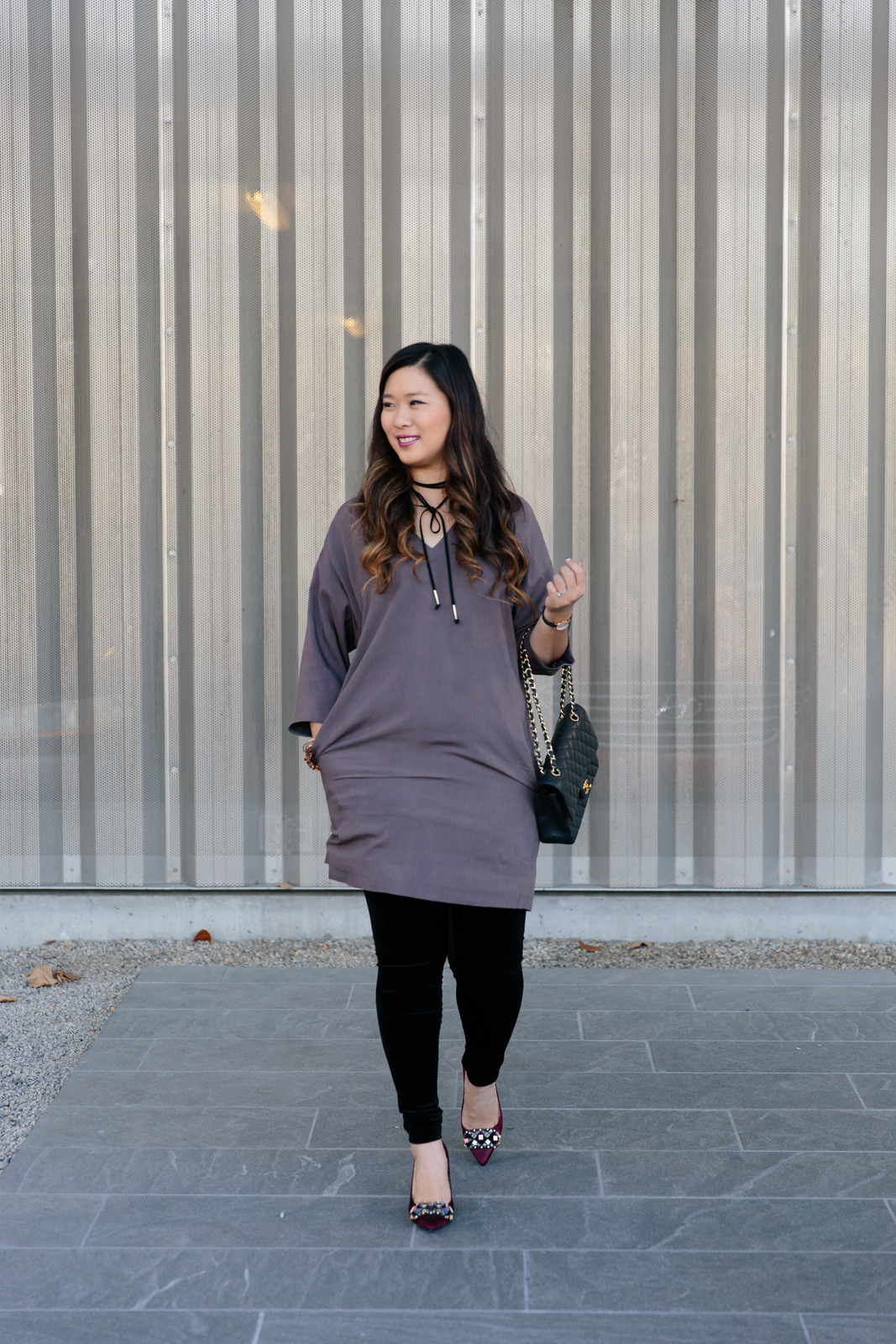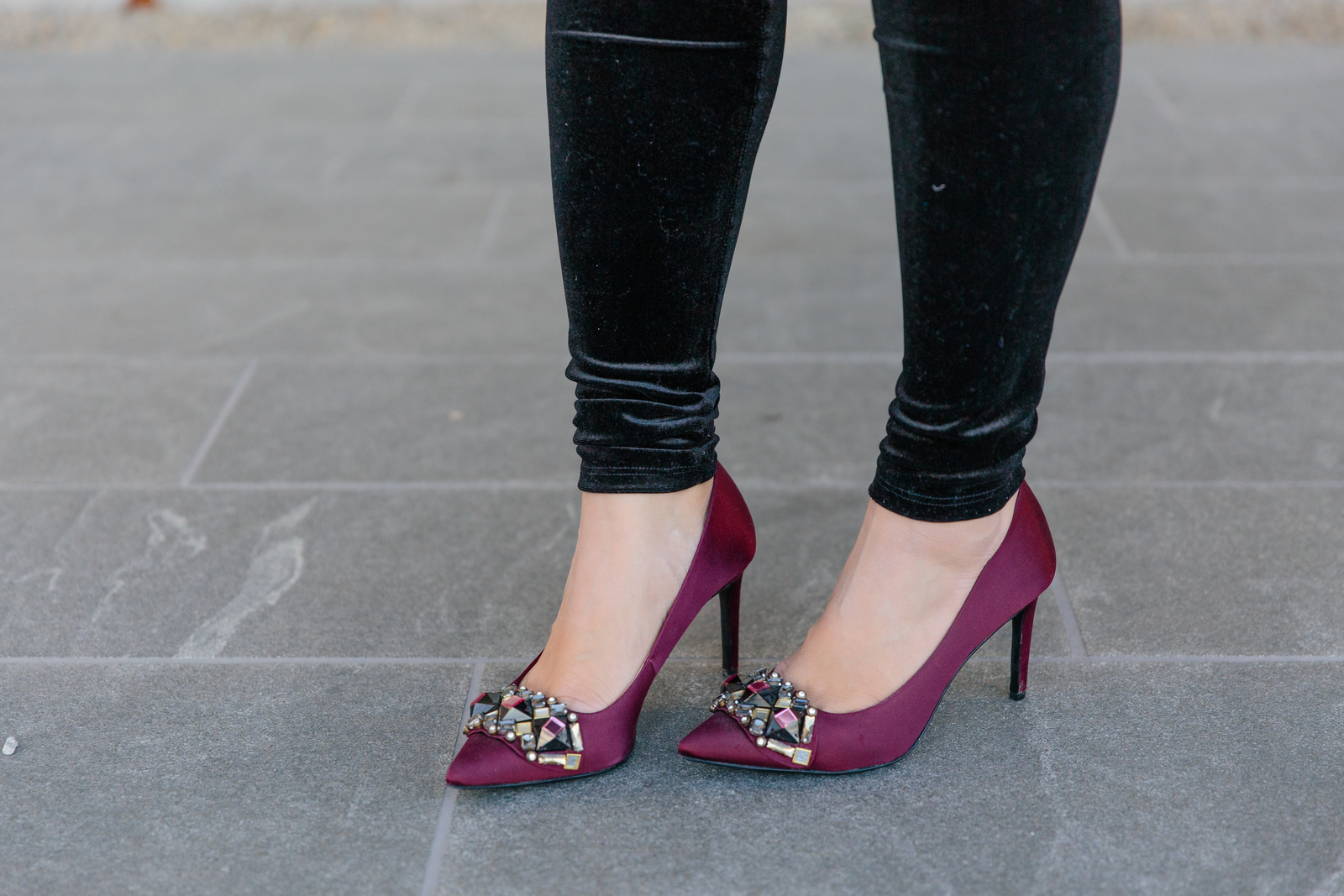 Dress c/o Thacker
Choker: Cents of Style
Shoes: Kate Spade
Bag: Chanel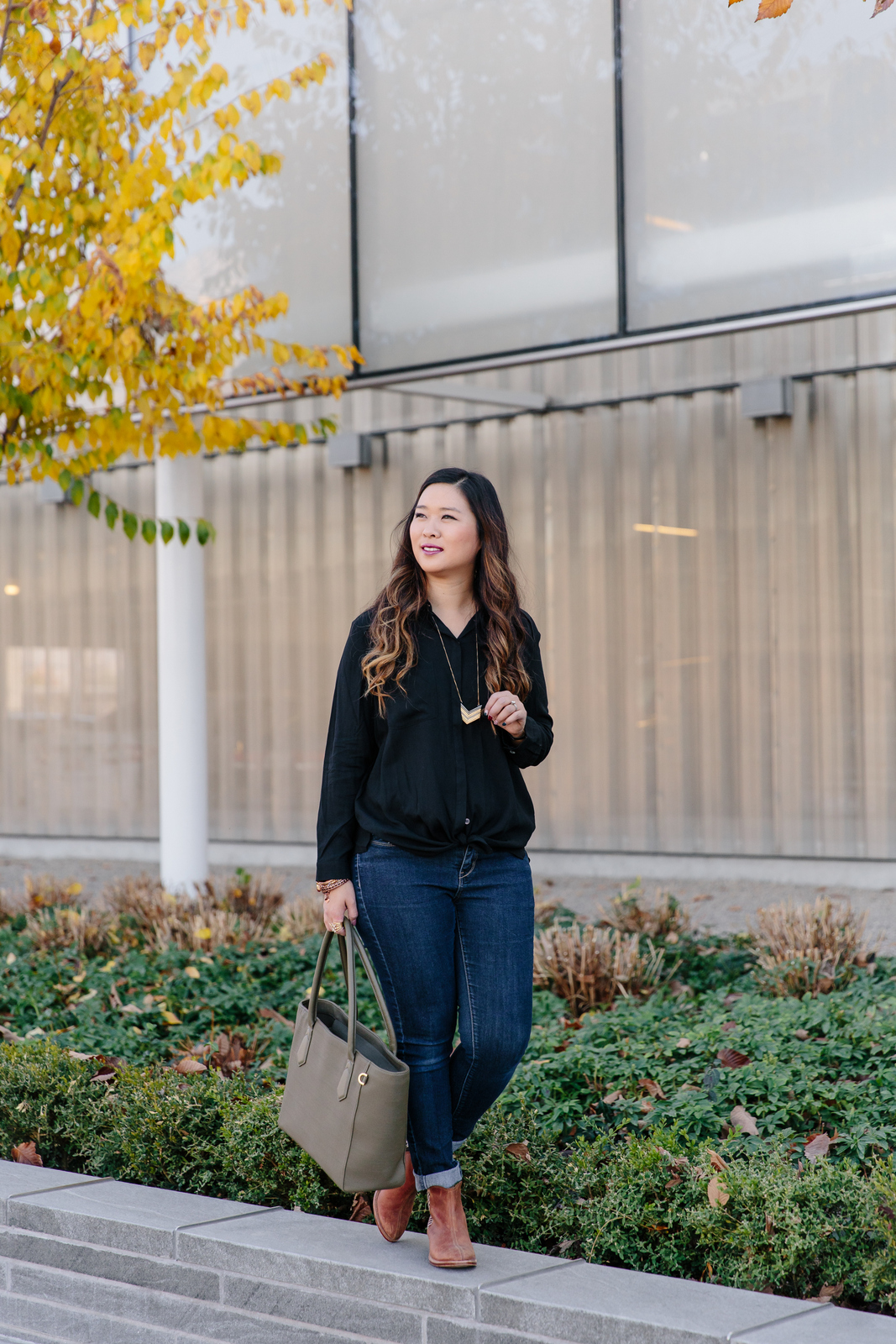 Top c/o Thacker
Jeans: Target
Boots c/o The Root Collective
Necklace: Madewell
Bag: Dagne Dover
Look #6 – Brunch with girls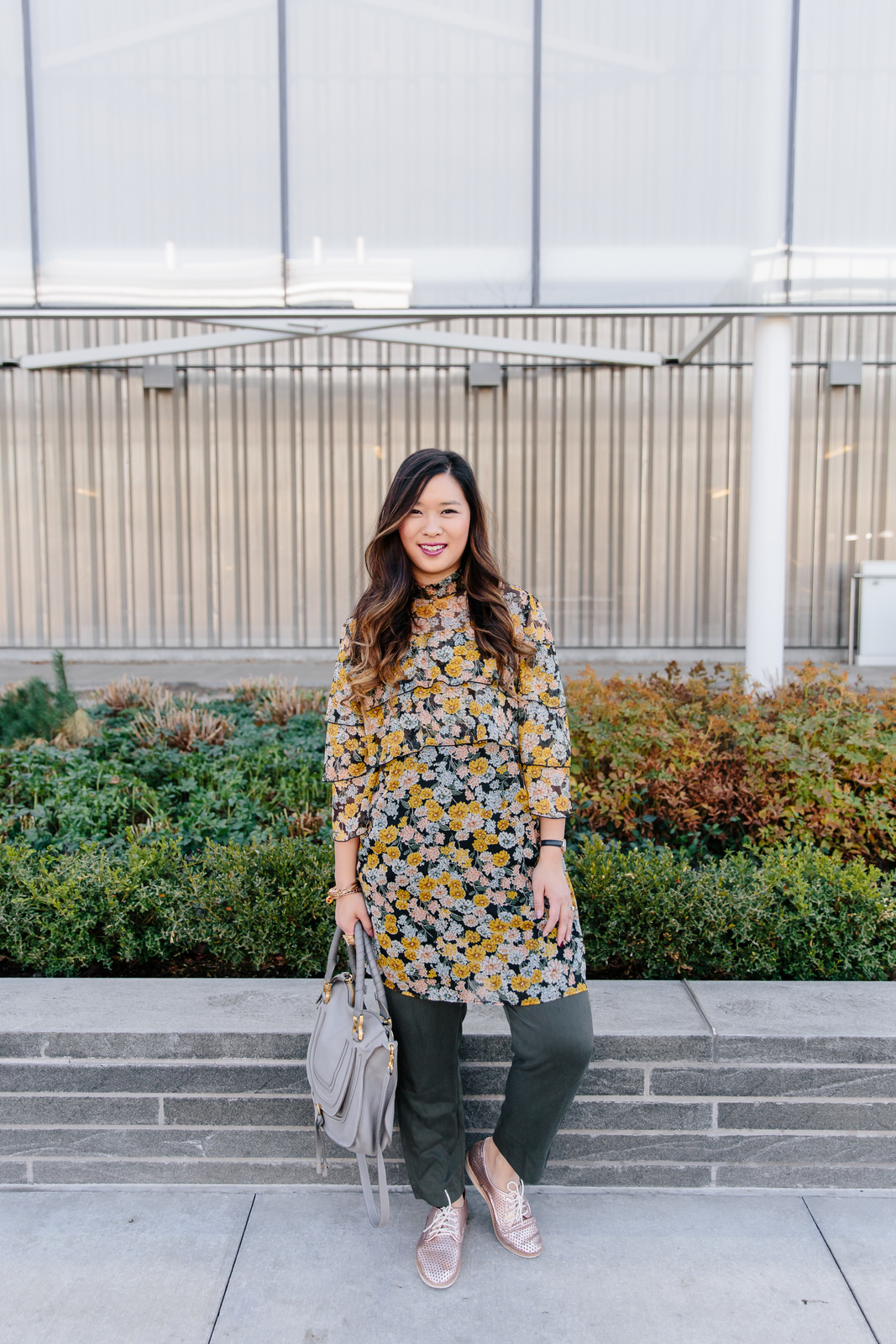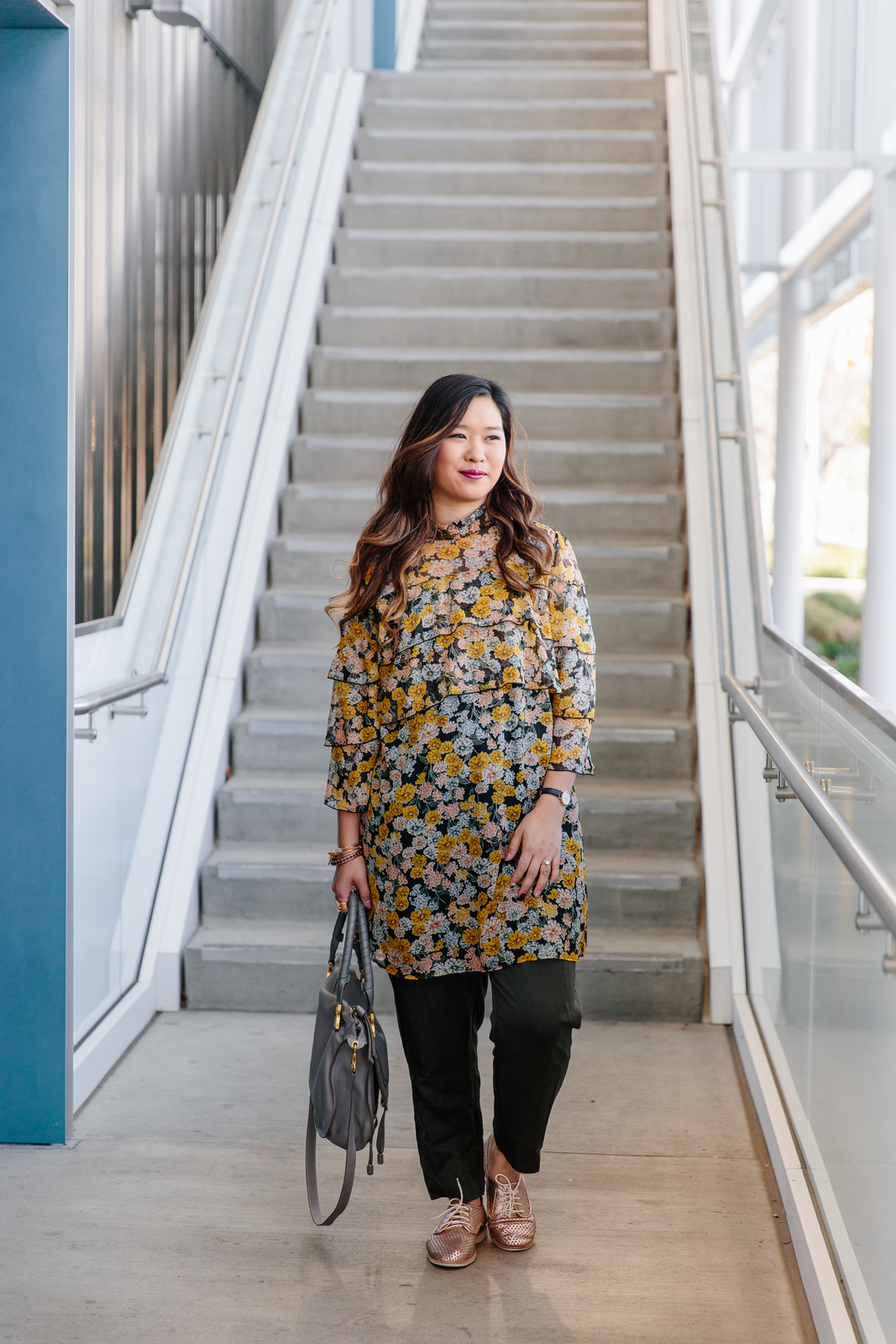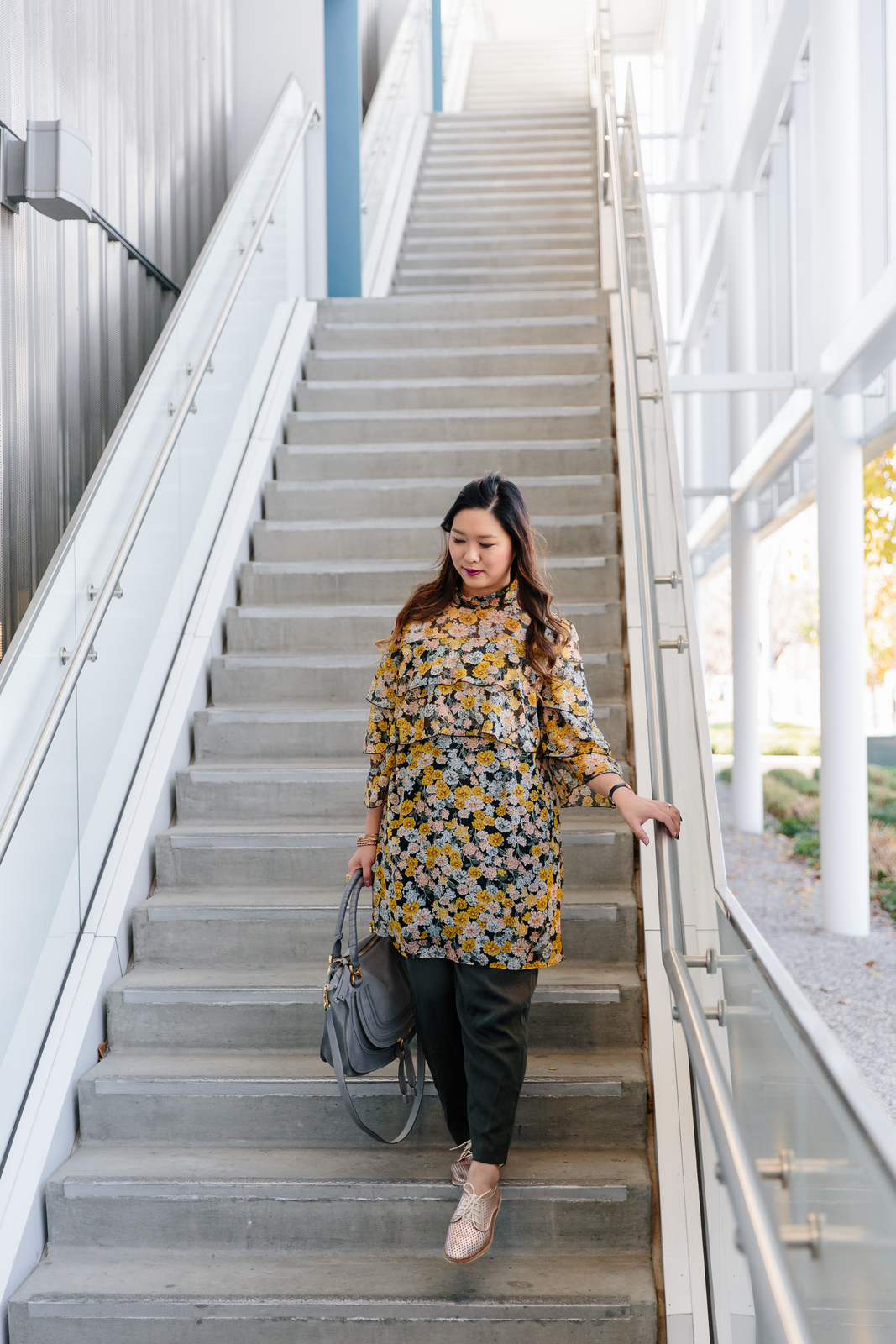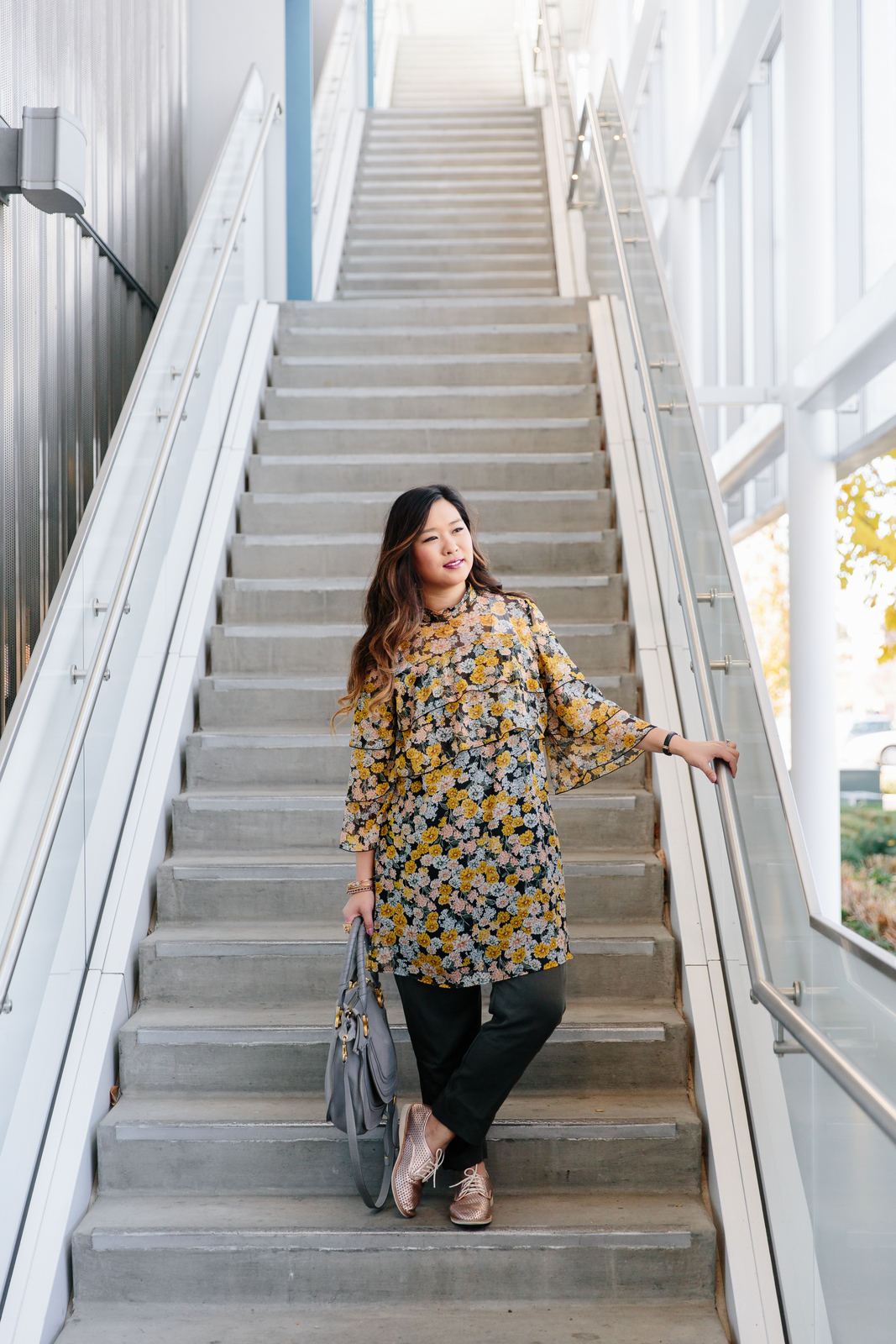 Shirt: Zara
Pants c/o Thacker
Shoes: Rollie Nation
Bag: Chloe
Photography by Diana Putnam
Which look could you see yourself wearing the most?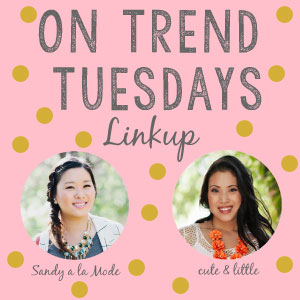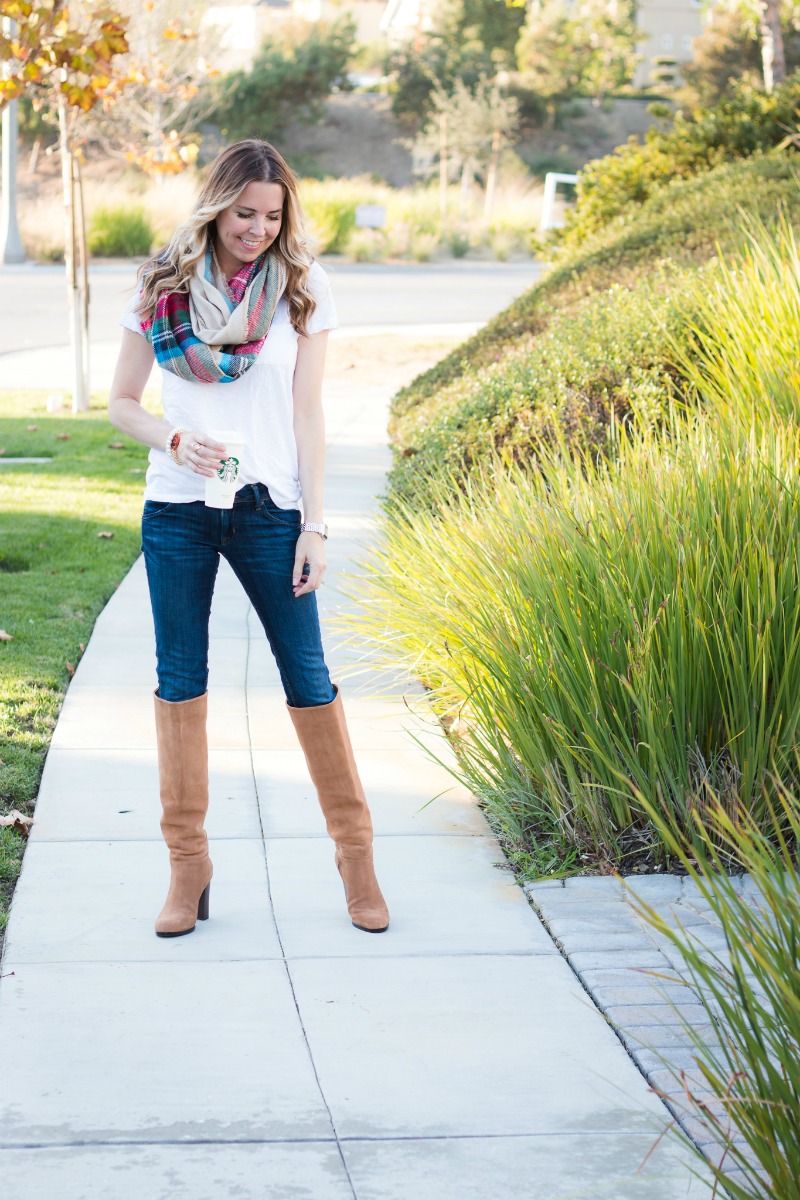 The winner of last week's most clicked link is Courtney of A Thoughtful Place Blog! Congrats cute girl! And thanks everyone for linking up!
Save
Save
Save
Save